WHY THE YAMAHA TW200?
Little Fat Tire commuter Bike, Adventure-Ready, Beginner Bike, Farm Bike, Mini Dual Sport, RV Camper Bike and 29-inseam club approved! The Yamaha TW200 is many bikes to a wide range of riders.

The Yamaha TW200 or "TDUB" as many refer to it in the social media landscape, has been in production since 1987, making it one of the longest-running production dual-sport motorcycles available across the planet! As of this writing (September 2019), the Yamaha TW200 is currently in production with the Yamaha corporate website showing a 2020 model.
That is 33-years worth of TDUBS around the globe!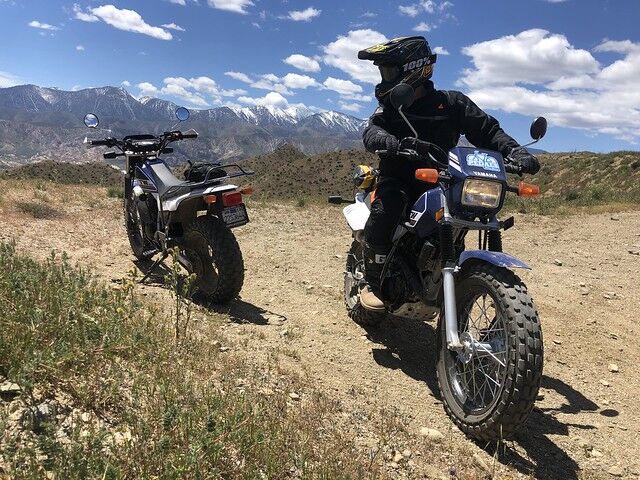 Jason Markley looking back onto the Cajon Pass on a scouting trip with Rodney Wills, founding members of the Yamaha TDUB Club.

What makes this relatively small motorcycle so popular? Size or looks? Maybe both… The Yamaha TW200 equipped with its small with its 196cc engine,… The engine is NOT what you notice at first. For many, the TW200 possess a very unique look with its almost balloon looking tires. The knobby tires are wider than other bikes in the small dual-sport category and maybe as wide as most big bore dual-sport motorcycles! But the look of the TW200 is unique due to the overall tire height in comparison to the tire width as the TW200's Bridgestone rear tire is much shorter at 14″ at roughly 170+ mm wide (rear), giving the TW200 that short stubby stance yielding the rider with one of the shortest motorcycle seat heights in the industry at 31.1" inches and did we already say, "it's street legal!" (Bridgestone Trail Wing TW34 Dual/Enduro Rear Motorcycle Tire 180/80-14).
These two key ingredients of low seat height and wide stance tires make for a wide range of talking points on why both beginning motorcyclist and seasoned riders choose to ride a Yamaha TW200!

OH YEA! And it's STREET LEGAL!
While it is quite easy to understand why first time motorcyclist would want to start riding on a Yamaha TW200, the real question is why would a seasoned rider chose the TDUB or aptly the Yamaha TW200?
The Yamaha TDUB Club's founding members; Jason Markley, Rick Morales and myself – Rodney Wills, are all seasoned riders, all owning larger dual sport bikes and also choose to ride Yamaha TW200's.

I sparked a conversation with Jason about the TW200's, Jason fueled the fire and Ricky shows off his smooth riding talent. July of 2017, the three of us purchased TW200's within days of each other and immediately started riding our new-to-us mini dual sport bikes where we had traditionally ridden with our larger bikes. Ricky is such a technical rider he can technically ride the TW200 where most can not. But Jason and myself accidentally tackled the Redonda Ridge Trail (not the best decision). The trail is located in Big Bear, California, better known as the Malcolm Smith Trail. The sheer "shortness" of the TW200 is it's "shortcoming" in such technical terrain that has been ridden for years by traditional "high-peg" motorcycles. yes, we are talking foot-peg height and the skid plate height. Everything has it' trade-off's and this is the limitation of the TW200.
BUT – While riding out TDUBS the very first weekend around Big Bear, California the big stand out we noticed in contrast to riding our other bikes, is how we were treated and perceived by non-motorcyclist. Yes, we noticed, felt and saw first-hand a different "treatment" and that was very interesting! We can do basically everything on the TDUB as we can on our larger bikes, but I guess visually the TW200's are less "visually threatening" and mind you, we were wearing the exact same riding gear as we do on our larger bikes! This was very interesting to have the "hiker crowd" actually walk up to us and strike up a conversation about our "cute little bikes!" Very unassuming – very interesting! After they walked away, we turned to each other in disbelief and quickly chirped, "You know what we can get away with!!!"
But why the Yamaha TW200 in the first place?
This is a multi-pronged answer for myself as I simply wanted a small bike with street-legal status so I could freely ride where he wanted. But how did I arrive on choosing the TDUB? In my dual sport fleet of bikes, I started with a 1997 Honda XR400 (plated), then a KTM 950ADV and a ATK605DS. Through time, I later purchased two Honda XR100's to teach my daughters to ride. While the older daughter was not riding as much on her XR100, I took it over and "adulterized" it with BBR springs front and rear, adult-tall seat, taller bars, and BBR sub-frame. The thought was, I can ride this bike with my younger daughter and can quickly and easily assist her, stop and quickly take photos, all while not spraying rocks at her with a bigger bike. It was much easier to ride with her on the smaller bike than on my XR400. My perspective while riding the XR100 would be the same for her in comparison to me riding the XR400.

I think the wheel size to speed relationship on the smaller bikes is what makes it just as fun as my big bike. Everything has a sliding perspective and I can elaborate more into this, but as my youngest daughter was not riding as much, I would regularly take the XR100 out on solo riding missions! I was turning up the technical aspects of my riding even in comparison to what I would do on the XR400! This is when the thought occurred "I just need a license plate on the back of this bike" so the search began!
As an avid participant on the ADVrider.com forum, perusing the "Thumpers" section reveals every possible type of single-cylinder motorcycle that are 99.999% dual sport-oriented machines. Two threads where regularly populated and striking my attention! The "Minimalist Touring Thread (250cc and under)" and "The Yamaha TW200 Thread…" The TW200 thread is 419-pages deep! When I noticed a few different people putting in big miles and multi-day trips on the Yamaha TW200, all talking about a different mind-set in their riding, I was simply intrigued as I felt a similarity in what I was wanting to do with the XR100.

But this did not all happen overnight…
Meeting Jason Markley was to meet my TDUB enabler.
We are a rabid enthusiast in anything we do, with numerous deep conversations on the simplest of subjects, dual-sport moto's are a regularly recurring theme. I don't remember if we were having a dual-sport fleet conversation or simply what the "next bike" would be. But during one of our conversations I blurted out about the fat-tired Yamaha TW200 as the high point of my next bike! We discussed these little bikes at length laid up against my experiences on the XR100, with the desire to have it street legal plated. A day or two passes and I get the phone call from Jason as he has done his research on the TW200 and ask me how serious was I about this mini dual sport. I told him, "it could / would easily be my next bike!" A day or two later and Jason called to state he just bought a TW200 and found me one too, "let's go get it!" A couple of days later our buddy Ricky pulled the trigger as well! All three bikes would be picked up and delivered with Jason's truck in our wild enthusiasm!
So what about that mind-set… This bike has its pluses and its minuses, so it requires a bit of re-set on your riding.
Minus -'s: low-tech, slow, limited suspension travel, limited tire choices, slow, did I say slow?
Plus +'s: reliable, confidence, enabler, NO EGO – ALL FUN!!! If you are new to riding then high-tech and high performance may not be high priority yet. Maybe you've done all that and are simply looking for reliability and fun. Yes, you can go on the freeway, but why do you really want to do that? Actually, we do, typically only as a group. Riding on the highways and side-roads is where you see and find all types of cool stuff! The freeway is the blind way to travel around. Yes, the freeway gets you from a point – A to point – G faster, but you just past by B, C, D, E and F and that is totally not the purpose of this bike! Side street traveling is slower, but allows ample time to see something unexpected and actually pull over for further inspection. Think of it as driving a slow 80-Series Toyota Land Cruiser, you're not going anywhere fast, but you are always looking for that little dirt road to pull off to. The TW200 is the two-wheel equivalent to the 80-Series Land Cruiser!
With the Yamaha TW200's low seat height, you simply pull over and put your feet down. Your not tippy-toeing, you're totally comfortable. Take your camera out, snap a few pic's and off you go again. Same time, somehow, your overall appearance is not-evasive or threatening. All three of us posses sub-30-inch inseams and this bike simply gives us mini-bike confidence. There is no EGO in riding the TDUB. You can try to be as macho as you can, but why bother… the TW200 has its own stand-alone cool cache! For those who scoff it off, they are simply not open-minded and why do you want to talk with them?
It's simple and reliable and those two items are highly regarded in the ADVrider.com community of dual sports travel. The Yamaha TW200 started life on the assembly line in 1987 and remains in production to this day! In 2001, the Yamaha TW200 received a front disc brake over its previous drum brake and very little else has changed. This long-run, little-change is a good thing when traveling and in need of both service and parts. The air-cooled 196cc engine is simple and solid, making for a reliable package that is not fast but will get you there. It makes you re-think your riding, re-think your approach to how you negotiate the streets around you and the trails ahead of you. Or, if you are simply cruising along, time to contemplate everything else. Either way, the bike gives you the confidence to go explore the unknown, even if it is just around the corner from your house! Have you been there previously? Most bikes are just too big – too fast to explore the little nooks and crannies of your neighborhood. Jump on the TDUB and go! Now that you have, you thirst for more mini-adventures and with the confidence gained you add on more miles into the unknown. You simply gain the confidence to be out in the woods or desert, trusting your TDUB to simply chug along with confidence!
Again, this bike is not the same as all the other bikes. Yes, you could be riding a tall-tire 250cc+ bike, but one look at those bikes and you already are categorized and opinionated against in 2.2 seconds. The TDUB with its short stocky stance on fat tires is something totally different that evokes true adventure spirit and a very different reaction from the common onlooker. It's unassuming and non-threatening to the non-motorcyclist! Not that is the purpose, but only a after-thought side benefit observation.
But those tires! The bulbous fat tire look of the Bridgestone Trail Wing tires are the obvious "THING" about the Yamaha TW200. The wide footprint of the tires would suit a BMW GS1200 or KTM 1190ADV, but their short height would look absolutely silly on those bikes. But on the TW200, the Bridgestone tires are the signature "look" of the TDUB. But what is the ride like on the signature fat tires? Lets back a bit before we get into "ride" feel. If we all agree that the mechanical design of the Yamaha TW200 is relatively the same as any other vintage motorcycle of 80's era, steal frame, air-cooled engine, drum brake in the rear riding on a single 5.9" travel shock with a disk brake out front riding on telescopic fork with a whopping 6.3-in travel, then the ride of the TW200 would be like all other dual sport motorcycles of that time. See my point?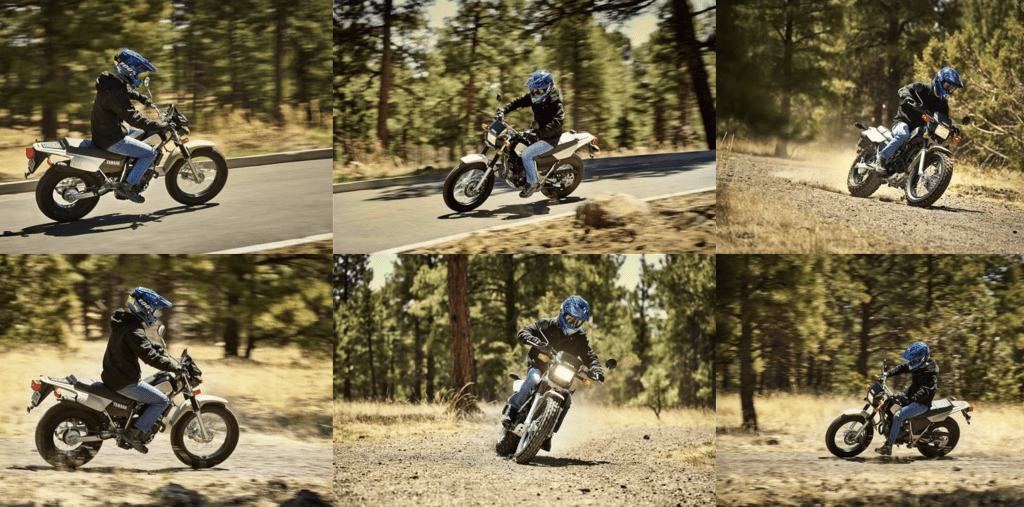 It's just an old motorcycle from an era that gave us the first commercial U.S. cell phone weighing in at two pounds, a time when candy bars only cost 25 cents, CD players had just hit homes in '82, and the first Chrysler minivan hit the road in 1984, just for a little comparative era perspective! So if your Yamaha TW200 was purchased in 2017 or newer, this little mini dual-sport is some 30+ years old. Yes, it's brand new, but still, the same design as originally released in 1987… You are buying a vintage motorcycle that has freshly rolled off the assembly line! It's not a retro re-issue, it's the real deal in continuous production! Just look at it, it's simply a cool motorcycle that exudes fun! It's not serious like a racer about to blast the throttle on the starting line, but long after the race is over, you know you will be miles away and still riding!
Sorry, I know, what about the tires, what about the ride?! Will the tires ride "soft" or slow? Will the bike bounce uncontrollably? How does it get 70-mpg with a 196cc engine on these fat tires? My first impression of riding the Yamaha TW200 was on the street and the tires felt "normal" for myself, the TW200's initial dual-sport purpose is to simply transport me to the dirt directly from my garage! In the dirt, I cheated… No, I did what I would normally do with any of my bikes and adjusted the air pressure to suit the dirt. Every MX bike that leaves out of Gustin Motorsports headed for the track, runs 15-psi front and rear. Desert bound bikes will run around the 18-psi mark for the front to help prevent against pinch flats that come from hitting larger rocks that are not found on groomed MX tracks. On the flip side of this, on my 80-Series Toyota Land Cruiser I've run down as low as 12-psi, but will typically run a combo of 18/16 or 16/14 again, depending on speed and terrain. So yes, I am comfortable running my TW200 front tire down to 12-psi. With the right trail and "ride-itude" I could run at 8-psi. But at those pressures, back on the street and the bike feels sluggish, it does not get the claimed gas mileage, but the addition of FMF PowerCore 4 exhaust and carb tuning also detracts from gas mileage in favor of performance. Guess you can see where my priorities are.
With all this, I love my silly stupid little TW200! I commute to work on it, go to Home Depot on it, go to the grocery store on it and will try to go wherever I can on the TDUB! I feel that the TW200 is the absolute BEST WAY AROUND TOWN!!! It does make you think differently about riding, but that is half the fun of it all. The simplicity of the bike is a bit nostalgic and utilitarian. It's simple fun and easy and for me and that is plenty enough. I can see myself throwing a leg over the Yamaha TW200 for a long time furthermore.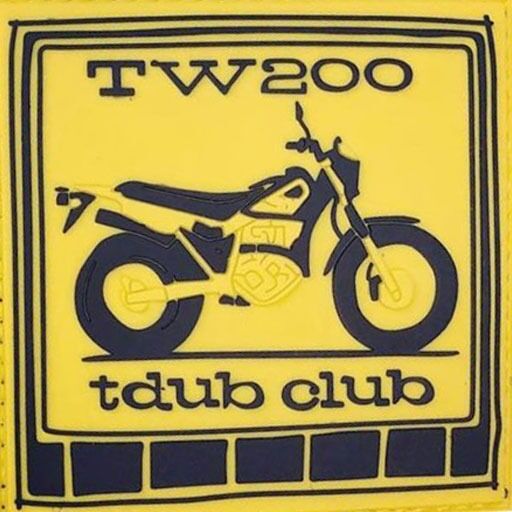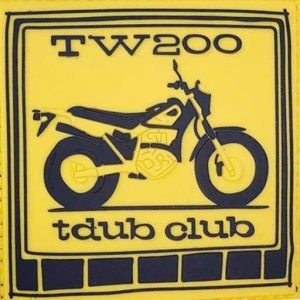 Yamaha TDUB Club Social:
Instagram: https://www.instagram.com/yamahatdubclub/
Facebook: https://www.facebook.com/TW200club/
YouTube: https://www.youtube.com/channel/UCtf_QLxO-qebsvBbvUHtEgg?
Yamaha TW200 Official Product Info Page:
https://www.yamahamotorsports.com/dual-sport/models/tw200

We are not officially associated with or endorsed by Yamaha Motor Corporation.
ORDER YOUR TW200 TDUB CLUB PATCH OR STICKER SET:
https://www.tdubclub.com/shop/