Looking to purchase a Yamaha TW200? What to think about and where to start looking.
Now that you've hopefully read our "WHY THE TW200" post and ready to dive into the Yamaha TW200 fat tire thing for yourself, let's find you a TDUB! But where do you start? The biggest purchasing decision to make is whether you will buy NEW OR USED? There are great reasons for both!

Buying a new Yamaha TW200
It is true of most motorcycles, the newer the product, the higher the motorcycle cost. Improvements in motorcycle tech, power-to-weight ratios, and rider aids have led to increased prices in the powersports industry over the past three decades. The TW200 was introduced in 1987 with very little improvement over it's 30-year production. But at the price of $4,599* what are you expecting from the above mentioned items as very little has been improved on the TW200 over its 30+ years of production. It get 78-miles to the gallon and gives a whole lot of smiles!
Why do you buy new on a 30-year old design? We have so many motorcycle options, yet we choose the Yamaha TW200. But lets stay on topic of simply buying a new TDUB! You are starting as fresh as possible at the top of the readability chain of degradation! Yes, it's mechanical item, a machine and from day-1 the degradation starts! It simply gets a day older with each passing day so buying new gets you as close as possible to the longest TW200 life!

Easy get-in cost as buying new, if you are financing, can be a very low manageable monthly fee versus laying out $3,800 cash for a used motorcycle.

If you are going to purchase a brand new TW200, fresh off the dealership floor, then use this Dealer Locater to find the local Yamaha TW200 dealer nearest you: https://www.yamahamotorsports.com/motorsports/locations/dealers

With the "get in ceiling" new-price of $4,599*, use this as your comparative base if you are shopping for a used TW200. READ ON!
Buying a used Yamaha T200
Why are you buying a used TW200? Most people want as cheap as possible because they simply want cheap and or simply have limited funds and want the max gas milage per dollar ratio! The others are looking for cheap as possible as they want to spend money on adding upgrades their TW200 with aftermarket items. (that was us!) While your at it, also think about adding some budget for service items so that your TDUB is as reliable as it can be! Also too, if you are adding an aftermarket exhaust, you will want to re-jet the carb. With that, if you are looking for max milage, then keep the stock exhaust as the carb is already tuned lean and specifically for the stock exhaust. You could have it tuned better for the stock exhaust.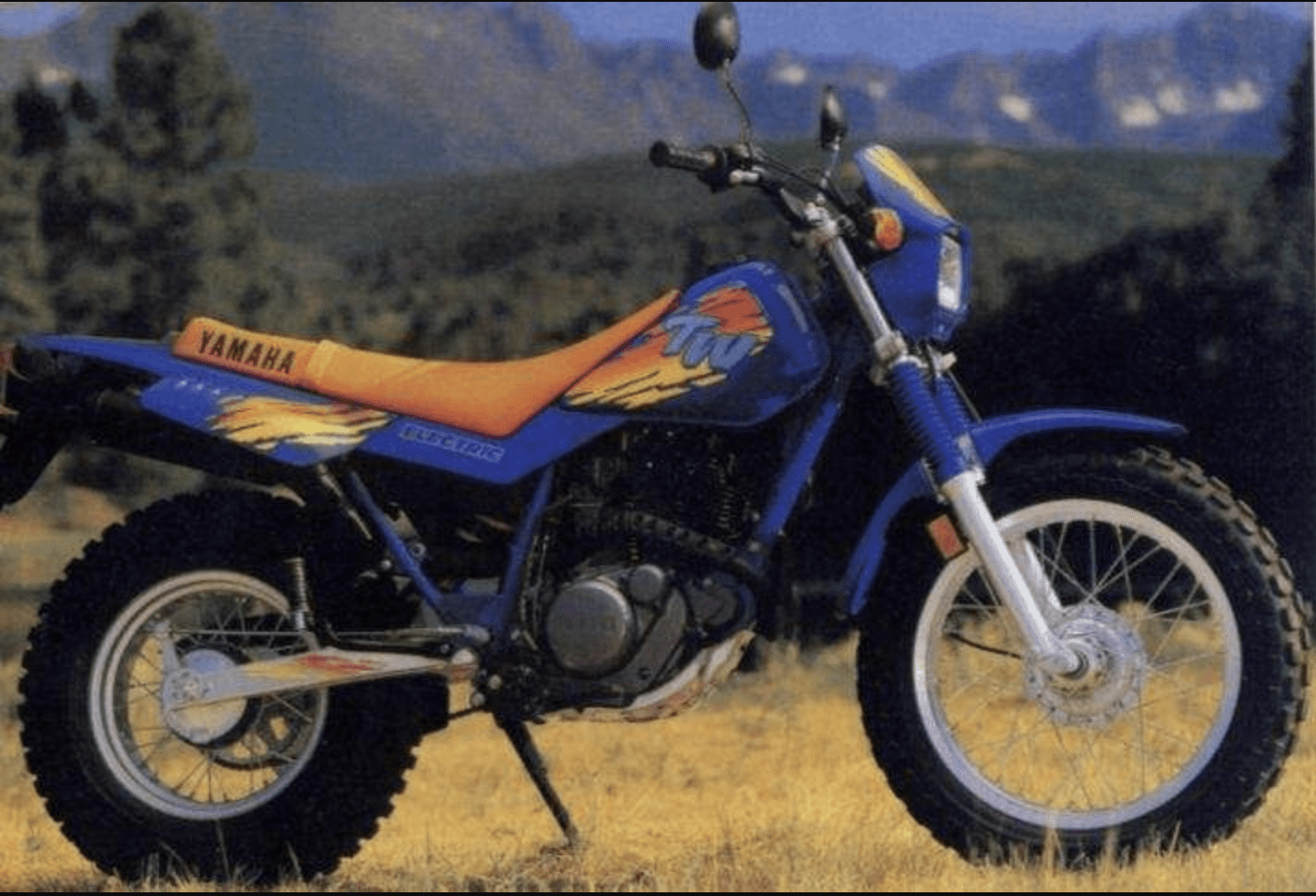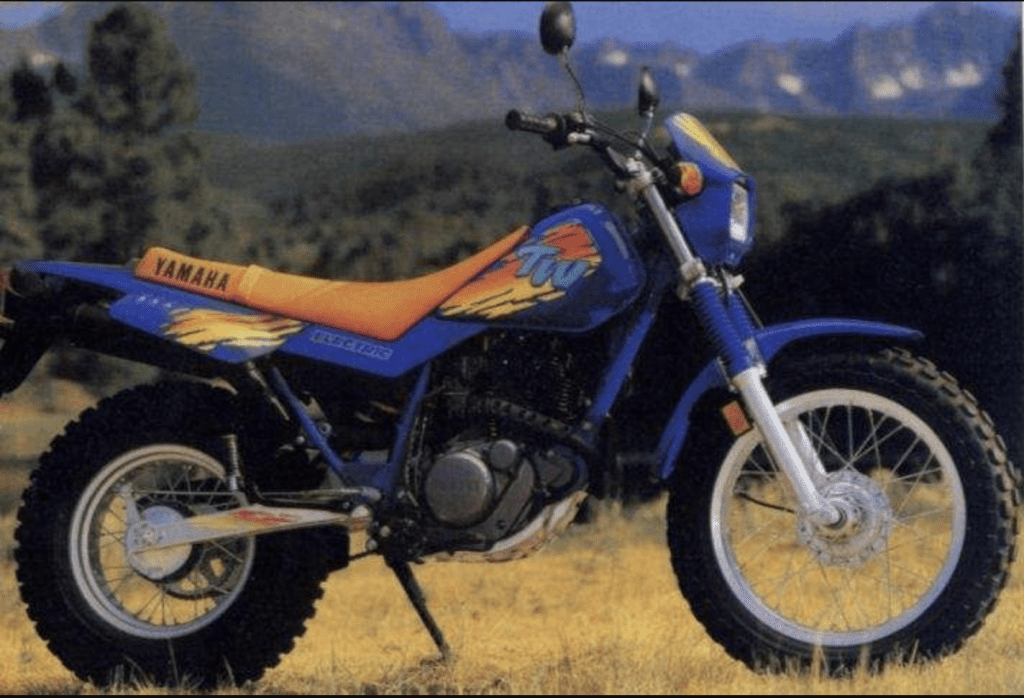 In the used TW200 category, what are the deciding factors? Do you buy a 1st-Gen or 2nd-Gen TW200? Are you looking for nostalgia or performance? If you are looking for nostalgia, then go for the more colorful fist generation of TW200's. If you are looking for performance, then the second generation may suit your needs.
1st Gen – or – 2nd Gen
What's the difference?
19987 – 2000 First Gen / 2001 – 2020 Second Gen
Fourteen years after the introduction of the TDUB, Yamaha Motor Corporation gave the "cult bike" some UPGRADES for 2001! Yamaha replace the drum brake in front for a disk brake for better stopping control. This was our major deciding point on our purchases due to how we knew we would be riding these bikes. Yamaha also gave the TW200 the "E-Z BUTTON" aka electric start! But they did remove the kick starter. Other upgrades include the switch to a CV carb or constant velocity carburetor that delivers precise air / fuel mixture control across the throttle curve giving the bike better response across the power-band, but especially in the bottom to mid rage that is used more during normal street use. Yamaha also added a higher alternator output to accommodate the upgrade from a 40-watt headlight to a 55-watt headlight. The TW200 also received an no-maintenance cam chain tensioner.
2001 – 2020 upgraded features:
1: Front Disk Brakes
2: Electric Start
3: CV Carburator
4: higher alternator output
5: 55-watt headlamp
6: no maintenance cam chain tensioner
Where to find a used TW200?
If you have made your mind up on buying a used TW200, the next step is to choose which selling platforms to spend time on. Cycle Trader, Facebook Marketplace, Craigslist, Ebay Motorcyels, OfferUp, Bike Finds…. Oh, your going to look at all them, so it's just a matter of finding one that suits your budget and if it is close enough to you!
Cycle Trader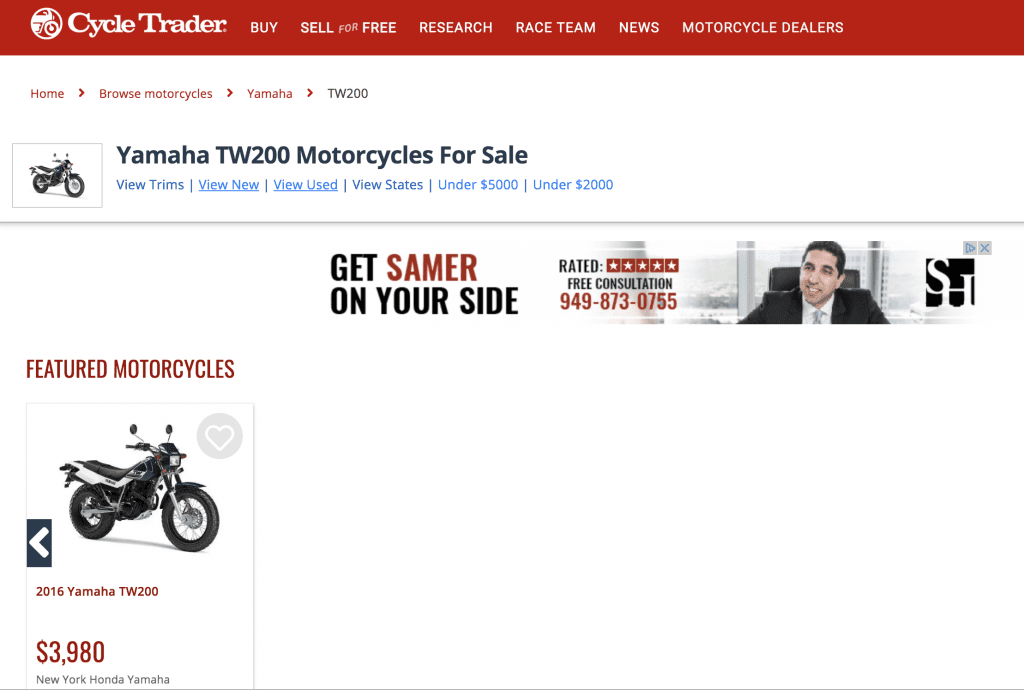 Cycle Trader – Yamaha TW200
https://www.cycletrader.com/Yamaha-Tw200/motorcycles-for-sale?type=Motorcycle%7C356953&make=Yamaha%7C2321194&model=TW200%7C764863195

ABOUThttps://www.cycletrader.com/research/about CYCLE TRADER
Cycle Trader, a division of Trader Interactive, is composed of a unique portfolio of classifieds sites, including Cycle Trader, ATV Trader, PWC Trader, and Snowmobile Trader. With more than 400,000 new and pre-owned units available from dealers and private sellers, these sites connect millions of active powersports buyers to sellers across the country. Cycle Trader offers sellers a comprehensive suite of digital marketing solutions to help them advertise their inventory across all devices.
eBay Motorcycles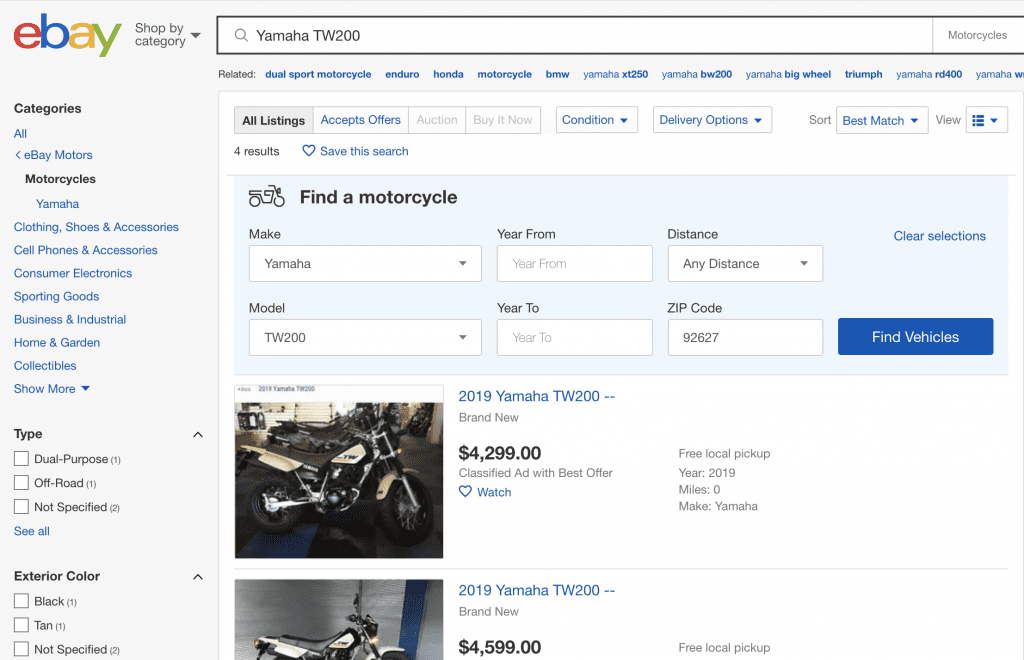 EBAY Motorcycles – Yamaha TW200
https://www.ebay.com/sch/i.html?&_sacat=6024&makeval=Yamaha&modelval=TW200&LH_ItemCondition=3000%7C1000%7C2500&_stpos=92627&_nkw=Yamaha%20TW200
ABOUT eBAY
eBay Inc. is an American multinational e-commerce corporation based in San Jose, California that facilitates consumer-to-consumer and business-to-consumer sales through its website. eBay was founded by Pierre Omidyar in the autumn of 1995, and became a notable success story of the dot-com bubble. eBay is where the world goes to shop, sell, and give. Our mission is to be the world's favorite destination for discovering great value and unique selection.
Bike Finds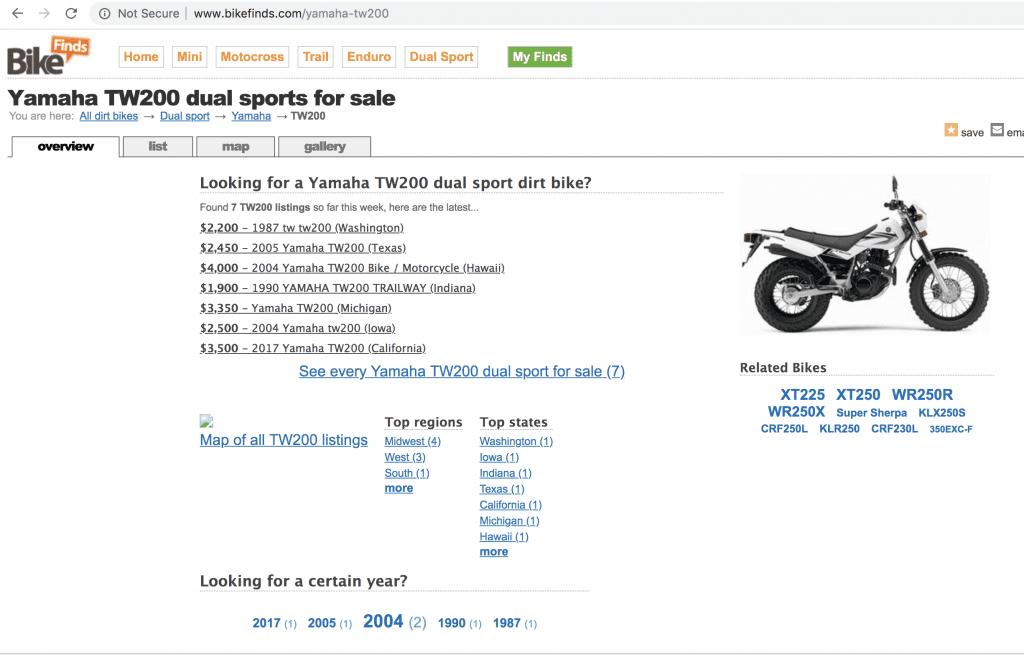 BikeFinds – Yamaha TW200
http://www.bikefinds.com/yamaha-tw200
This is one of my favorite web pages as you can see each mfg and category with the Dual Sport category being the lat column, Yamaha at the very bottom.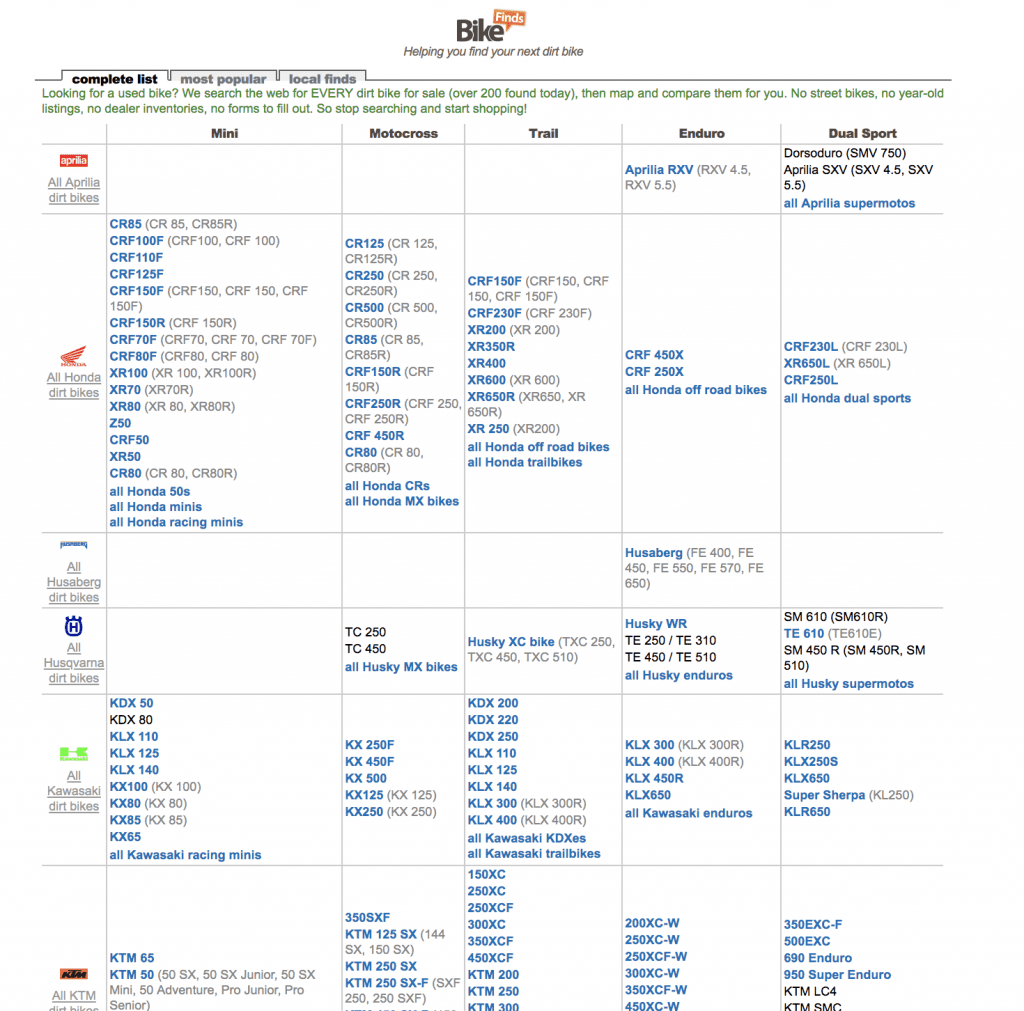 Facebook Market Place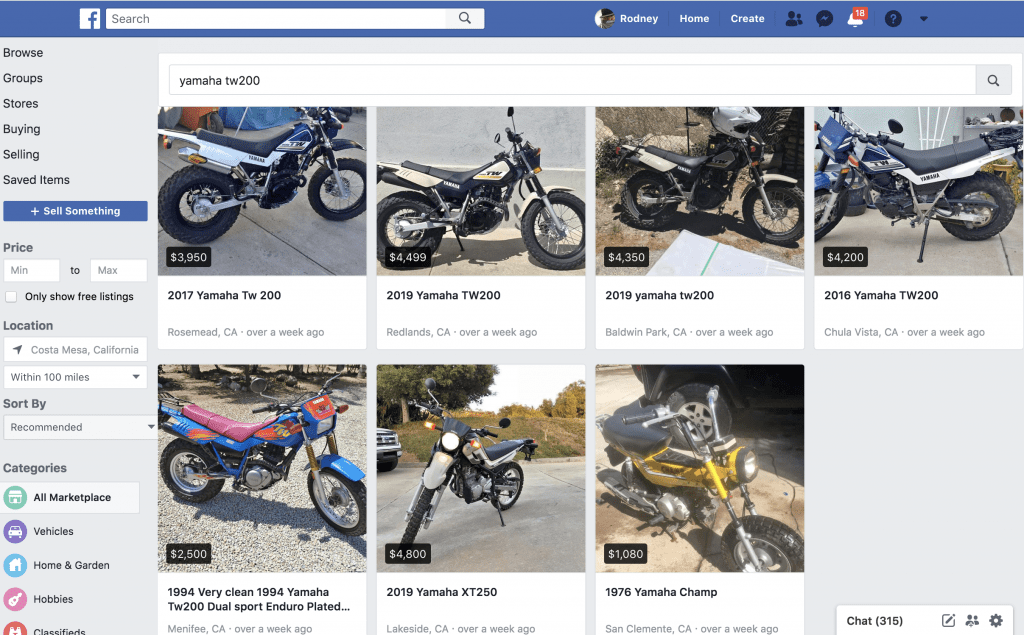 Facebook Marketplace – Yamaha TW200
https://www.facebook.com/marketplace/105572916142552/search/?query=yamaha%20tw200&vertical=C2C&sort=BEST_MATCH
ABOUT: Facebook Marketplace is a digital marketplace where users can arrange to buy, sell and trade items with other people in their area. … All transactions take place outside of the app, and are not considered in any legal sense to be Facebook's responsibility. Facebook Marketplace allows you to: Search for items to buy. https://www.facebook.com/marketplace/learn-more/
CRAIGSLIST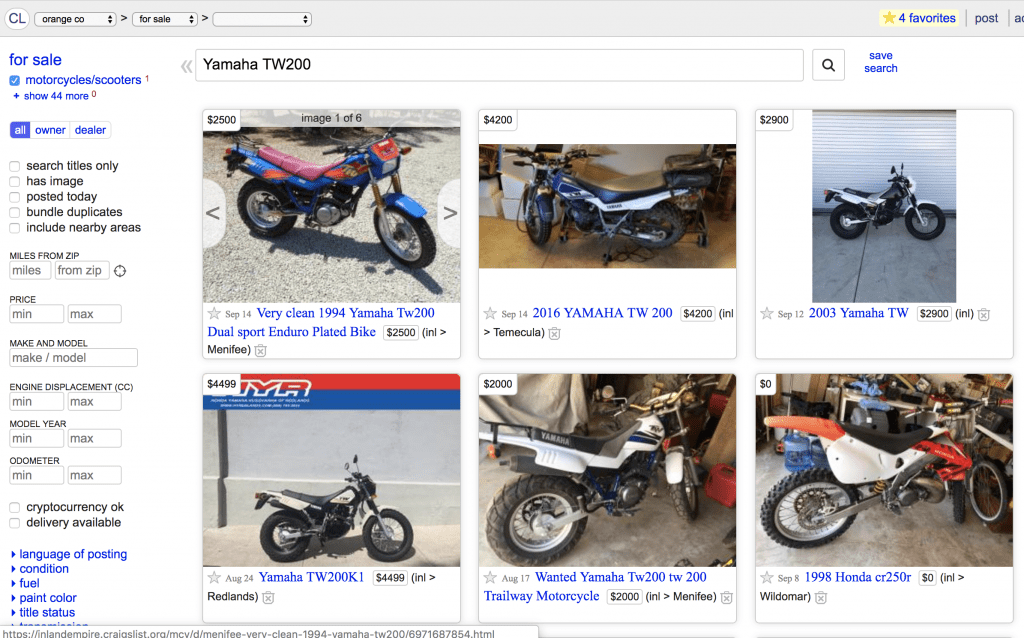 Craigslist – Yamaha TW200
https://orangecounty.craigslist.org/search/sss?query=Yamaha%20TW200&sort=rel
Craigslist is not as clean and sharp as the other platforms, but it is where a lot of used motorcycles go to be sold and purchased. In fact, Craigslist is where all three of our TW200's were purchased from.

ABOUT: Craigslist is an American classified advertisements website with sections devoted to jobs, housing, for sale, items wanted, services, community service, gigs, résumés, and discussion forums.
OfferUp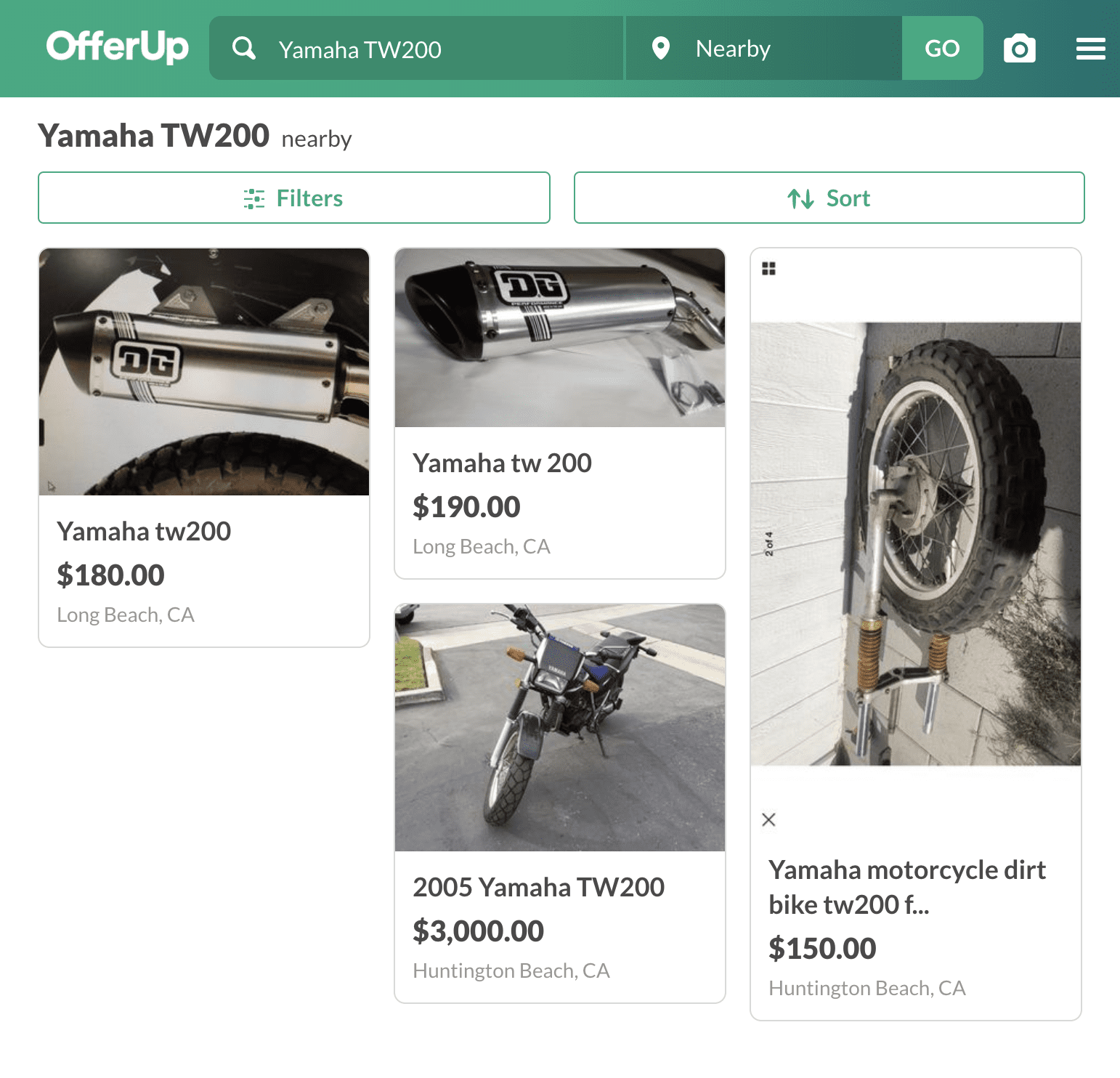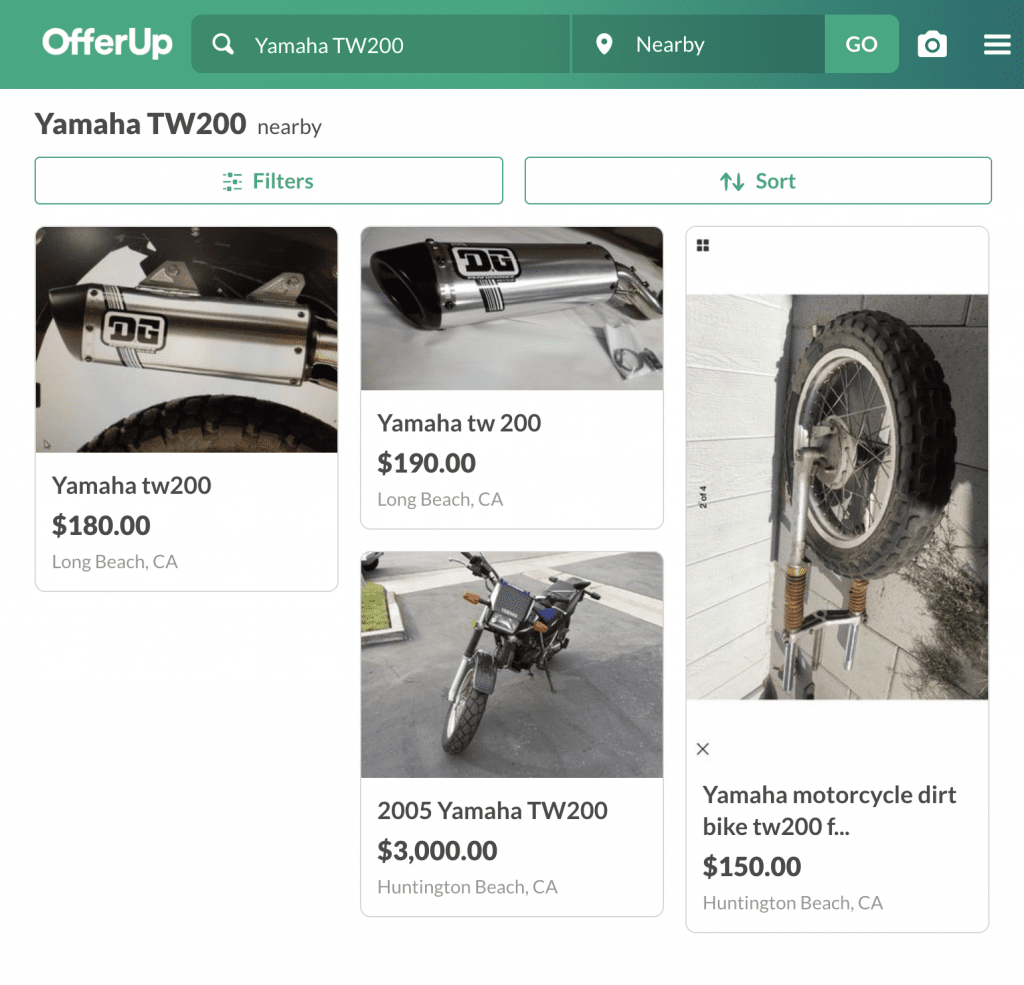 OfferUp – Yamaha TW200
https://offerup.com/search/?q=Yamaha%20TW200
Launched in 2011 by Nick Huzar, former co-founder and CTO of Konnects, Inc., and Arean van Veelen, OfferUp is a mobile-driven local marketplace that competes with companies such as eBay, Craigslist and Facebook Marketplace.
SMART CYCLE GUIDE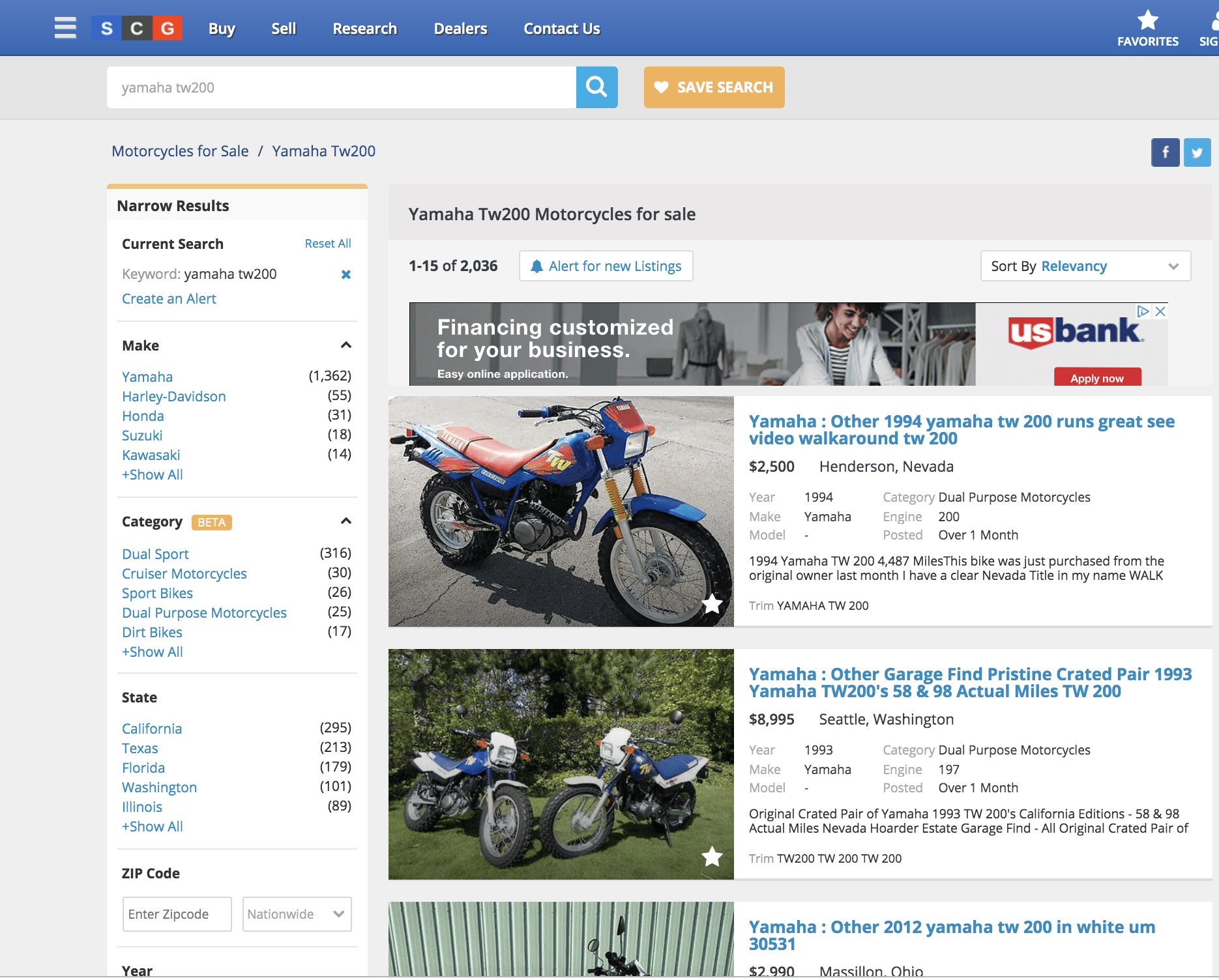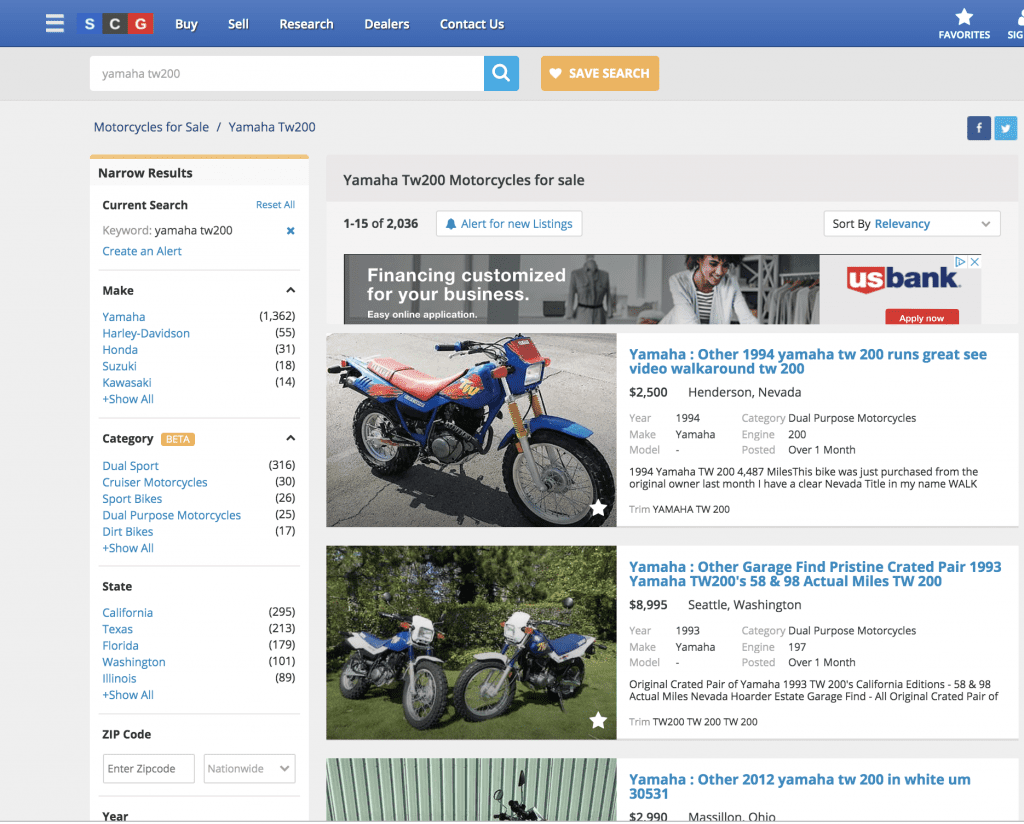 SMART CYCLE GUIDE – Yamaha TW200
https://www.smartcycleguide.com/motorcycles-for-sale/yamaha-tw200
Launched in July 2008, SmartCycleGuide.com (a subsidiary of SmartCarGuide.com) features comprehensive list of local vehicle classifieds. We hope to make the motorcycle buying process a little bit easier for you. We are constantly updating the site with new features to save you time.
• • • • WHAT YEAR TW200 DO YOU HAVE? • • • •
Why did you buy new or used?
> > > > Comment below! < < < <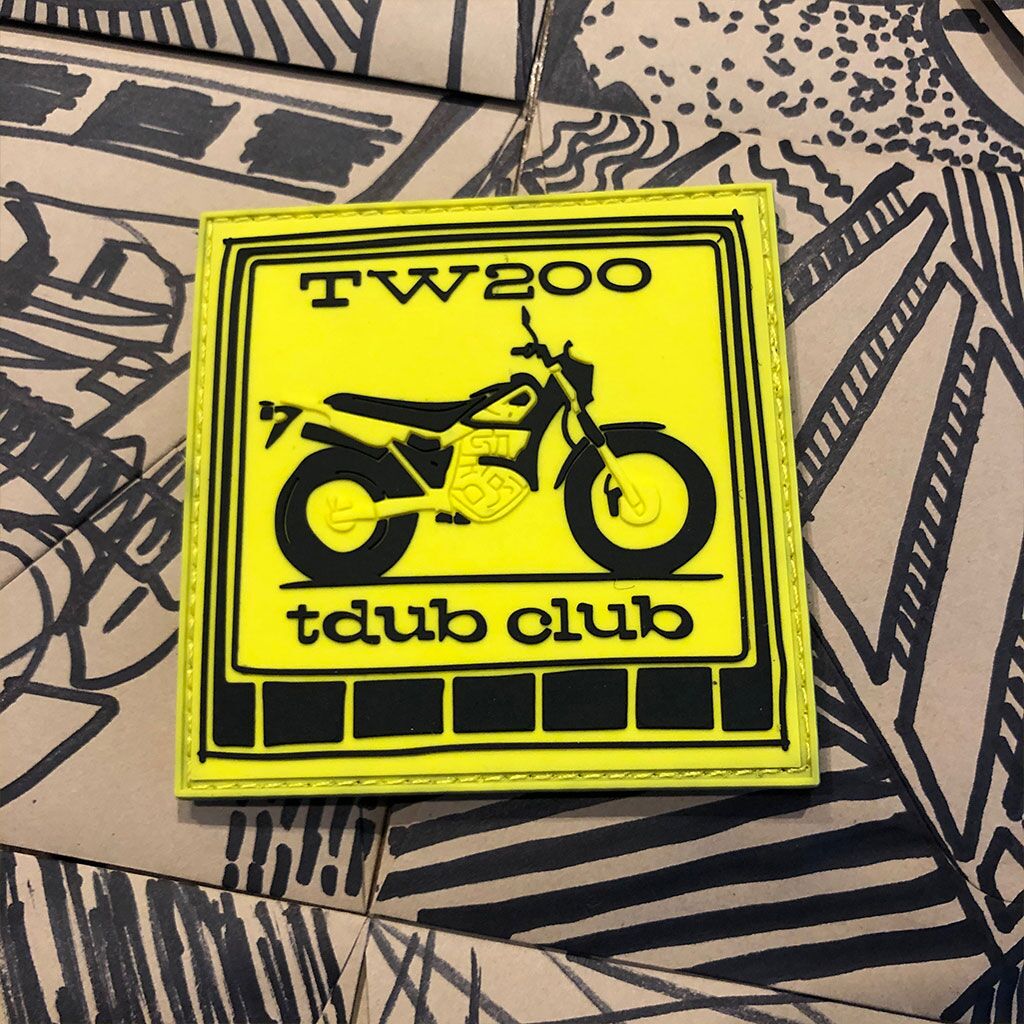 ORDER YOUR TW200 TDUB CLUB PATCH OR STICKER SET:
https://www.tdubclub.com/shop/

Yamaha TDUB Club Social:
Instagram: https://www.instagram.com/yamahatdubclub/
Facebook: https://www.facebook.com/TW200club/
YouTube: https://www.youtube.com/channel/UCtf_QLxO-qebsvBbvUHtEgg?