Best: ProMotoBillet / Fastway EVO Air
Good: IMS Super Stock Foot Pegs
Inexpensive: Krator FP003 TW200 1981+ Dirtbike Stomper Footpegs
ERGONOMICS – Footpegs
In the ergonomics or cockpit of your motorcycle, we have quite a few options to work with; handlebars, bar risers, grips, mirrors, seats, and footpegs. All this to help us "fit" our bikes. We will start at the bottom with the footpegs. Did you know you can lower your center of gravity while riding, by simply standing up?
Standing up on your TW200 is easy, but for how long? The factory footpegs are made to get the job done and as reliable as possible, so small, tough and compact they are. Thus, standing up for any period of time, you will quickly desire something larger to stand on.
For myself, I changed my footpegs first as standing-up-while-riding is a high priority. A wider footpeg helps with both confidence and fatigue and if you are planning on riding in the dirt, standing up while riding will be a major skill-set to learn. If you're not comfortable with the position, it has benefits that warrant spending the time learning and getting comfortable with standing while riding your moto. Maybe "standing while riding" needs to be a discussion all into itself? But let's carry on with footpegs for the sake of this blog post.
WIDE ARRAY OF CHOICES
If you are ready to swap for wider footpegs, there is a wide array of choices to be made. But I draw an imaginary line in the sand on my personal options! I have standards.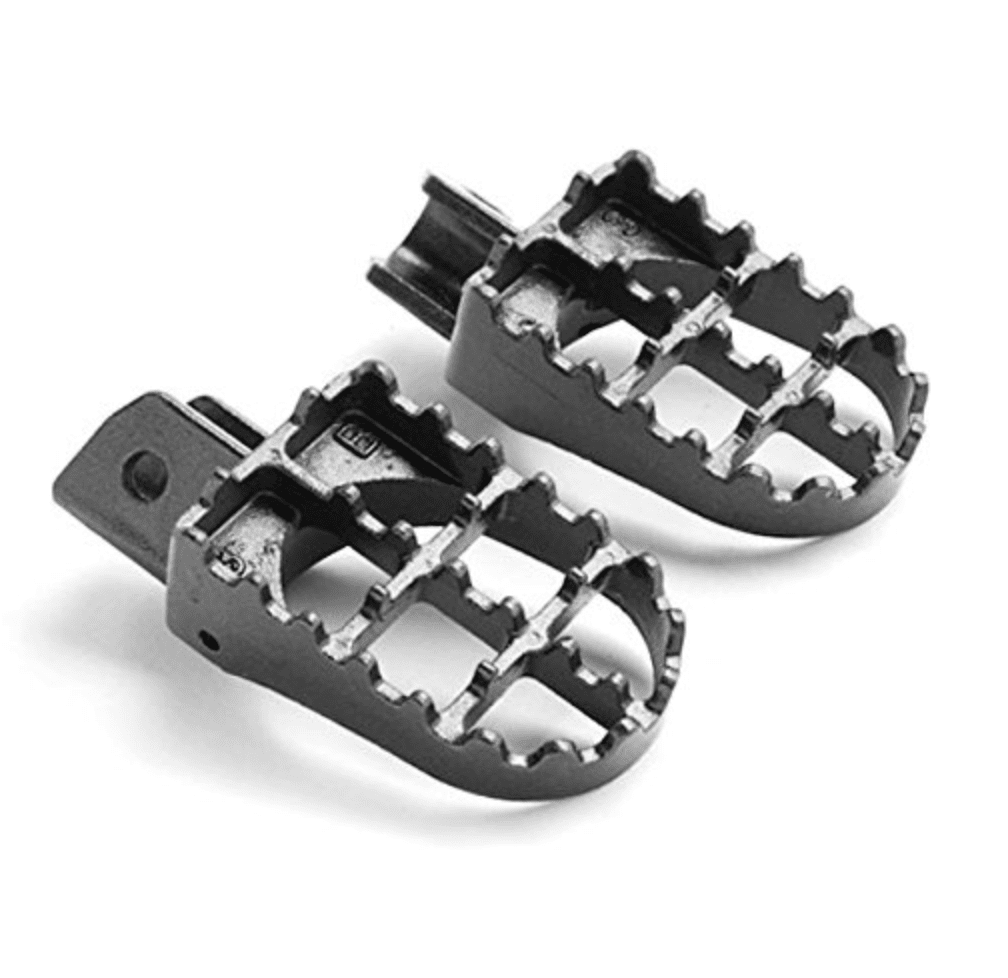 One of the first things I noticed in the TW200 community was quite a bit of discussion about some very inexpensive wide pegs on Amazon. My imagination ran wild with thoughts about the peg breaking off and the exposed metal scraping up my leg!
Even with full moto boots, I am not comfortable with a rather inexpensive footpeg from a company that does not have sweat equity in its brand or a commitment to the consumers! I'm all about small brands, even if it was a guy on the forum making them out of his house, showing us his commitment to detail, I can get behind that.

It's one thing to be sitting down and riding, but we spend a considerable amount of time riding standing up. I simply prefer a footpeg company that I know and known to make a quality product. Again, this is all personal preference and dealer choice!
Quality piece of mind
But even still, I now ride with moto boots, but I do not want a footpeg breaking off. Yes, I have seen several broken footpegs on MX bikes come through our shop, so my fear is substantially based. While those are extreme cases, I still can not bring myself to "cheap out" on items that I feel are critical. I simply do not want a broken footpeg out on trail, miles away from home.
At the time, I had the money, so I spent it on what I know to be a bit excessive for the TW200 and purchased the Pro Moto Billet FASTWAY EVO Air footpegs. Yes, that is a mouth-full of bling as the brand "Fastway" is produced by Pro Moto Billet. You will not find a company name for "Fastway" on Instagram, they operate under their "parent company" name Pro Moto Billet. A bit confusing, but their works speaks for itself!
More Economical safe choice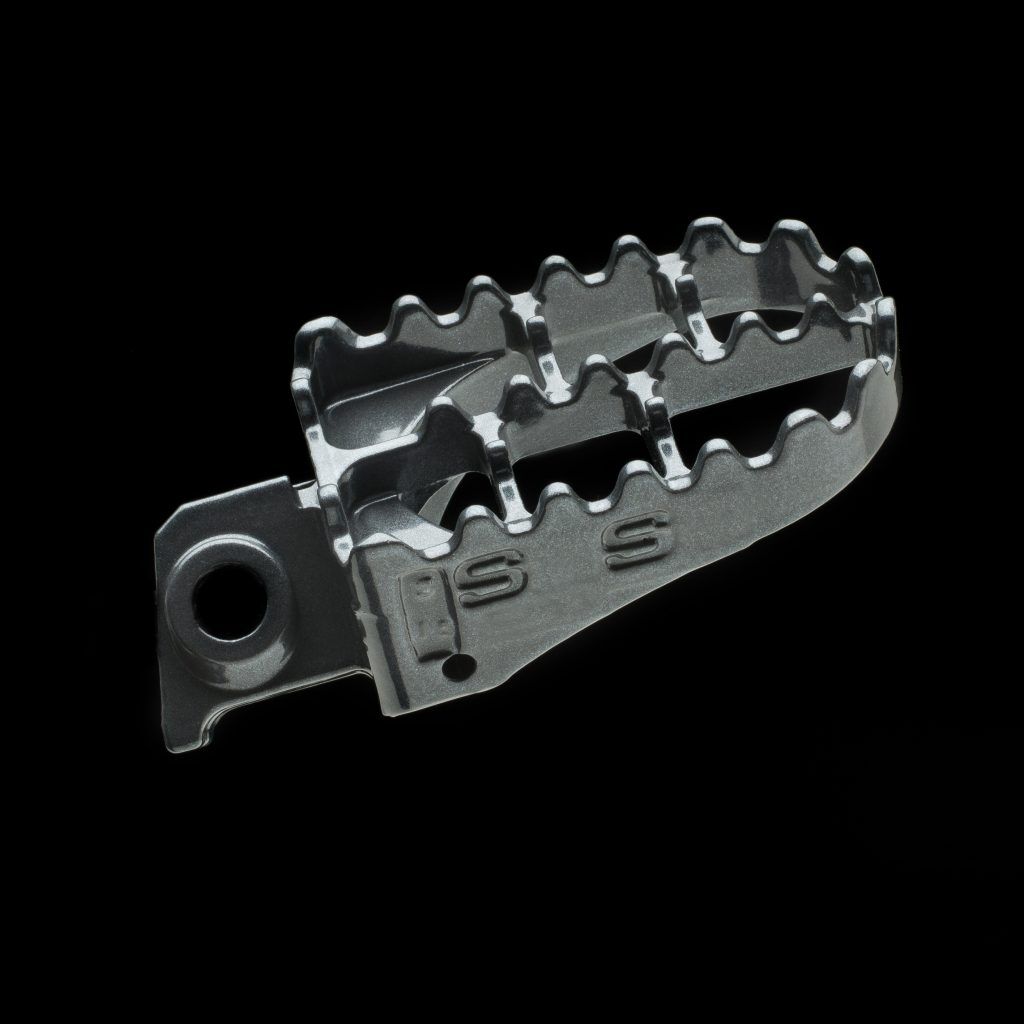 If I had not "full-splurged, on footpegs" I would go no lesser than the IMS Super Stock footpegs. The IMS Super Stock footpegs are made from 17-4 stainless steel with a gray powder coat finish in roughly a 2″ by 3″ inch dimension that is exceptionally larger than stock! The tall rounded teeth are perfect for all riding levels, making a significant difference in the overall control of your bike.
Long Term Review: Fastway EVO Air
The Fastway EVO Air footpegs doing what they are supposed to do! They have already carried me a few thousand miles since I installed them back in August of 2017 up to the writing of this blog in September of 2019!
The Fastway EVO Air footpegs are made from 2024 billet and tested to hold over 10 tons of downforce! That is a good thing as I put a beating on them riding the Redonda Ridge Trail! This trail is also known as the Malcolm Smith Trail after the legendary rider that he is! Please tell me you have watch "On Any Sunday?" If not you have homework to do! Click that link and go watch it!

The rocks on the trail are "KNEE DEEP" or should I say knee-high! The Fastway EVO Air footpegs took a beating as the TW200 has a much lower ground clearance than previous bikes that I am used to riding! On that one ride alone I bent the shifter and brake pedal all the way around the footpegs! I do not wish to inflict that much abuse to my bike again! Also, that was the most physically challenging day! Needless to say, the Fastway EVO Air footpegs can handle the abuse!

Purchase: Pro Moto Billet / FASTWAY EVO Air foot pegs
This footpeg post is apart of our ongoing series Aftermarket Accessories:

Side distraction:
My other encounters on the Redonda Ridge / Malcolm Smith Trail as I use to work for Axial RC Inc:
Planning a SCX10 Hike over Redonda Ridge OHV Trail 1W17
PACK CONTENTS FOR A SCX10 TRAIL HIKE
Getting There – An SCX10 Hike Over Redonda Ridge
Hiking the Redonda Ridge with an SCX10 Trail Honcho