*Saddlebags have been in use since the dawn of traveling on horses making a natural fit for motorcycles!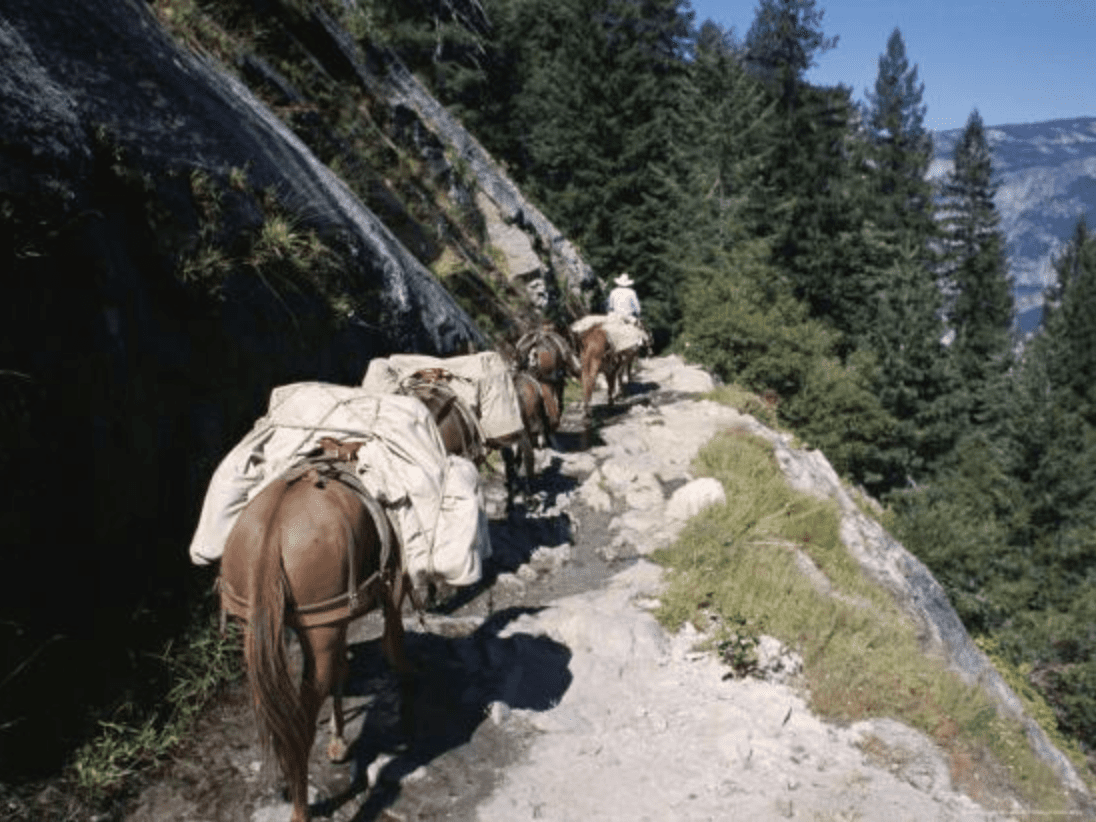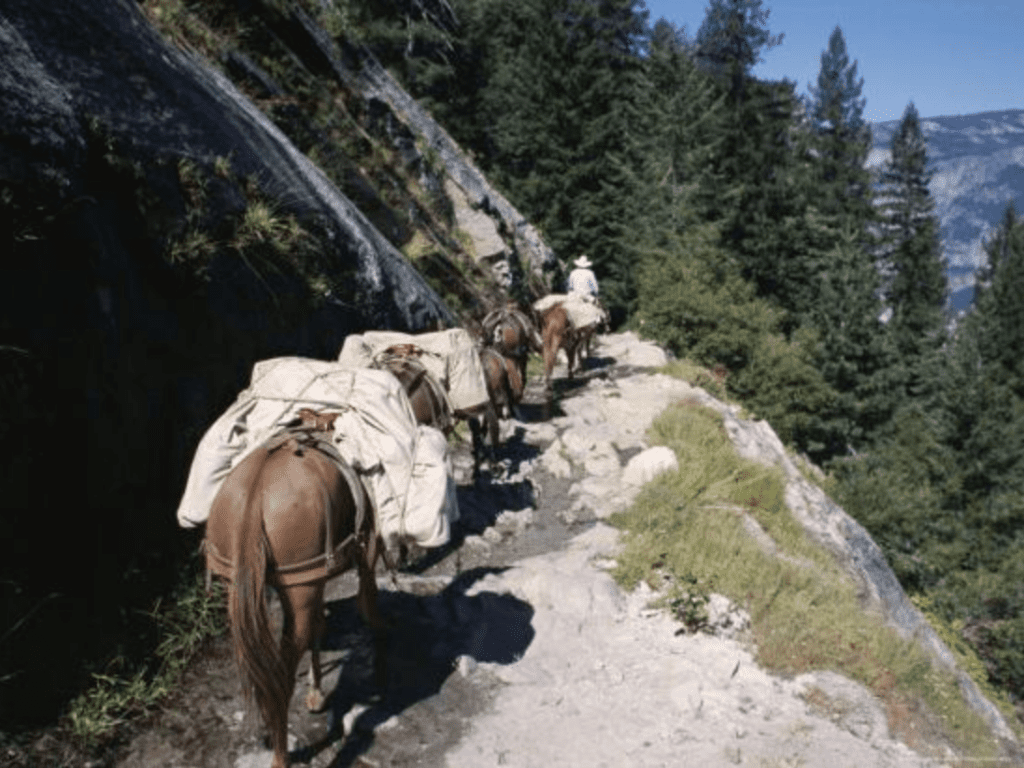 Our motorcycles are very similar to a horse, and ours are more donkeys! Either way, saddlebags simply work! Moto camping, commuting to work, grocery shopping, whatever the excuse needed, saddlebags have been in use for a very long time!

We will attempt to bring some saddlebag options into one location in this blog for your research needs and travel desires! The photo below speaks volumes about Yamaha TW200's bagged for adventure! It needs to be a full-size wall cover print as it is INSPIRATION on so many levels!
GO MOTO CAMPING! GET PACKING! But too, don't let the baggage hold you back! Did you read/see/watch our "HOW I PACKED FOR 3-DAYS OF MOTO CAMPING" video-post? Hit that and maybe come back here if you are already "there" with the racks and such! It's all apart of the adventure!
SACKS ARE FOR 'TATERS
Here Are The Grocery Getters
Listed below are the brands we have been eyeballing for a while. At the time of this writing, we've not yet pulled the trigger on the dead president's manual screen printer nor have we digitally awarded the reduction of decimals in our PayPal account for the following; DrySpec, Fisher Saddlebags, Giant Loop, Mosko, Ortlieb, and Wolfman. But we would oh-so like to!

FISHER SADDLEBAGS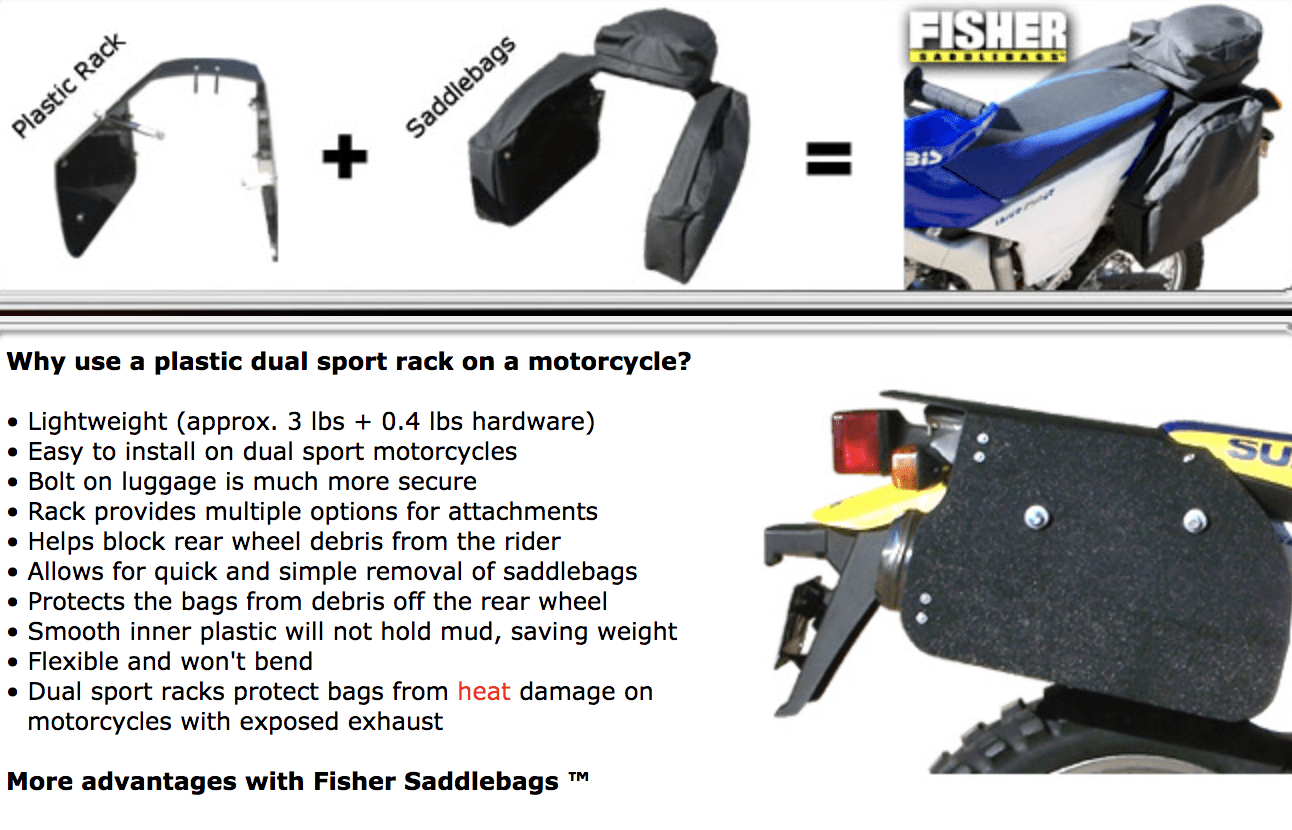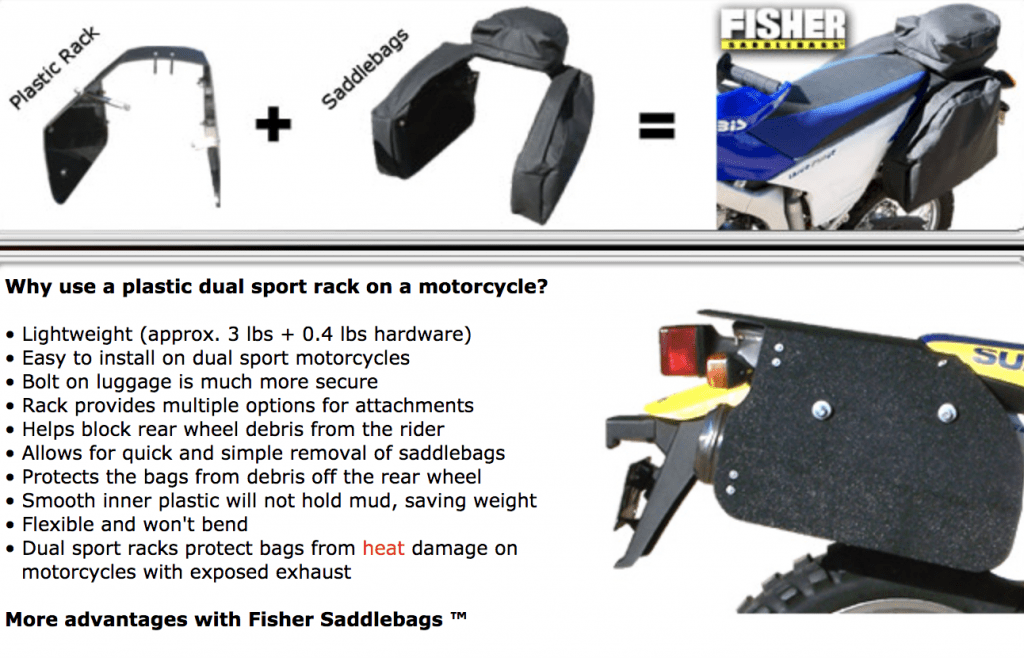 Fisher Saddlebags™ offers a unique and innovative solution to attach saddlebags and other items to the back of dual-sport motorcycles. Are you a dualsport day-rider or an urban commuter looking for simplicity? Other motorcycle bags can be very cumbersome and hard to attach, whereas the Fisher Saddlebags are designed just for you! Certain motorcycles just don't work well with mounting bags on the back, which is why Fisher Saddlebags has designed a durable ABS plastic "sub-frame" rack to use in conjunction with their saddlebags. Each rack is bolted to the subframe and the saddlebags slip on over the rack with turn-buckles to securing them.
The Fisher Saddlebags are made with an 11 oz. marine canvas which is both mildew and ultra-violet resistant (UVR). The marine canvas is highly water-resistant, yet breathable, and has an extremely high tear strength for those times when the bike is not on two wheels. See, our motos are like horses! Each bag is reinforced with an added inside layer of vinyl with extra layers at wear points. Fisher Saddlebags™ are stitched together with a high-tensile strength UVR thread. Every bag is made with Delrin molded tooth zippers which are a huge advantage over bags made with coil zippers. The top bag is also designed to expand for an extra jacket or other large dual sport accessories!
MORE INFO: https://fishersaddlebags.com/index.html
---
DRYSPEC SADDLEBAGS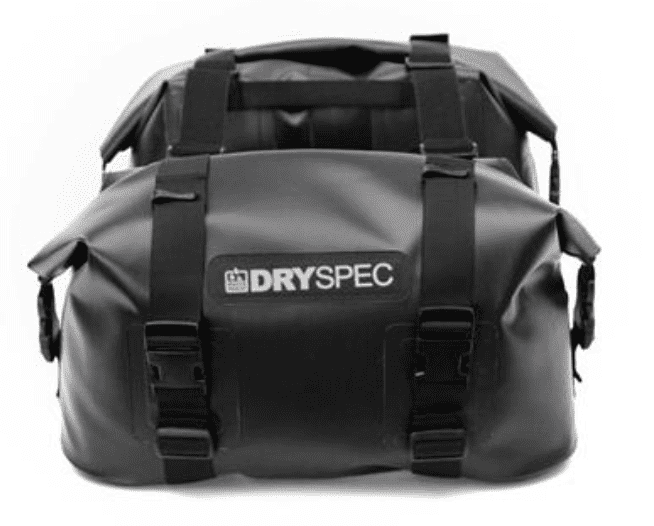 DrySpec D20 Saddle Bag Set from Bike Bandit
The DrySpec™ D20 saddlebag set is constructed of RF welded 22oz. vinyl that guarantees 100% waterproof performance even when submerged. The D20 also features a rigid core construction that allows the bags to retain their shape even when empty and makes packing and unpacking super easy.
Unlike all other saddlebags, the DrySpec D20's interchangeable center strap is the core innovation that allows the bags to be so versatile. The bags mount directly to a bike with or without side racks and can attach directly to other D-Series dry bags. Use the Velcro center strap for convenience, the solid nylon strap for extremely muddy conditions, or remove the center strap all together to mount the bags directly to a D28 or D38 dry bag. Mounting the D20 saddlebags to the D28 or D38 dry bag is the ideal solution for riders who want the extra storage but are unable to mount traditional saddlebags due to high exhausts.
Modular packing (mates with D28 and D38)
Rigid Core construction
Universal slip-lock mounting straps (included)
Interchangeable center straps (Velcro or solid nylon)
Mounts with or without side racks
Retro-Reflective logo
40 liters (20 liters each side)
100% waterproof (Radio Frequency Welded Seams)
17″ long x 6″ wide x 12″ tall
22oz Vinyl & coated Cordura

More Info:
https://www.bikebandit.com/dryspec-d20-saddle-bag-set/p/52358
---
WOLFMAN SADDLEBAGS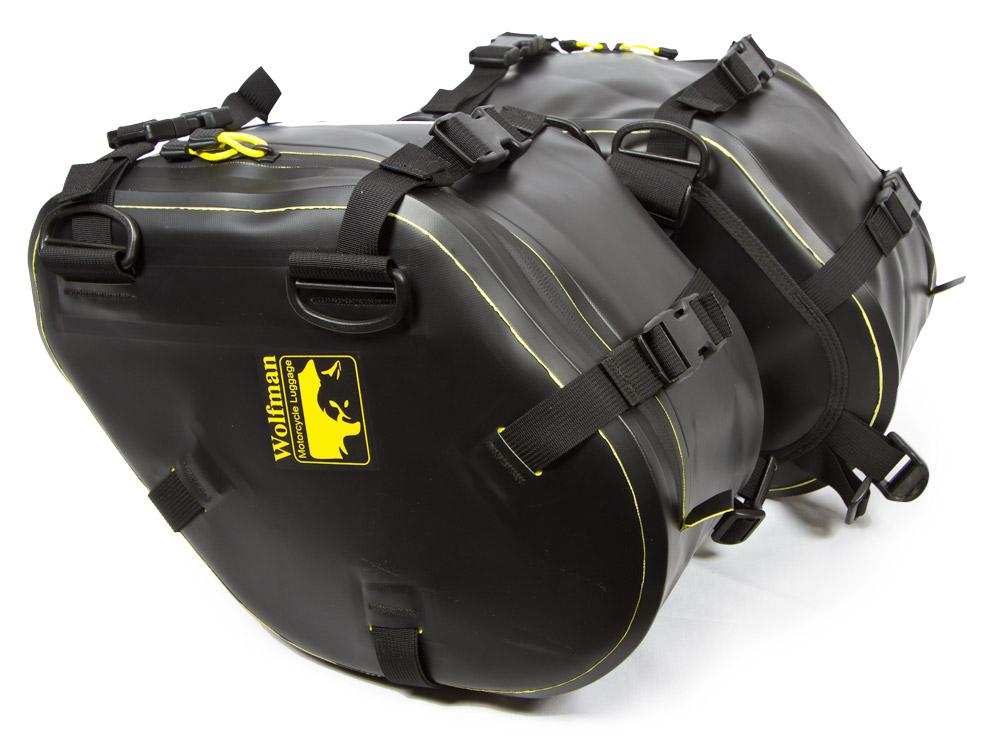 E-12 Saddle Bags WP
The Wolfman™ 2020 E-12s are made from durable waterproof Radio Frequency Welded 840d TPU black/yellow fabric. Plastic-stiffened bike-side and outside are more versatile with an updated design and construction that make for even stronger and more robust saddlebags. The new design incorporates a larger capacity and more seat room. Five outside compression straps allow the rider to compress the load from day use to overnight use easily.
Note: These motorcycle saddlebags are designed to ride tight and close. We highly recommend our Kiowa Heat Shield for protection between the bag and the exhaust pipe to prevent melting bike plastic and saddlebags.
Custom 840d Nylon TPU laminate. Black outside, bright yellow (Wolfman Colors) inside
#8 YKK waterproof main zipper
Easy to find yellow cord on main opening zipper sliders
Four 2″ D Rings on each bag for more tie-down options.
Plastic Stiffeners, bike-side and outside gives shape and compress the load tight.
Reflective Wolf Logo for nighttime visibility
Designed in the USA and made with Wolfman legendary care and quality.
Dimensions & Capacity:
Width: 7″ / 17.8cm
Height: 10″ / 25cm
Length: 14″ / 35.5cm
14 Liters each 28 per pair / 854 cu.in. each 1708 cu.in. per pair
MORE INFO: https://wolfmanluggage.com/collections/all-motorcycle-bags/products/e-12-saddle-bags-wp
---
ORTLIEB SADDLEBAGS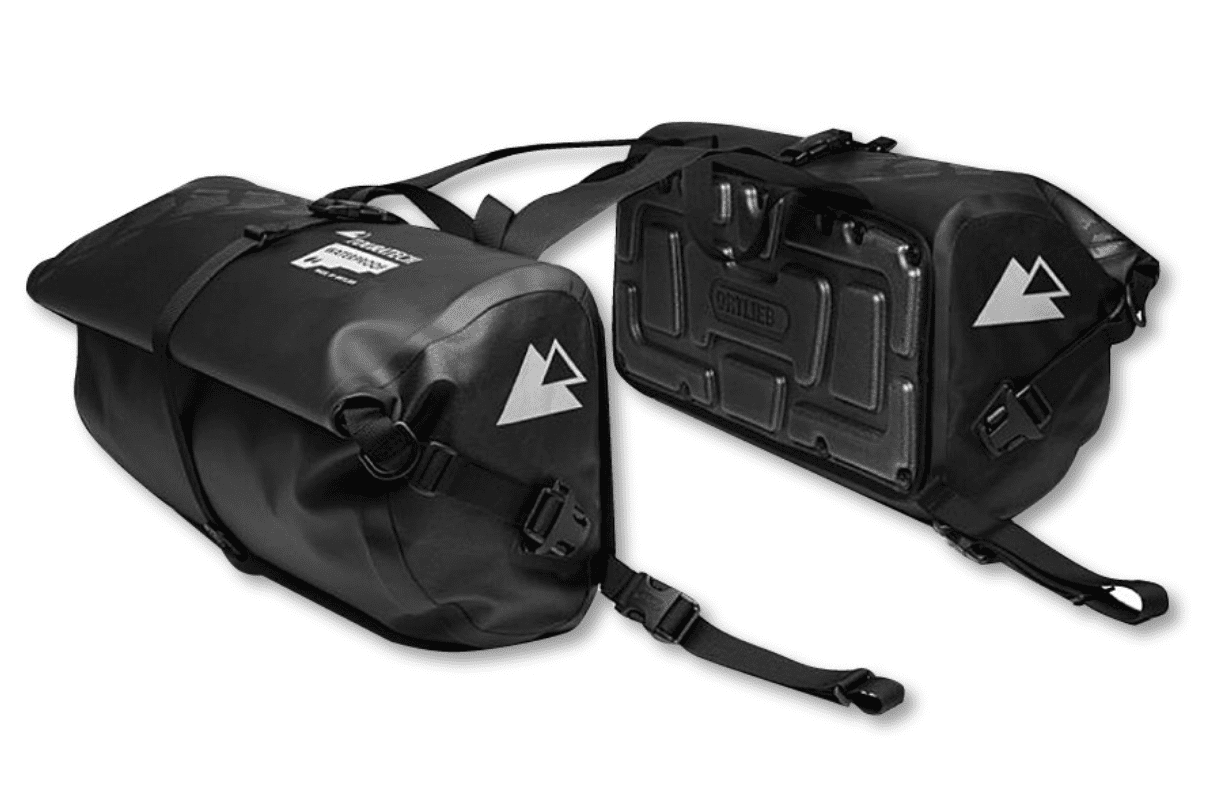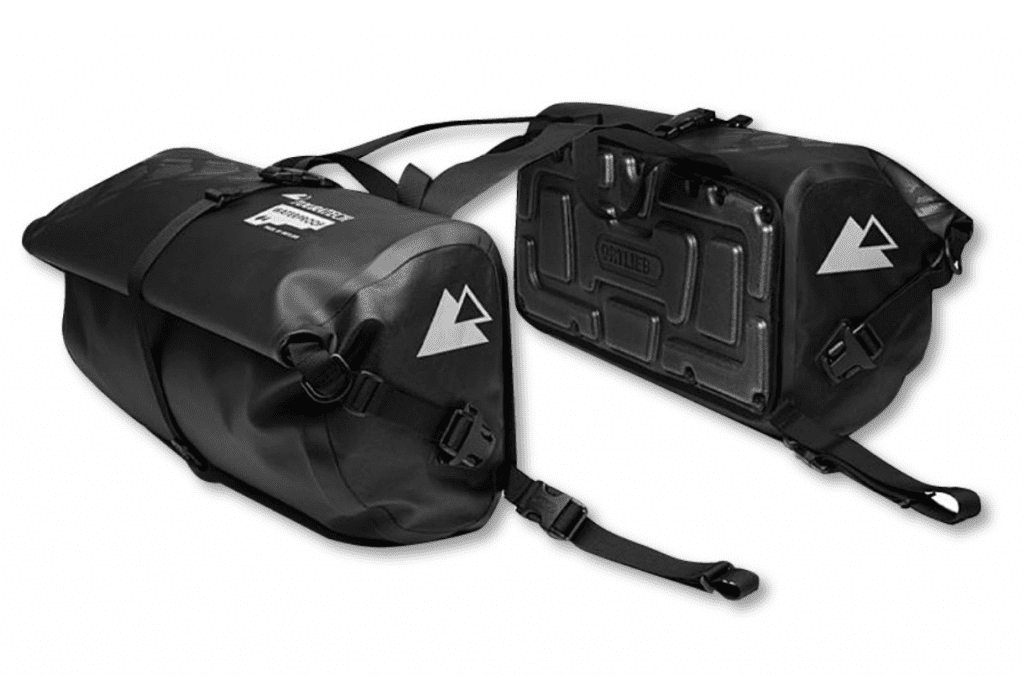 Touratech Ortlieb Low Profile Dry Bag Saddlebags from AeroStich
A rugged pair of roll-top waterproof saddlebags, perfect for bikes with high-riding exhaust systems. The unique low profile design sits higher than standard saddlebags, yet has 2100 cubic inches of total space for whatever you need to carry. Made of extremely strong and abrasion-resistant reinforced PVC with a thermo-molded rear pad to protect the paint finish. Inner organizer pocket allows quick, convenient access. Black. 9″×19.5″×6″ each. 2100 cubic inch combined volume.

These are found on one of my ALL TIME FAVORITE WEBSITES!!! https://www.aerostich.com/moto-low-profile-dry-saddlebags.html
---
GIANT LOOP SADDLEBAGS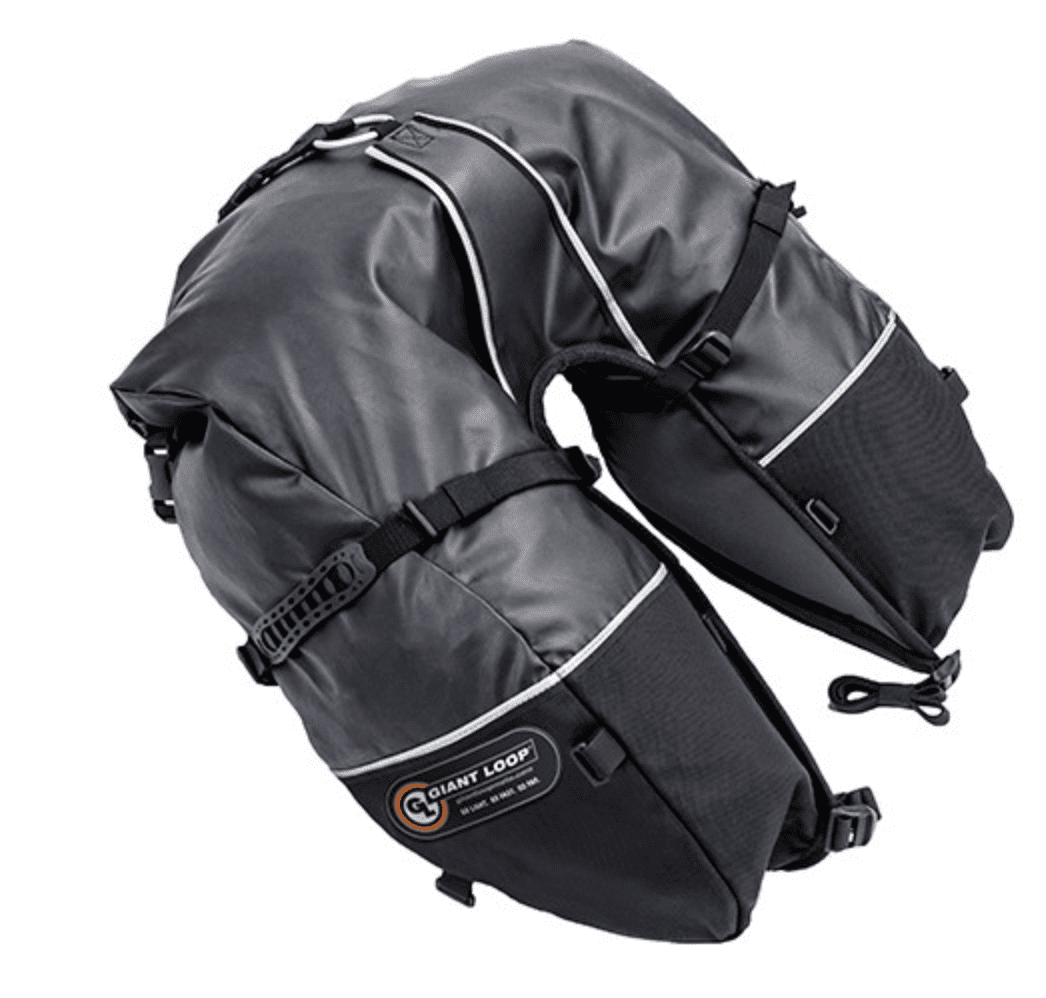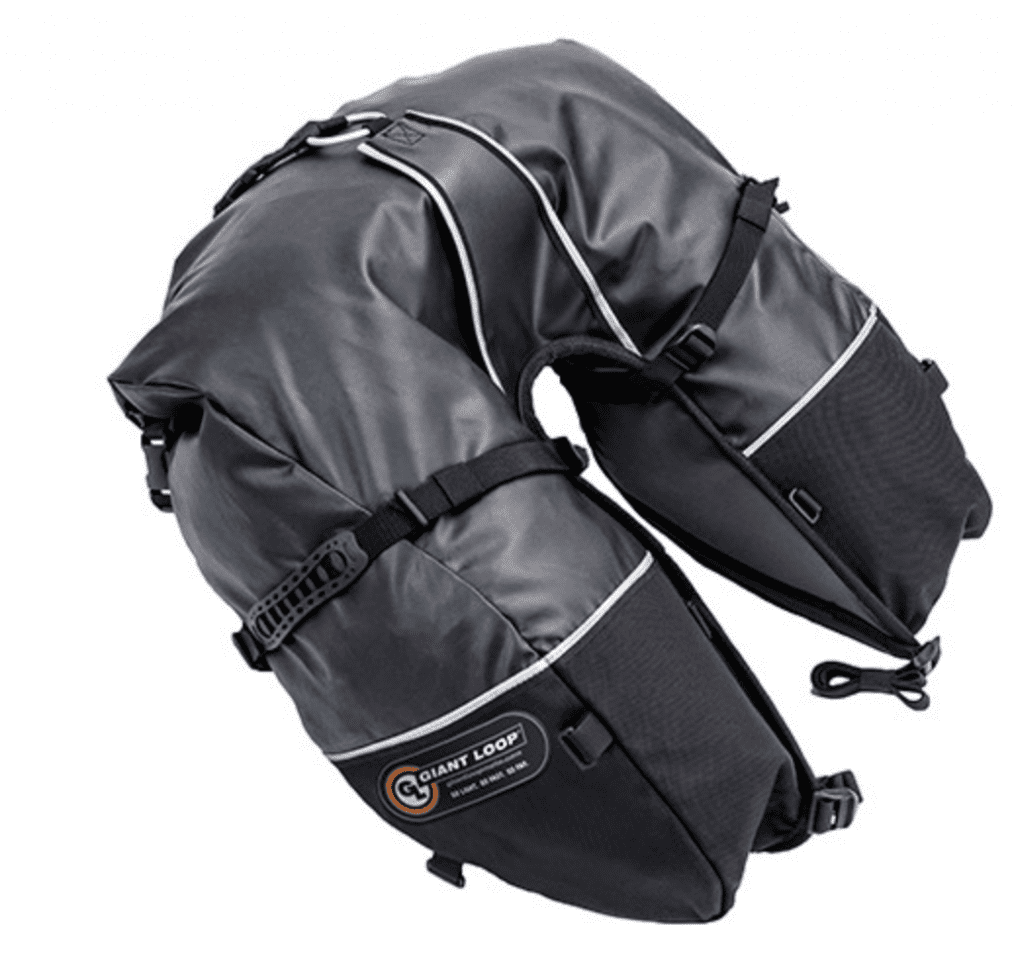 Coyote Saddlebag™
Giant Loop™ pioneered the rackless motorcycle luggage system with its original horseshoe-shaped Giant Loop Saddlebag in 2008. This ingenious biomorphic rackless motorcycle saddlebag design positions gear exactly where motorcycles are engineered to carry weight, positioned tight to the motorcycle, with "legs" that keep heavy gear below seat height, minimizing the performance impact of packing gear on a motorcycle. Giant Loop's adventure proof packing systems make it even more fun to ride, travel, and explore on motorcycles!
The Great Basin Saddlebag, Coyote Saddlebag, and MoJavi Saddlebag comprise the core of our rackless motorcycle luggage system. No side luggage racks required. Giant Loop's modular, customizable motorcycle packing system enables riders to quickly, easily expand on the rackless saddlebag platform by adding waterproof pockets and double-ended dry bags: Columbia Dry Bag, Tillamook Dry Bag, Rogue Dry Bag, Possibles Pouch.

MORE INFO: https://www.giantloopmoto.com/product/mototrekk-panniers/
---
MOSKO MOTO SADDLEBAGS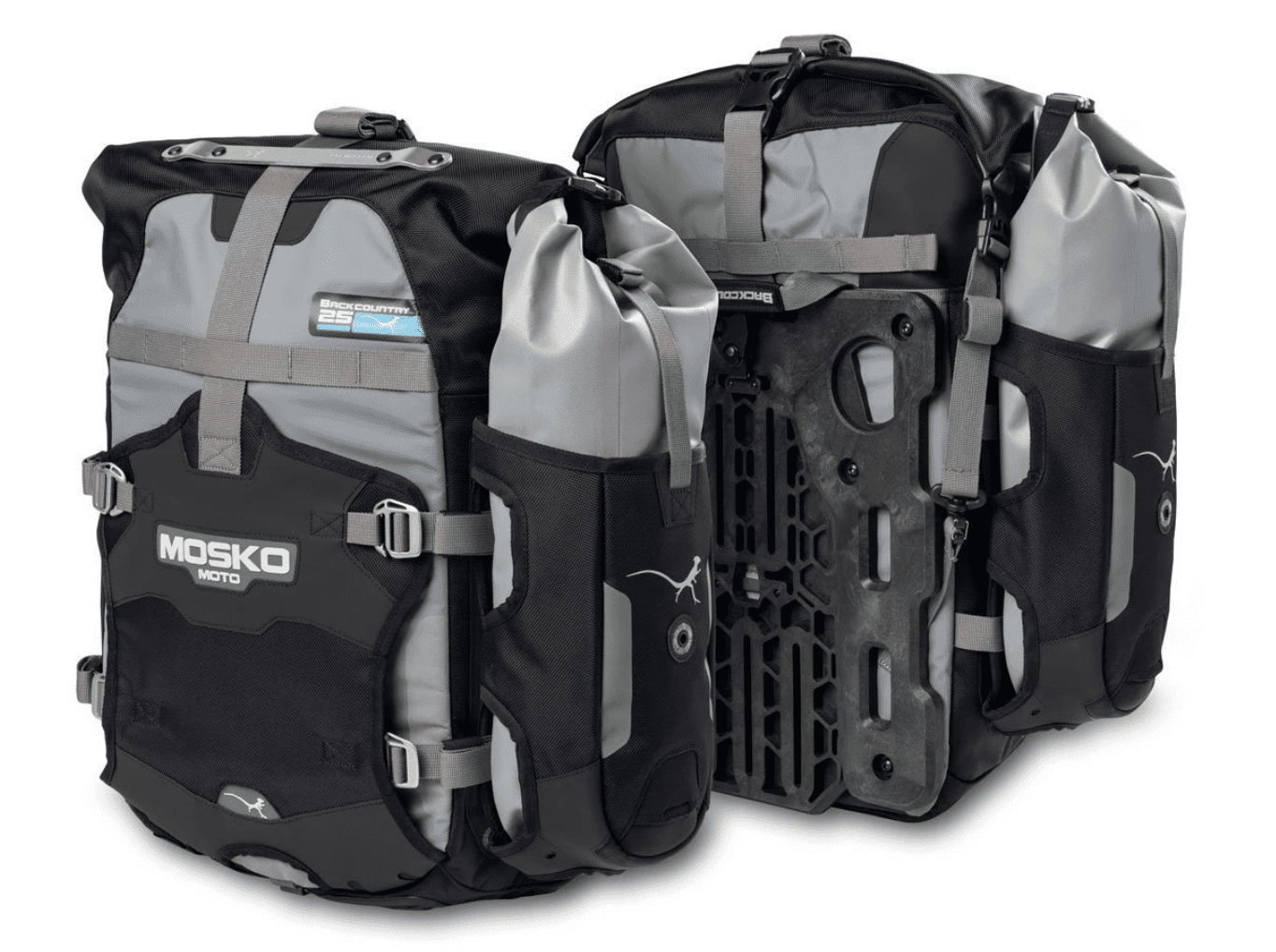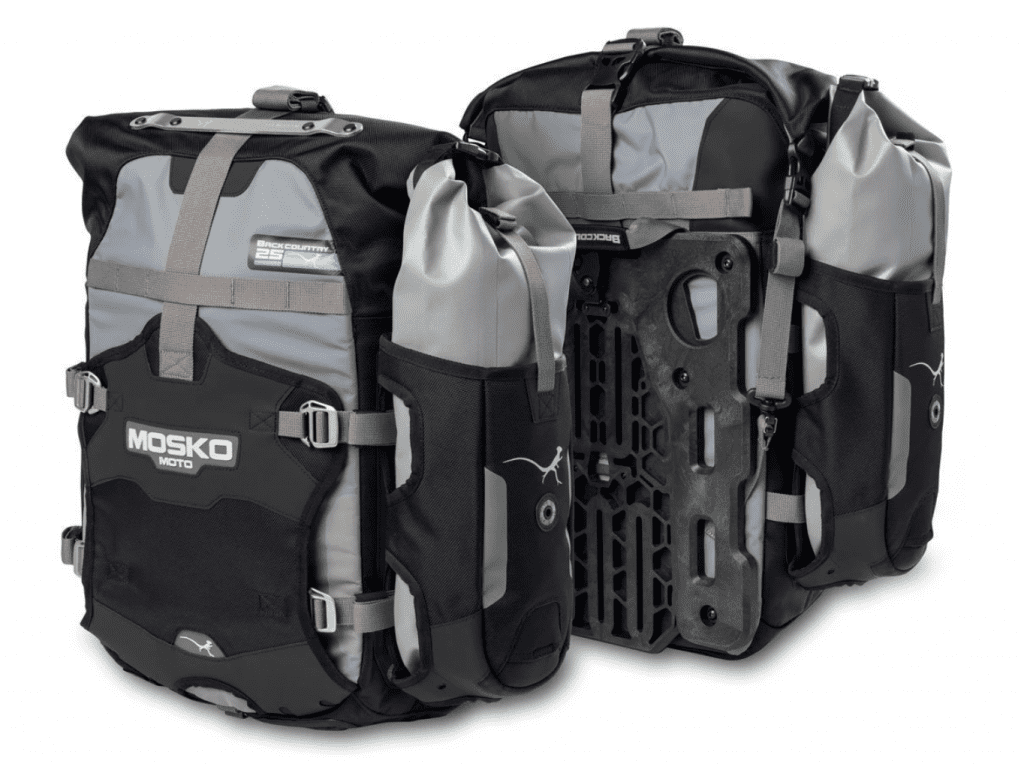 Mosko Moto
The Mosko Moto™ Backcountry Pannier is the flagship product, designed for long-distance adventure touring, hardcore enduro-style riding, and camping from your bike. This kit includes two 25L bags, for 50L of total capacity.
With bomb-proof construction and heavy-duty materials, the Backcountry bags can really take a beating. With the Mosko Moto's quick-mount wedge system, these make it easy to take the panniers on/off the bike to quickly store them in your tent or have them by the fire without wrestling with straps. This is the system for long-distance travelers and people living off their bikes.
The folks at Mosko Moto created the Backcountry Pannier because they are enthusiast grown tired of over-the-seat soft panniers that flop around in rough terrain, have no external pockets or stash spots, disintegrate after a couple of crashes, and are a total pain in the ass to get on and off the bike. They wanted something like a backpacking frame pack, but that mounts on your bike, and that stays connected to the bike and stays waterproof no matter how many times you lay the bike down. *MORE INFO: https://moskomoto.com/collections/motorcycle-luggage/products/backcountry-25l-pannier-kit-v2-0

*PLEASE NOTE: MOSKO MOTO does NOT make a TW200 specific set of saddlebags, but as you saw in our intro photo of the two TW200's with saddlebags, the rider on the right is most likely using the Happy Trails SU Side Racks for TW200 in order to mount his Mosko Moto panniers.
---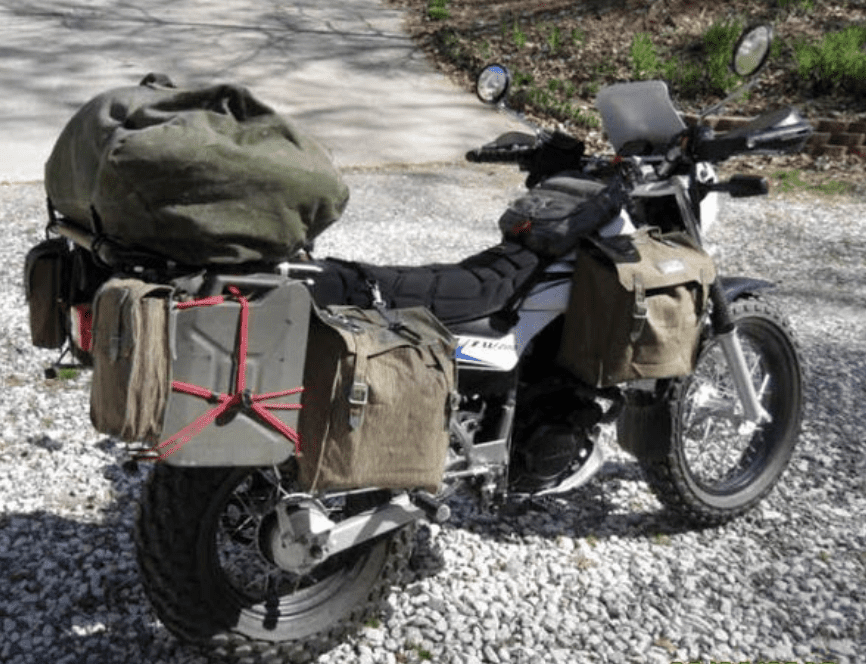 MOTOCAMPING MIL-SPEC STYLE! Unfortunately, we have no idea who this TW200 belongs to or who's photo it is. (*IF YOU KNOW, PLEASE CONTACT US!) We found this image while stalking Pinterest, only to not have it link to the actual source. Trust we went looking for the owner! BUT, IT'S SUPER-RAD!!! Impractical or not, WE LOVE IT aesthetically in this photo. Would we ride it? Don't know that we would. Maybe once. We would "do it for the 'gram!" as they say! I guess we love the military theme's visual esthetic, but in the practical world of real, we with the theme of "The Function Is The Fashion!"

Did you read our CYCLERACKS REAR RACK – TW200 post?
https://www.tdubclub.com/2020/04/29/cycleracks-rear-rack-tw200/
*IF YOU KNOW WHO OWNS THE "MIL-SPEC TW200 in the photo above, PLEASE CONTACT US via one of our social channels:
Yamaha TDUB Club – Social Properties
• dubclub.com/category/all-blogs/
• pinterest.com/TDUBCLUB/
• instagram.com/yamahatdubclub/
• facebook.com/TW200club
• youtube.com/channel/UCtf_QLxO-qebsvBbvUHtEgg/videos?view_as=subscriber