The graphic visual language Yamaha fans recognize around the world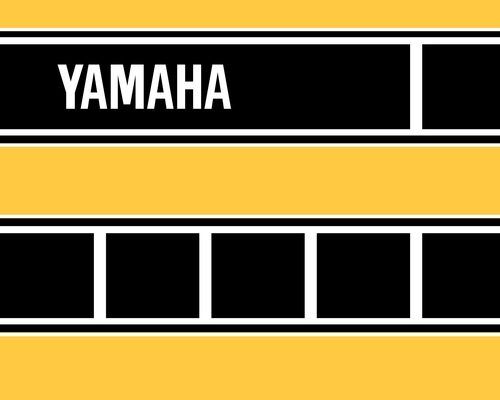 We can all thank the late Rollin "Molly" Sanders of Molly Designs as he was the creator of the "Digi-lined" "speed blocks" for Yamaha's racing efforts. He did way more than just the "Digi-line" as he was the one who put the "L" in the Lexus logo, numerous Toyota motorsports projects, Buick Gran National logo along with interior and exterior visual cues. He did a lot over his 40+ year career and I highly encourage you to read the "Source" stories linked at the bottom of this article! I can not write better stories or factual accounts than what they have delivered. But…
"I can only tell you my Molly Designs Yamaha story" – Rodney "GCRad1" Wills
I practically grew up on Molly Designs and didn't even know it until much later in life. But at age-5, I got my first motorcycle and a dog! The motorcycle was a Yamaha JT1 and my dog was a pit-boxer mix and I named him YAMAHA! Yes, this is a true story, I named my dog Yamaha! I was five years old… My father was truly passionate about motorcycling! Heck! My mom was really into riding motorcycles and she RACED TOO! My uncle Woodie raced as well. In fact, we were a flat track racing family out of Sycamore, Alabama. We raced at the Freemans Short Track in Talladega, now a dirt oval track for cars, but previously it was a motorcycle flat track. And of course we all road Yamaha motorcycles!
My dad was a Yamaha fan and a Kenny Roberts fan as well! When Kenny added road racing in Daytona to his schedule, pops pulled me out of school and off to Daytona we went! This was third grade and I was just starting to learn to tell time on the clock. I remember him leaving me and my mom at the hotel while he and Uncle Woodie went to the track. Dad said I had to learn to tell time and afterward he came back to pick us up to go to the track, but for at least the first thirty minutes I was very upset that I had to stay back!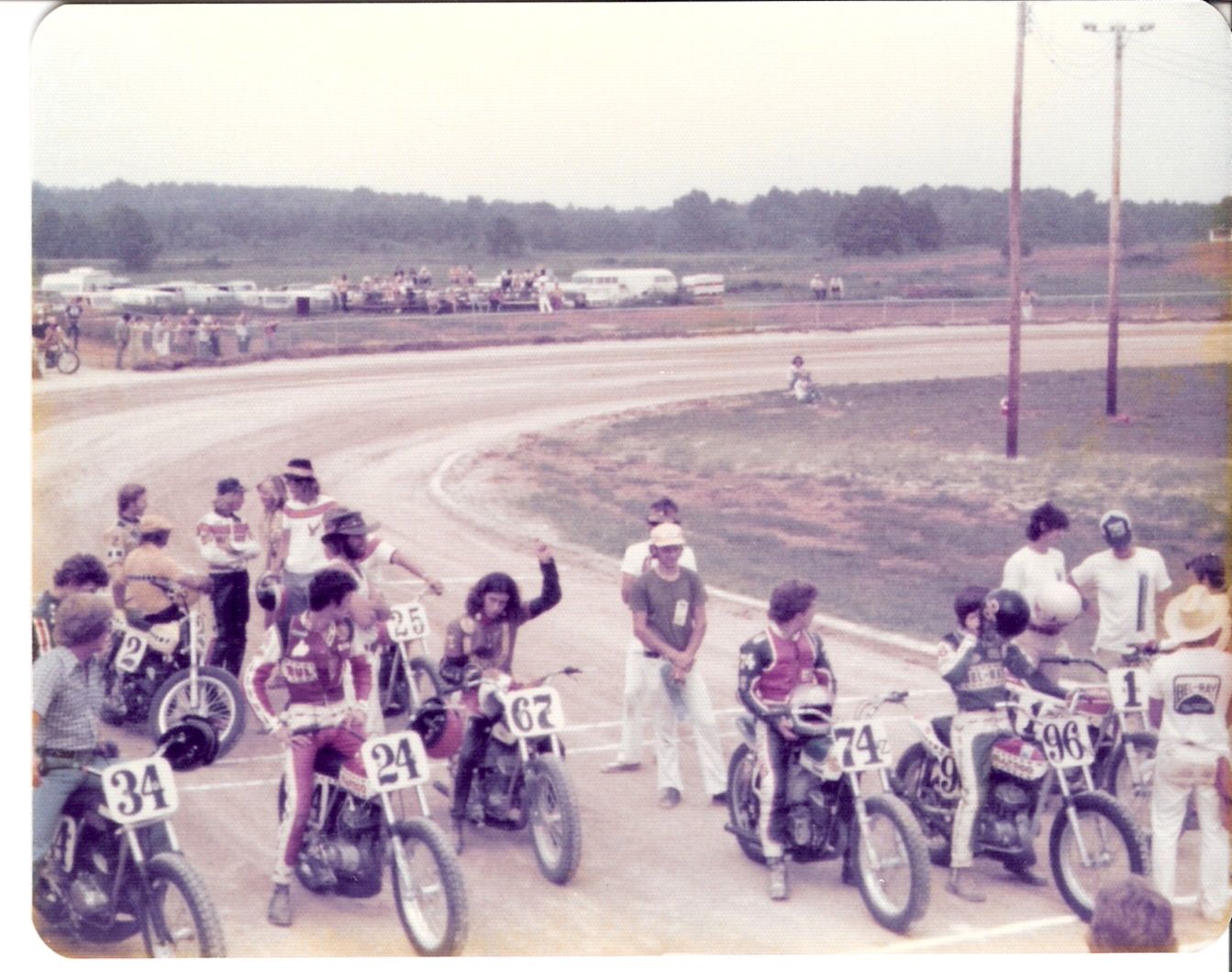 Here is an old photo of my (then) local track, Freeman's Short Track located in Talladega, Alabama. In this photo from 1975-'76 is Jay Ridgeway, Bubba Rush, Terry Poovey, Kenny Roberts (back row on left No.2), Darrell Hurst, Jay Springsteen – Photo from the Belton McDaniel collection.
My Second Yamaha
When I turned 12 years old, my next motorcycle was a Yamaha DT175 and I would spend countless hours riding in the woods. I was so short and the bike was so tall, my dad took an old speedway style seat and replaced the tall-stock seat so I could touch the ground on it. I rode this from age-12 to age-15. My pops had two rules about riding while he and mom were away at work, "don't crash and don't run out of gas because I can't come get you!" Other than that, I was out exploring as far from home as I could comfortably get on one take of gas and no license plate. Oh and no driver license. My next motorcycles would be street bikes to get to-and-from school but were not Yamaha's.

Mike Upchurch, who still works at Talladega Cycle Sales, the motorcycle shop in Talladega still to this day, raced flat track with us back then as well. He went on to also co-found the Talladega Gran Prix Raceway (TGPR), built in the fall of 1985 with his brother David and third partner, Gerald Rhodes.
Talladega Cycle Sales was my local moto shop and Mike used to keep my old DT175 running. I don't know why I added all that… Just going down memory lane here while I write this. hehehe
My Yamaha Family
Yamaha Family & Friends. This is one of only a couple of photos I have of me with my first motorcycle. L-R: Dara Ellis, Barbara Wills (mom), Barry Wills (baby brother), Dara & Carolyn Ellis, Bruce Ellis, Woodie Wallace (uncle), Stanley Ellis (sitting on back), and ME! Rodney Wills (24 shirt). The 156L bike is Woodie's Yamaha and 11L Yamaha JT1 is my bike. I still have that number plate in my collection!
Yea, I think it is evident that my dad was a Yamaha fan! This was in my house with the Yamaha rug hanging on the wall. My uncle Woodie (L) with Granny Mertis Wallace and Uncle Ray Wills.
Here is my Uncle Woodie, 156L racing at Freeman's Flat Track, Talladega, Alabama, a very long time ago.
Fred Smith (18L) (R.I.P. 8/1/2017) and my father, Earl Wills (R.I.P. 7/7/2015) with the Yoshimura shirt, working on Fred's Yamaha flat track bike. Fred Smith worked at a Yamaha dealership in Memphis, Tennessee. The shop was located very close to Elvis Presley's Graceland Mansion!

It was rumored that Elvis came into the shop all the time. One time, just before Christmas Elvis was looking at motorcycles in the shop, at the same time a black kid and his mom were in the shop. The mom did not have the money to buy the kid a motorcycle for Christmas, so Elvis made the purchase for the mom. Fred Smith and my Uncle Woodie became good friends and made a couple of trips to come to race in California. My dad, while he loved riding motorcycles, was the mechanic for our family. He raced one time and got kicked off the track for his wild antics with the other riders. Thus, he became a mechanic! My Uncle Ray nick-named him "SQUIRRELY!"
But what does this all have to do with Molly Sanders?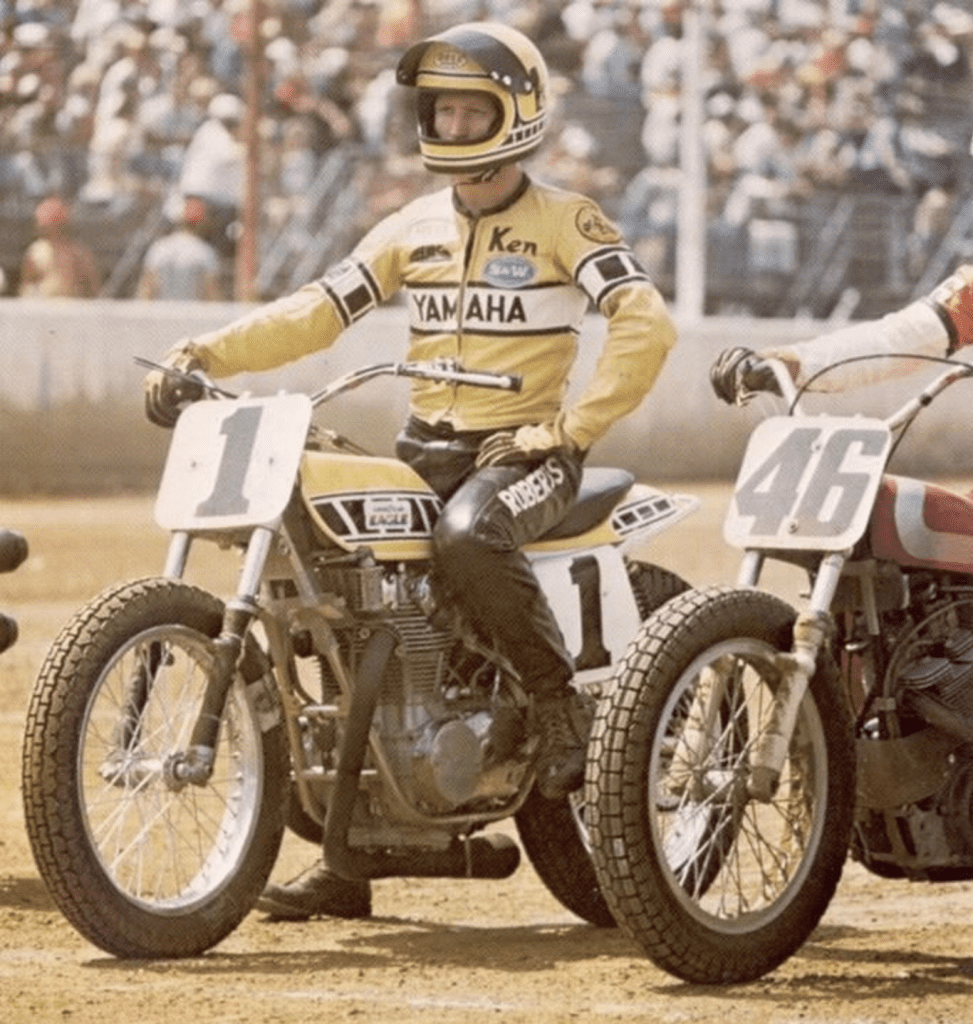 As a kid growing up in a "Yamaha household" Kenny Roberts was the man! And the "digi-stripe" "speed blocks" was "THE" iconic visual DNA! These little black squares and or slanted blocks centered on a white stripe, backed by a field of yellow have been ingrained in me! Rollin "Molly" Sanders affected me at an early age and I am sure the same can be said for many others as well!

I think that was/is the whole point of the design exercise, thus it is an interesting thing to see the long-term effect. Take into consideration, Yamaha is a Japanese corporation with a USA office. The USA office recruited Molly Designs to establish a visual look specifically for Yamaha's race efforts, which would grow into a worldwide recognized visual language. And in 1978, Kenny would make a worldwide splash with becoming the first American to win a Grand Prix motorcycle racing world championship donned with the "speed-blocks" graphic.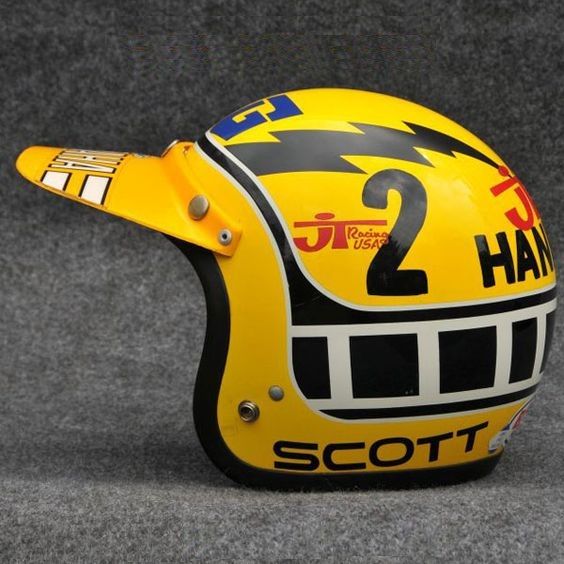 Further development of the "speed blocks" then and now. Note the hand-painted number 2 on Bob Hanna's MX helmet back when they wore open-face helmets, but too, the interpretation of the speed-blocks!
In 2012, Bell helmets did a little Hanna / Molly Speed Block throw-back, with GLITTER!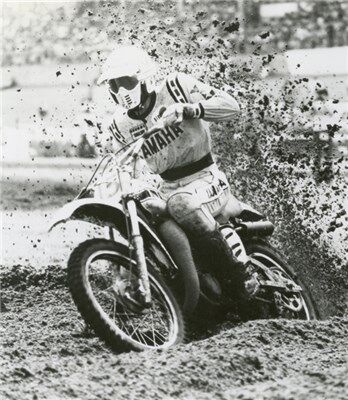 I do not know if Rollin Molly Sanders was responsible for implementing all of the various forms of the "speed blocks" but the effects can be seen throughout Yamaha's motorsport communication as well into modern production form.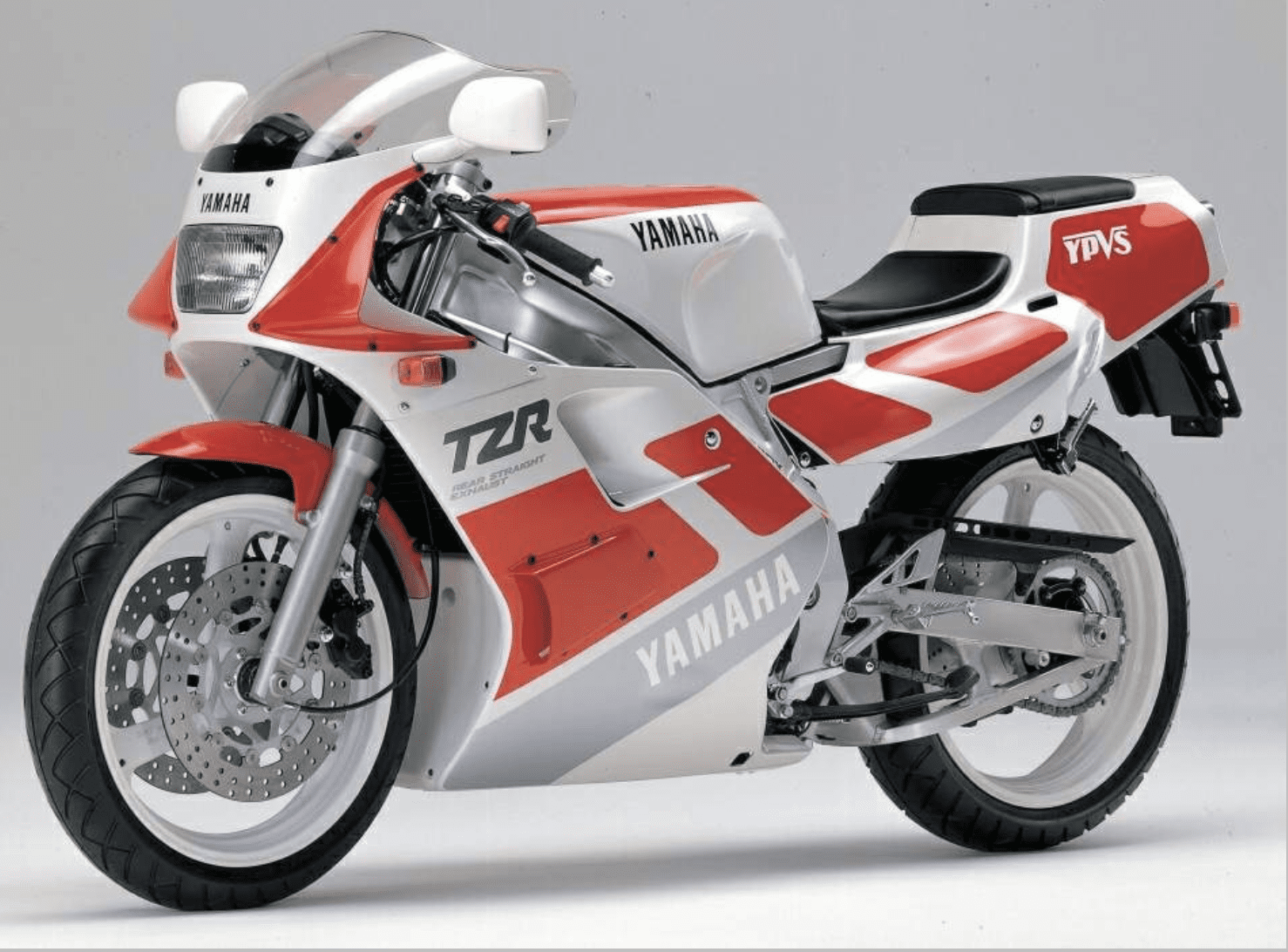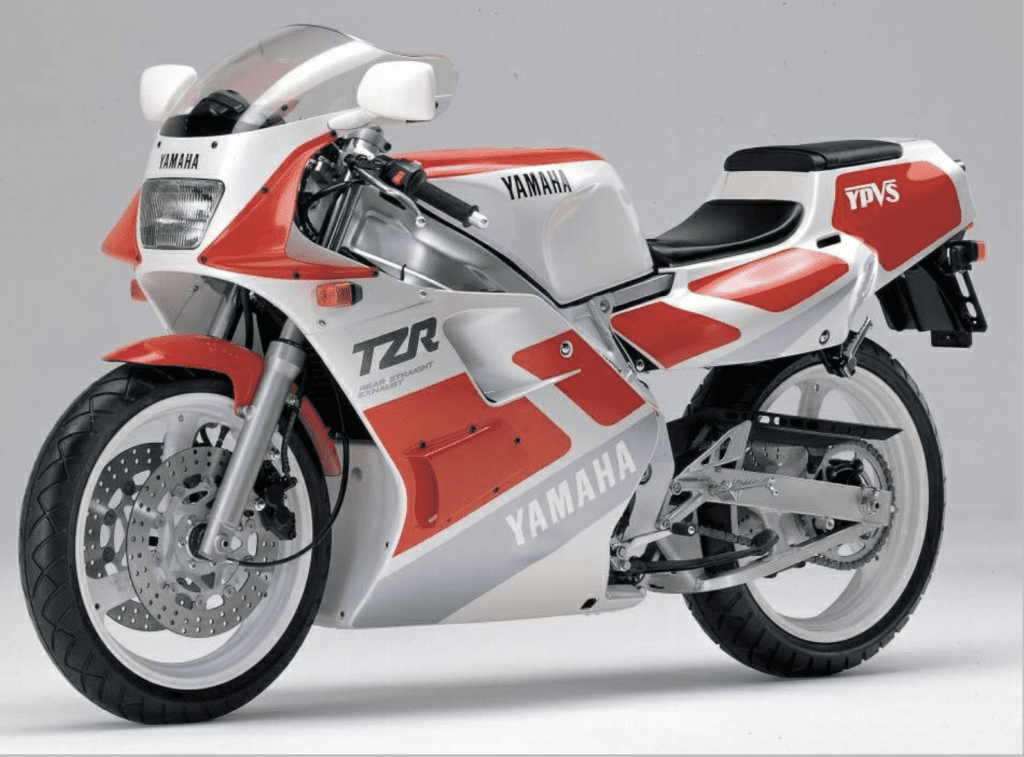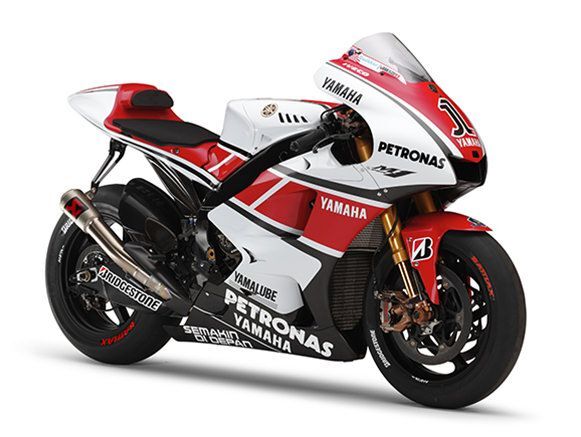 My Third Yamaha
After college, my next Yamaha was a pristine Yamaha RZ350 complete with the Kenny Roberts signature sticker on the cowling!


While I really wanted the yellow and black version with speed blocks, I would possess the right-white-blue version as shown above. Yes, I still have this brochure! I would rather have the actual motorcycle in either colorway! And yes, this Yamaha RZ350 brochure is still in my possession collection!
While working for RACER Magazine as their associate publisher, I met Mr. Rollin "Molly" Sanders a few times! But during those meetings, it was with regards to Toyota motorsport graphics he created as we were working on collateral for then Champ Car as well as working with Toyota Long Beach Grand Prix. During all that time, I had no idea that he was responsible for the Yamaha "speed blocks" graphics. Had I known, I am positive that would have gone off the deep end!
My Fourth Yamaha
It would be a long while before I reunited with the Yamaha brand, but upon me starting the Escapades of the GCRad1 Yamaha TW200 in July of 2017, it has rekindled that "speed blocks" spirit!
SO YOU KNOW

Upon working on the TDUB Club's first patch, right from the initial sketch, I naturally incorporated the speed blocks into the theme! I drew the speed-blocks in honor and homage to both Molly the man and the Yamaha brand.
With the sketch more refined, I kept those blocks intact! These blocks are history! My "speed-blocks" are inspired by, hand-drawn, not copy-pasted in this era of "photochop" out of respect for Rollin's original Molly Design work for Yamaha. There is no need for the original super go-fast aerodynamic Molly Designs sharp-lines, as we are not racing our TW200's. I guess I could call them "godspeed adventure" blocks backed with all accumulative history that Yamaha has set forth in motorsports!
We are the Yamaha TDUB Club, a more rugged adventurous group, fully aware of what the speed blocks represent. We honor the motorsports heritage achieved by Yamaha's motorsports warriors branded under the pen of Rollin Molly Sanders!

Now you know what those little "speed blocks" are all about! You did notice them on the envelops sent with your TDUB Club patches and stickers??? It's my visual interpretation to keep the Molly Designs spirit alive!

GODSPEED ADVENTURE!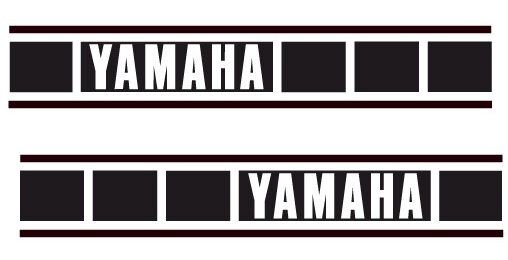 CAN YOU SEE IT?
Can you see the subtle "speed block" hints from Troy Lee Designs?
---
---
---
Highly recommended viewing! Champion Kenny Roberts
https://www.amazon.com/Champion-Kenny-Roberts-Profile-Legend/dp/B07TP694BG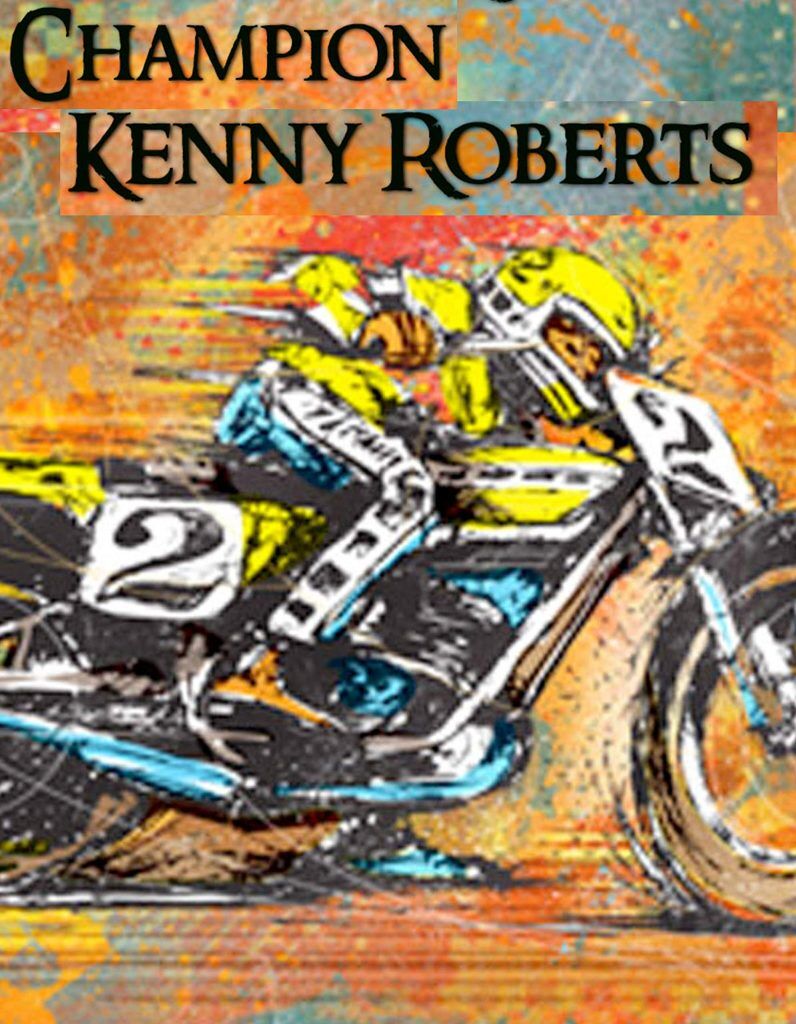 Sources:
a: usatoday.com/communities/driveon/post/2010/05/molly-sanders-creator-of-the-lexus-l-logo-and-buick-grand-national-mourned-/1#.XogaoVNKjOQ
b: rideapart.com/articles/299881/rollin-molly-sanders/
c: oilysmudges.com/blog/yamaha-speed-block-graphics/#.Xof4aVNKjOQ
d: yamaha-motor.com/race/wgp-50th/column/vol17/