I've written two stories about handlebars and bar risers already, but hopefully, this post will be less info "thrown at you" as I tend to give you as much info possible! In case you missed them or looking to deep-dive into info, here is the bar riser post and the handlebar post. If you are simply just trying to update your factory handlebars, read on! Yes, we are throwing a simple bar rise in too!
Swapping handlebars seems to be "a first" and everyone has their reason. But there are two sizes that you will first need to deal with; the 7/8″ bar and the 1-1/8″ bar. The TW200 comes stock with a 7/8″ bar. My bike received aluminum Pro Taper S•E bar swapped in place of the stock 7/8″ steel bars. Note the ZETA Bar risers too.
Purchase: PRO TAPER SE / CR HIGH
Purchase: ZETA ZE53-0130 22mm – 7/8″ 30mm bar risers

Lets just start with the Risers as they are a more simple choice to make.
MORE READING – RISE UP!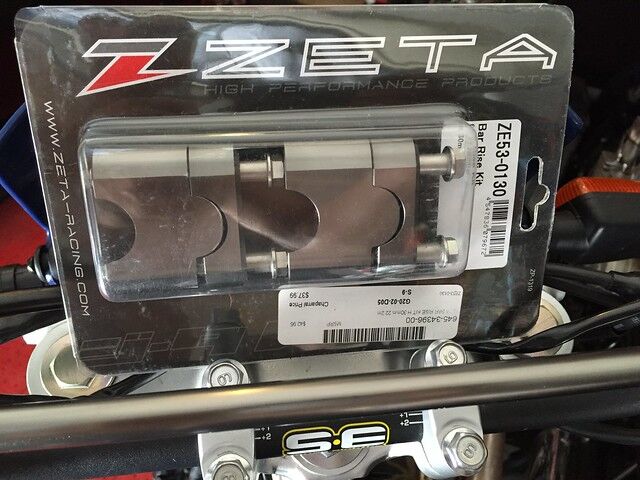 I purchased the ZETA ZE53-0130 22mm – 7/8″ 30mm bar risers. The 22.2mm is 7/8th of an inch so we are in business!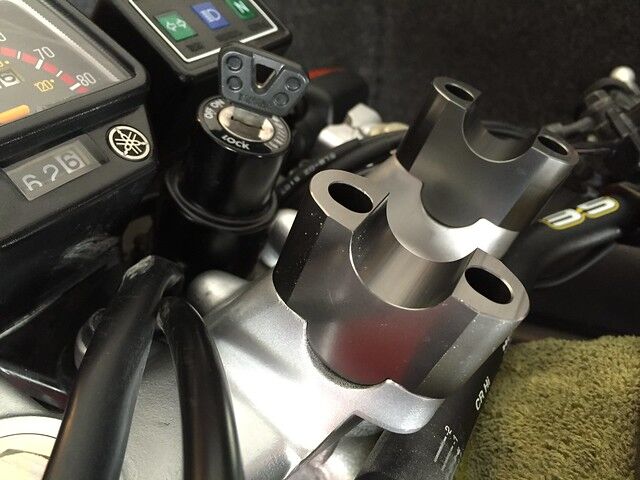 Here is just the ZETA 30mm bar riser base in the factory triple clamp.
SEVEN EIGHTHS FOR GOOD MEASURE – BAR UP!
Purchase: PRO TAPER SE / CR HIGH
Why SE-CR HIGH? Pro Taper SE's (Seven Eights) makes for a really good stock replacement bar but in aluminum. The "bend" model is the CR-High Model. The CR-High model has the following measurements; (Width) 800, (Height) 95, (Rise) 67, (Clamp Area) 233, (Sweep) 60, and with a (Control Area) of 186. We will get into all the details, but the height of 95mm is what we are focus on at the moment.
In the following chart, note the highlighted area. Column "B" is the indicated heights and you can see the CR High is 95mm in comparison to the KX High at 107mm, making the KX High an instant choice winner. But looking down at column "E" indicates the sweeps with the CR High at 60mm and KX High at 54mm of sweep, thus making it a "flatter" bar. I like the KX's height but didn't want a flatter bar. What is this flatness all about?

TO SWEEP AND SWEEP SOME MORE!
Sweep also know as pull-back, is how much your handlebars sweep back and has varying effects for different situations or types of riding. MX'ers, typically want to be positioned up over the bars for better corner traction, thus a flatter bar. Street / touring bikes will have bars that sweep back further for long-distance comfort.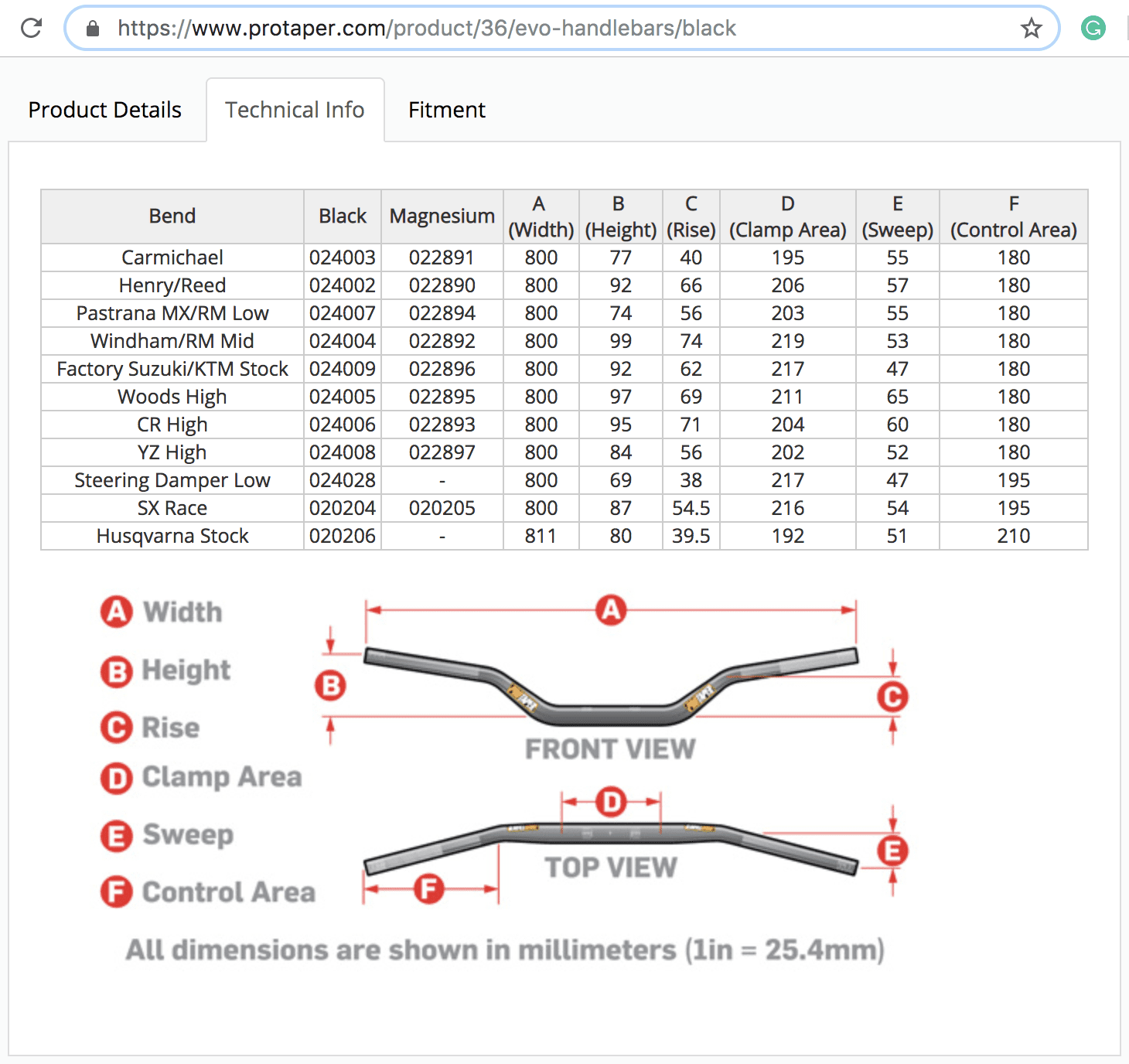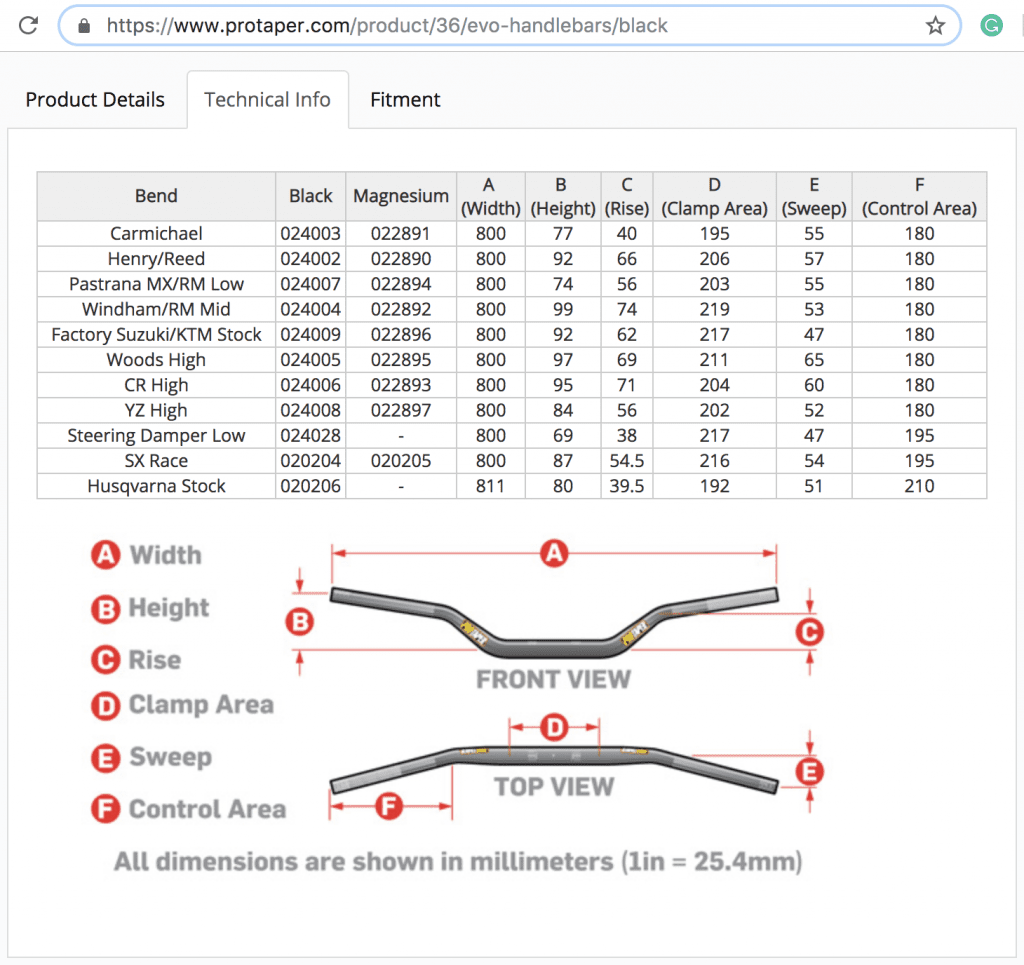 How to figure the numbers? Think of your pull-up bar hanging in your hallway as 0mm of sweep. The beach cruiser bicycle in your garage… well that has a lot of sweep, like maybe 175mm of sweep! In the image above, Column "E" you will see the sweep numbers. In the h-bar game, you will spend quite a bit of time looking at these charts and even within the same brand, the different models of handlebars can have different numbers.
HOW MUCH SWEEP for the TDUB?
So how much sweep do we want for our TW200's? Now you are getting to the technical nannygoats of the whole situation… It all depends on your body type, riding position, and type of riding you think you will be doing.
What I've learned from collecting tons of opinions over the years is, "more standing – go flat", "more sitting – go with more sweep," doing both, find a happy medium. Now you may understand my choice with the shorter CR High with more sweep vs the taller KX High bar that is flatter.
Pro Taper SE / ZETA / TW200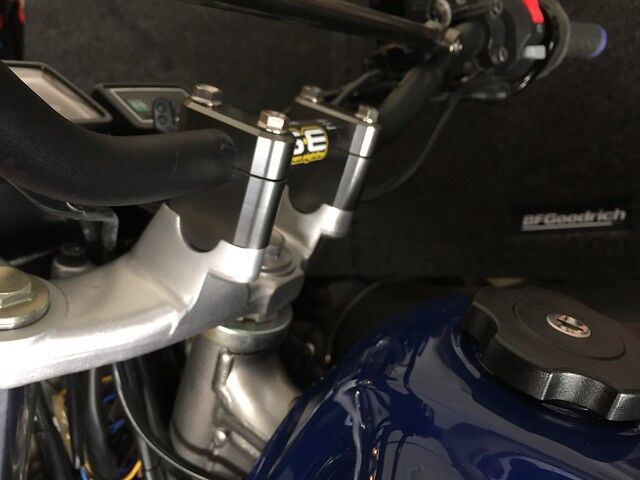 With the 95mm bar height added with the 30mm riser hight, I am now sitting 5mm over the stock 120mm bar height.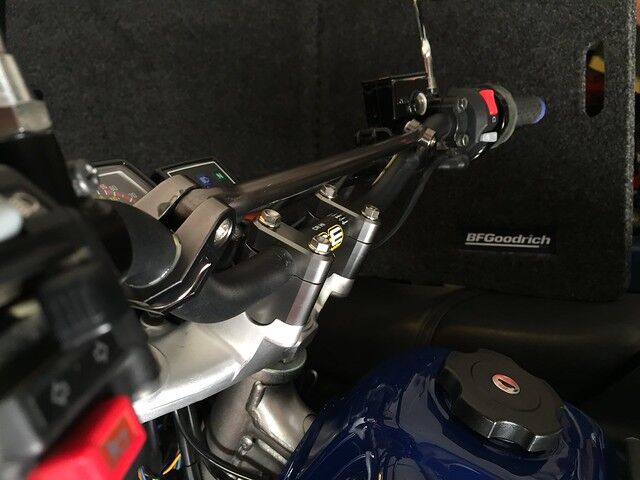 CABLE LIMIT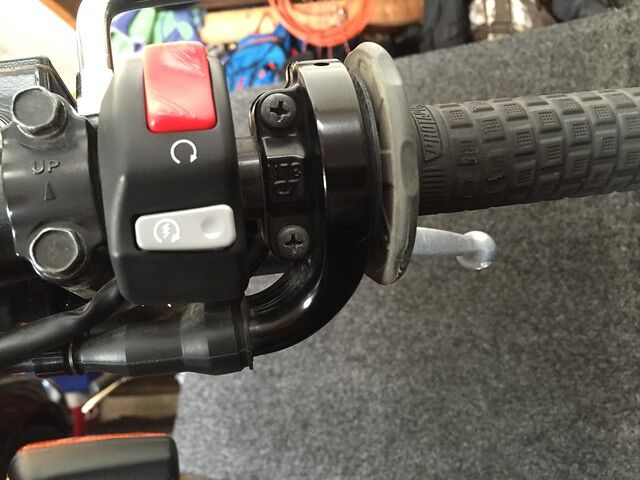 I simply rotated my throttle controls 180-degrees to put some slack back into the cables.

Purchase: PRO TAPER SE / CR HIGH
Purchase: ZETA ZE53-0130 22mm – 7/8″ 30mm bar risers!

Now you can jump to our FAVORITE GRIPS!!!