THE TDUB REPORT – NOV 14th 2020
In this episode GCRad1 shares 17 different YouTube Channel Subscriptions from the Yamaha TDUB Club Channel.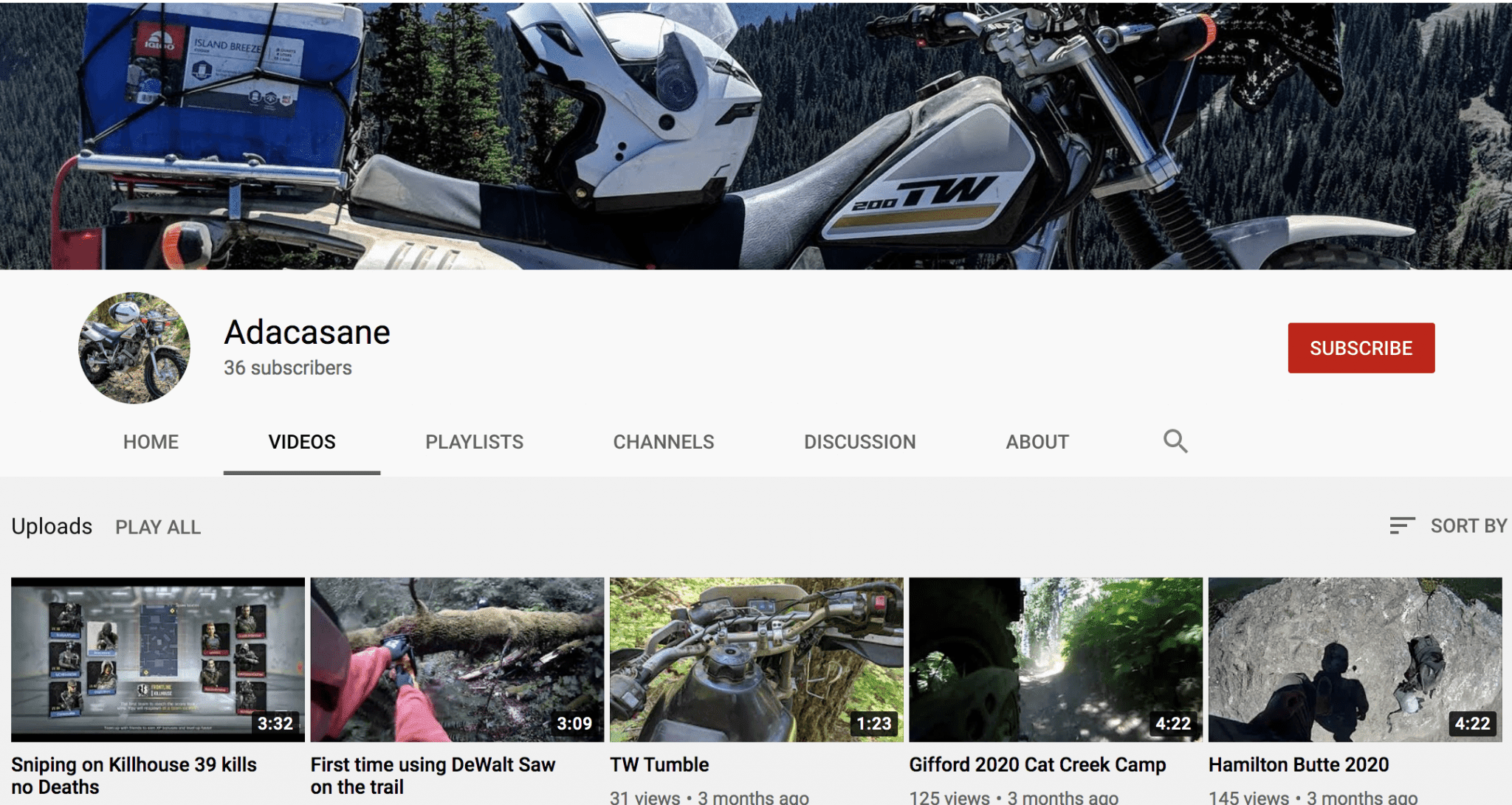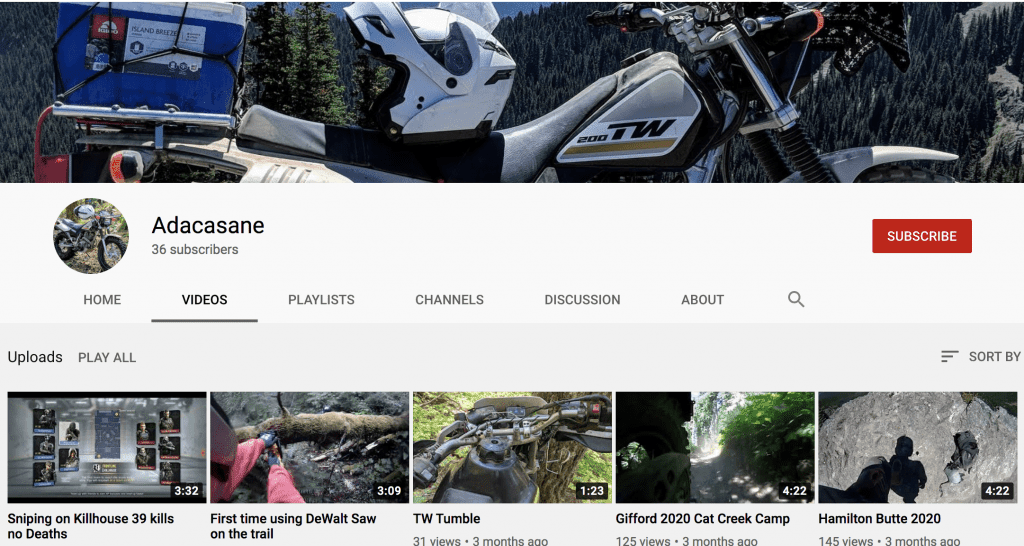 1] ADACASANE
Wilderness T-Dub Riding. Very small description, but leaves a lot to the wilderness adventure spirit! But he is making some cool trails up in the Pacific North West, riding some cool trails and caught my eye with some cool camera location on his bike!
https://www.youtube.com/user/Onurchiin/videos
---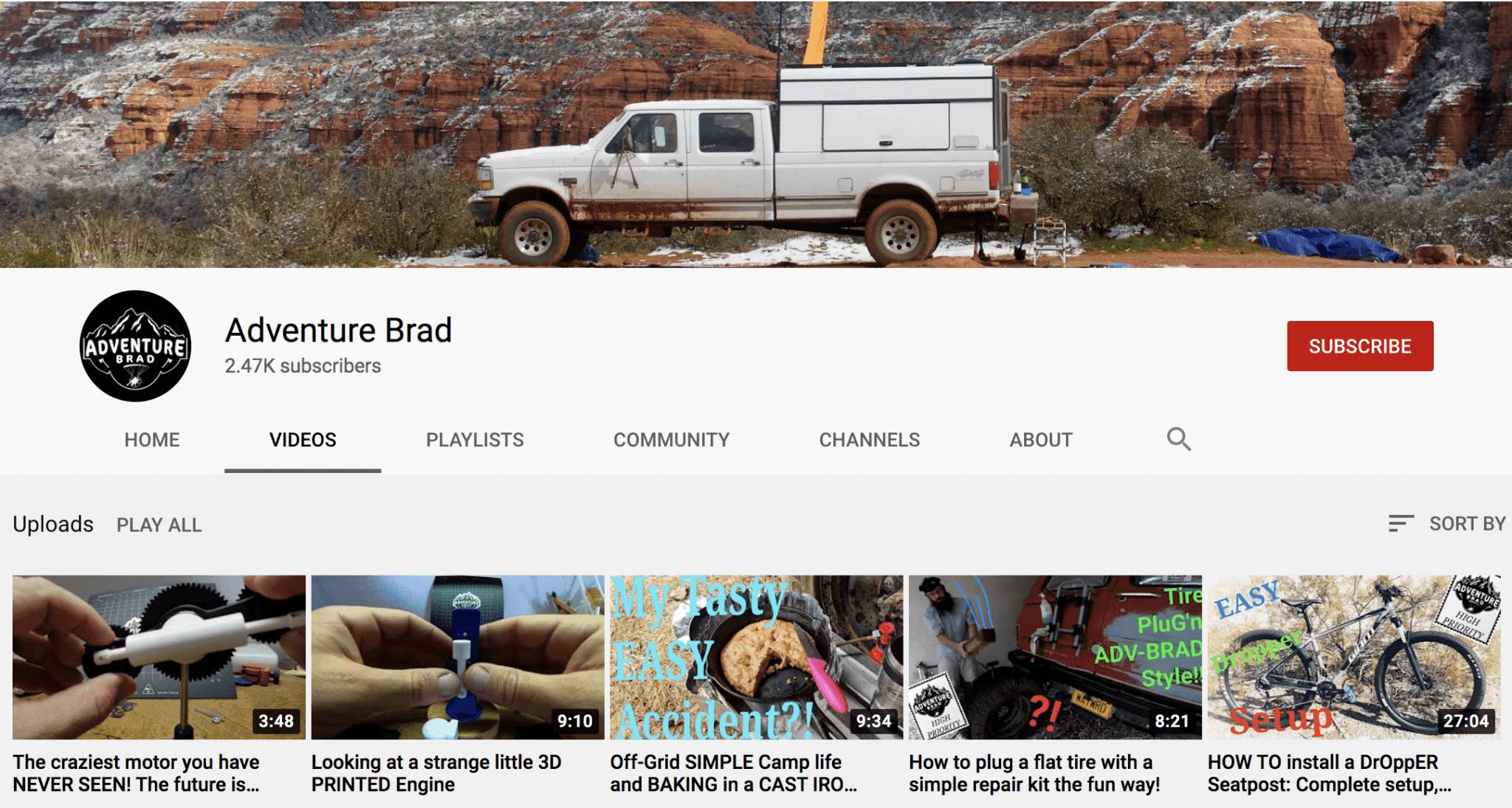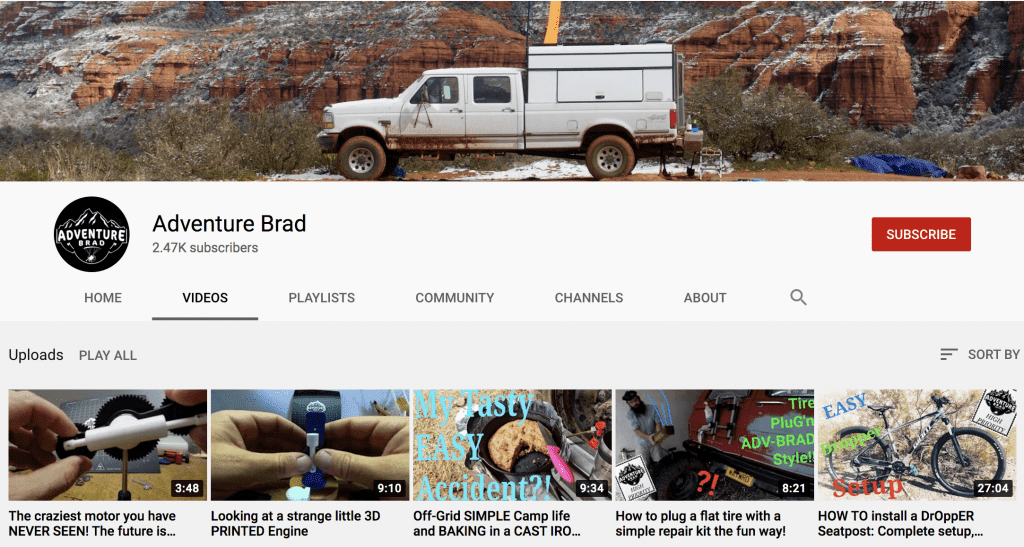 2] ADVENTURE BRAD
He has a few TW200 videos, with his latest called "On the hunt for SNOW" that he loaded back in Jan 27, 2019. I contacted him and he said he still has the TDUB, he just needs more time to edit videos! His page description says,
"This is life!… well my crazy upside down go anywhere do anything life. An explorer at heart I love adventure and sometimes get myself in over my head so strap on a helmet and come along for a ride as we get into trouble with Jeeps, Planes, go-karts and heck a good dose of paramotor action too!"
https://www.youtube.com/watch?v=BwcTfDo7CVo&t=85s
---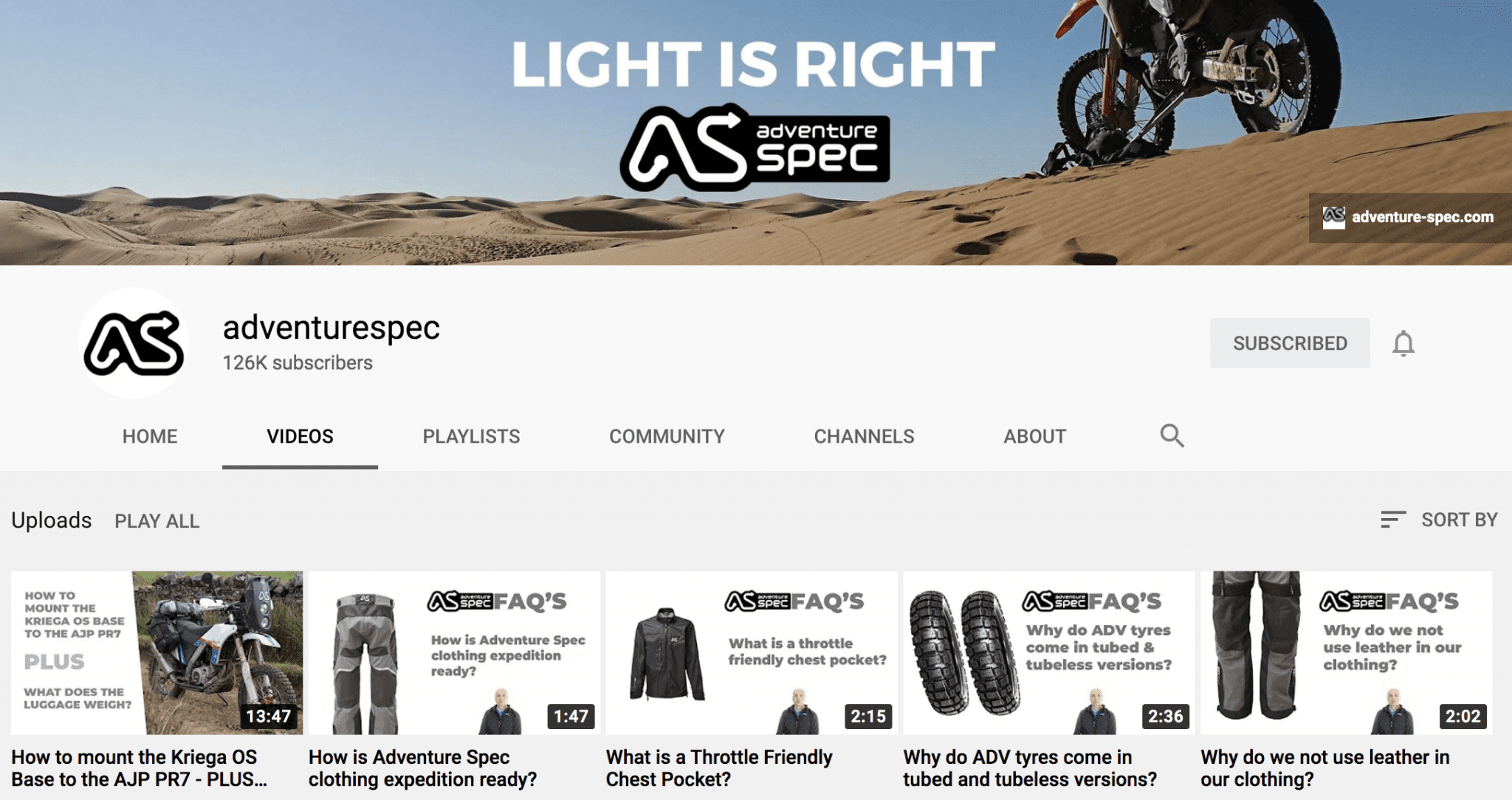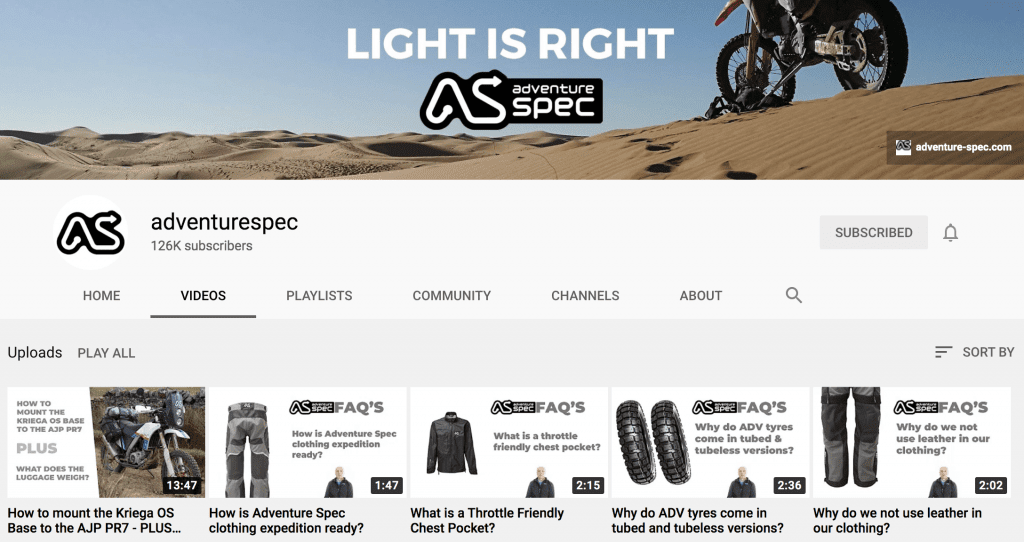 3] ADVENTURE SPEC / ADVspec
One day I hope to own a full set of ADV spec riding gear! I found out about the ADVspec gear watching Lydon Poskett videos and I like what he had to say about their kit. From their ABOUT PAGE: Adventure Spec TV is a channel focussed entirely on motorbike based motorsport and adventure motorcycling. ADVspec creates their own unique content of the worlds best extreme enduro riders and adventure motorcyclists doing what they do best, with an ADVspec twist… You can find race reports, travel blogs and product reviews updated weekly so that you can follow your favorite riders and products from around the world here exclusively on AStv. Adventure-Spec.com, home of the finest race and adventure motorcycle brands shipped daily anywhere in the world.
https://www.youtube.com/watch?v=p0g21-EtwnI
---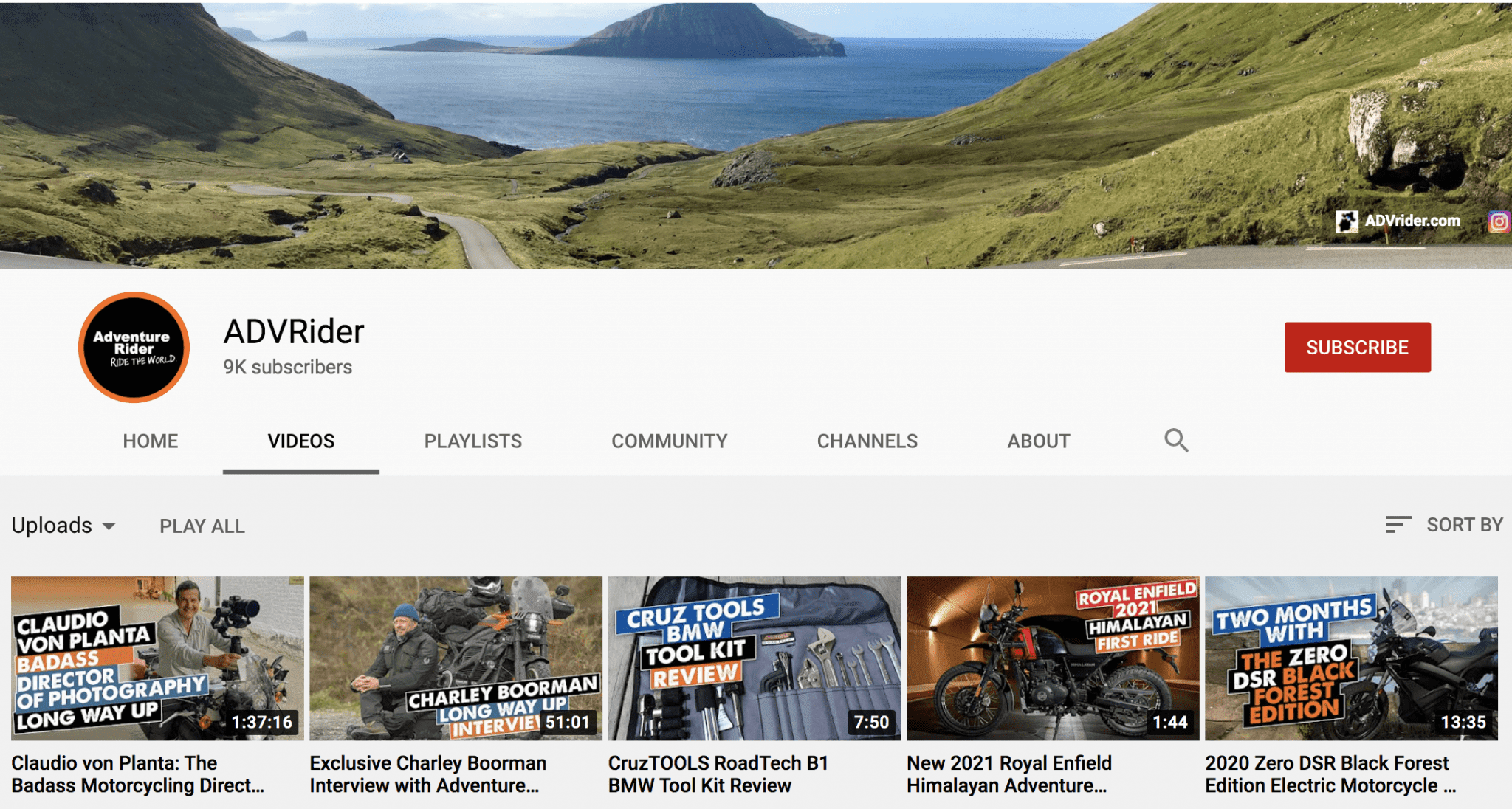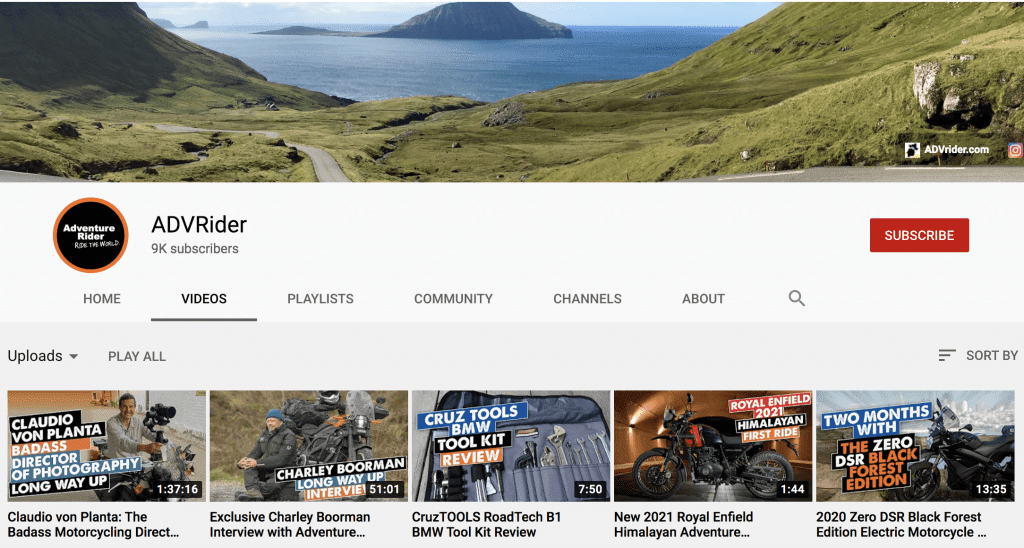 4] ADVrider.com
ADVrider was launched in 2001 to provide adventure motorcycle riders their own dedicated online community. The site was debuted as an adventure riding forum and has grown to become the most visited website in the world for motorcycle enthusiasts. ADVrider currently has over 350,000 registered members who have submitted 33 million original posts.
We have now expanded beyond ADV's roots to become an industry leading media network for the moto community. In addition to the forum, this new ADVrider site will act as an editorial voice for the community and provide users free information on ride reports, bike & gear reviews, first-person rider stories and a variety of other content. We have some big plans and hope you will join us on this ride.
https://www.youtube.com/channel/UCMxKTw0jRkXLnSw98h6JIvQ/videos
---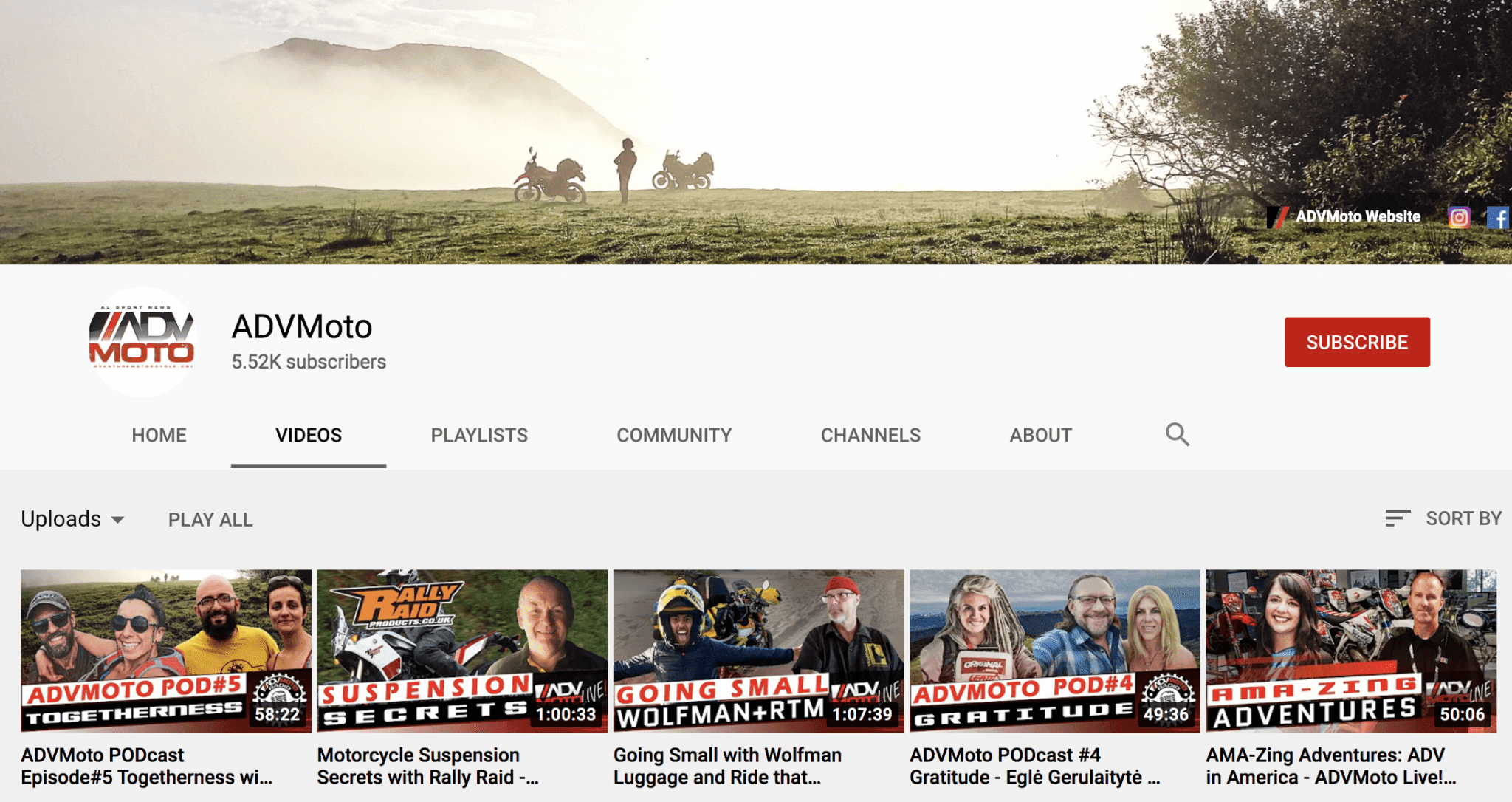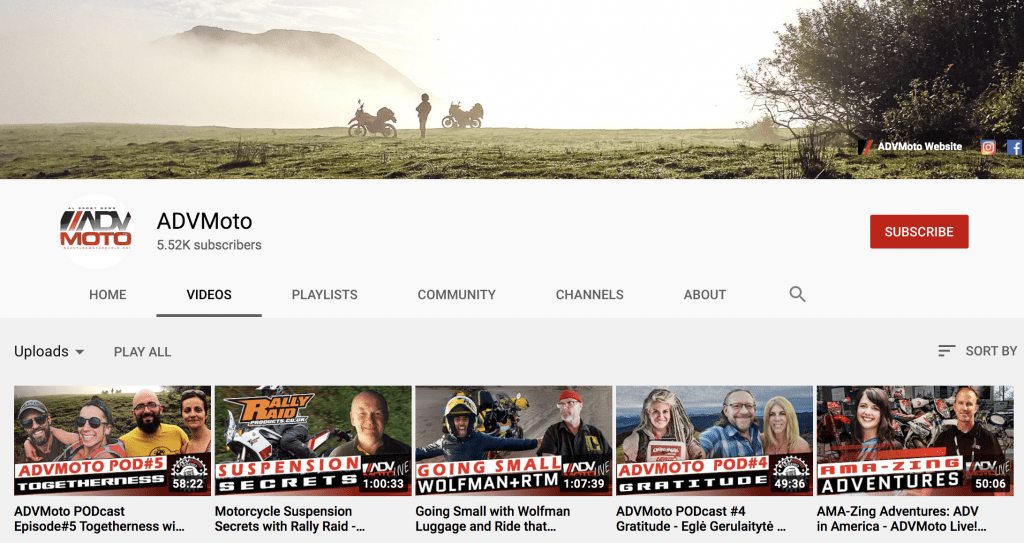 5] ADVmoto Magazine
Adventure Motorcycle Magazine (ADVMoto) is the oldest bi-monthly print and online magazine dedicated to international adventure/dual-sport motorcycling — the people, stories, places, ride reports, reviews, techniques, tips, culture and more! Rumor has it that one of the editors has a TW200! Also, there is also the rumor of a TW200 Travel story coming up in the December issue! So check out https://adventuremotorcycle.com/
YouTube: https://www.youtube.com/c/ADVMoto/videos
---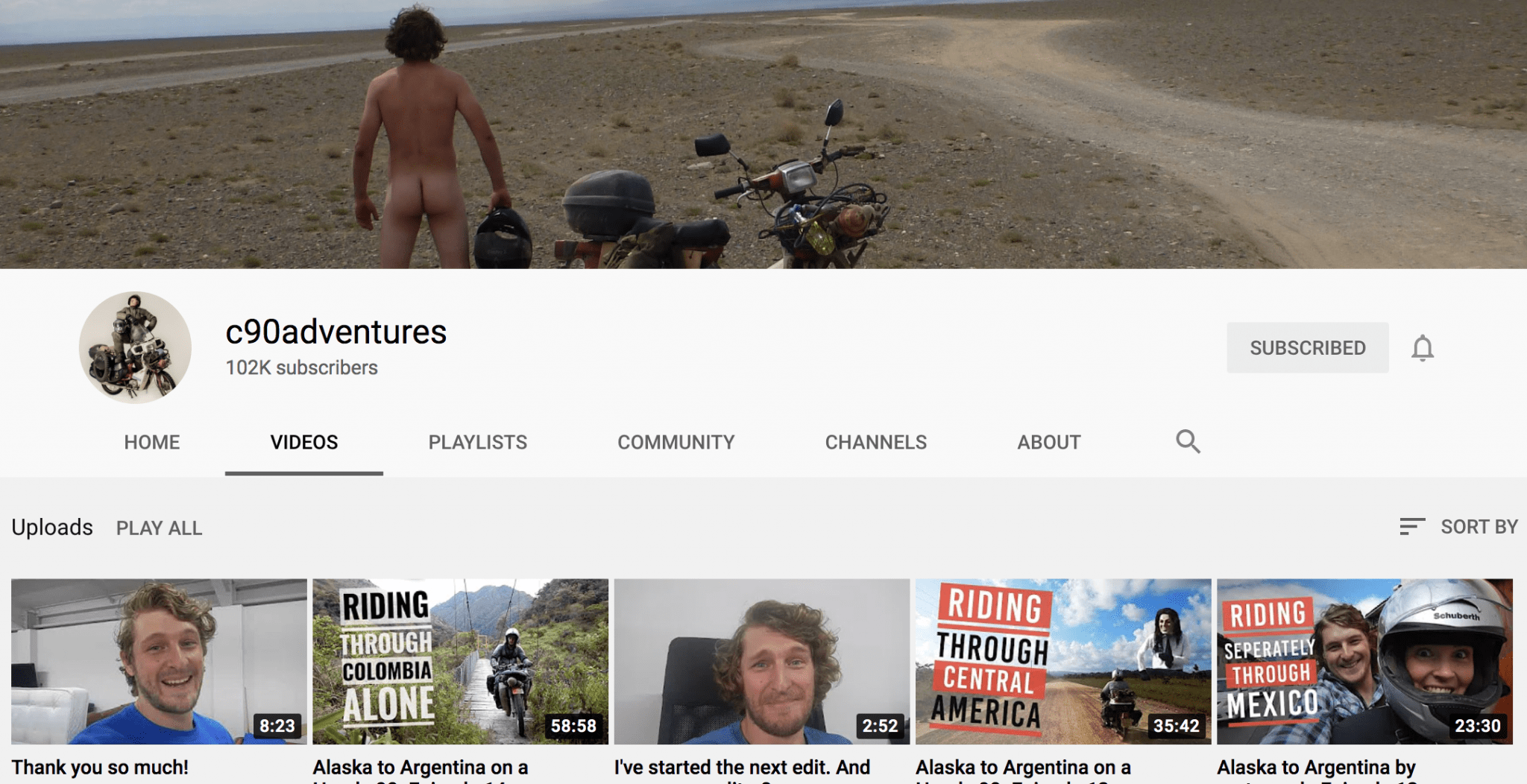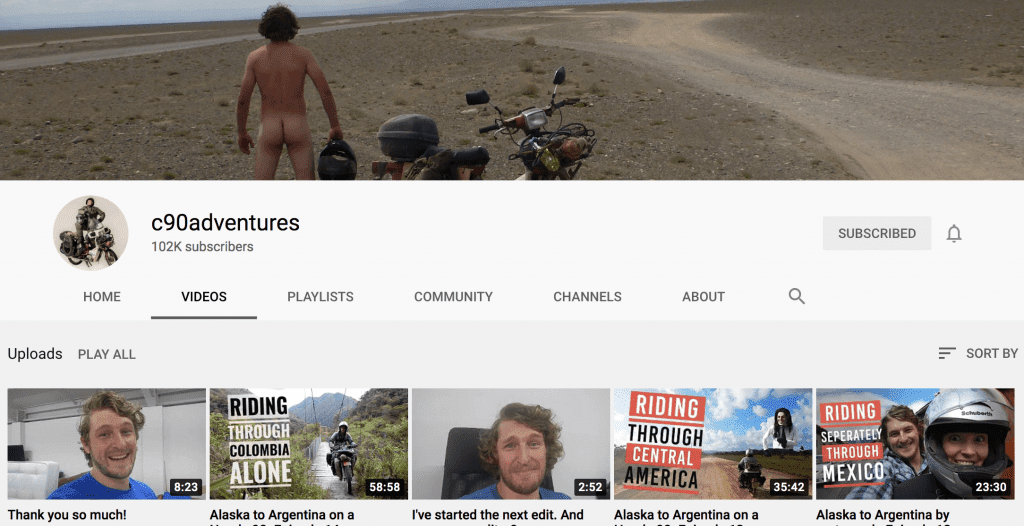 6] c90Adventures
I became enamored with Ed March's channel earlier this year! I watched his Alaska to Argentina Series of videos! But he chose to ride across Canada in the winter time, -30 temps, tent camping!He dropped into the USA and did the TransAmerican Trail across to California, then own down to Mexico and onward south. In-between those videos, I just started at the very beginning of his YouTube channel with his first video in 2011 of him riding from England to Germany's Elephant Rally – SNOW SNOW SNOW! PRE-WARNING: Young + English = ……..
https://www.youtube.com/watch?v=HvZsPS4XRLw
---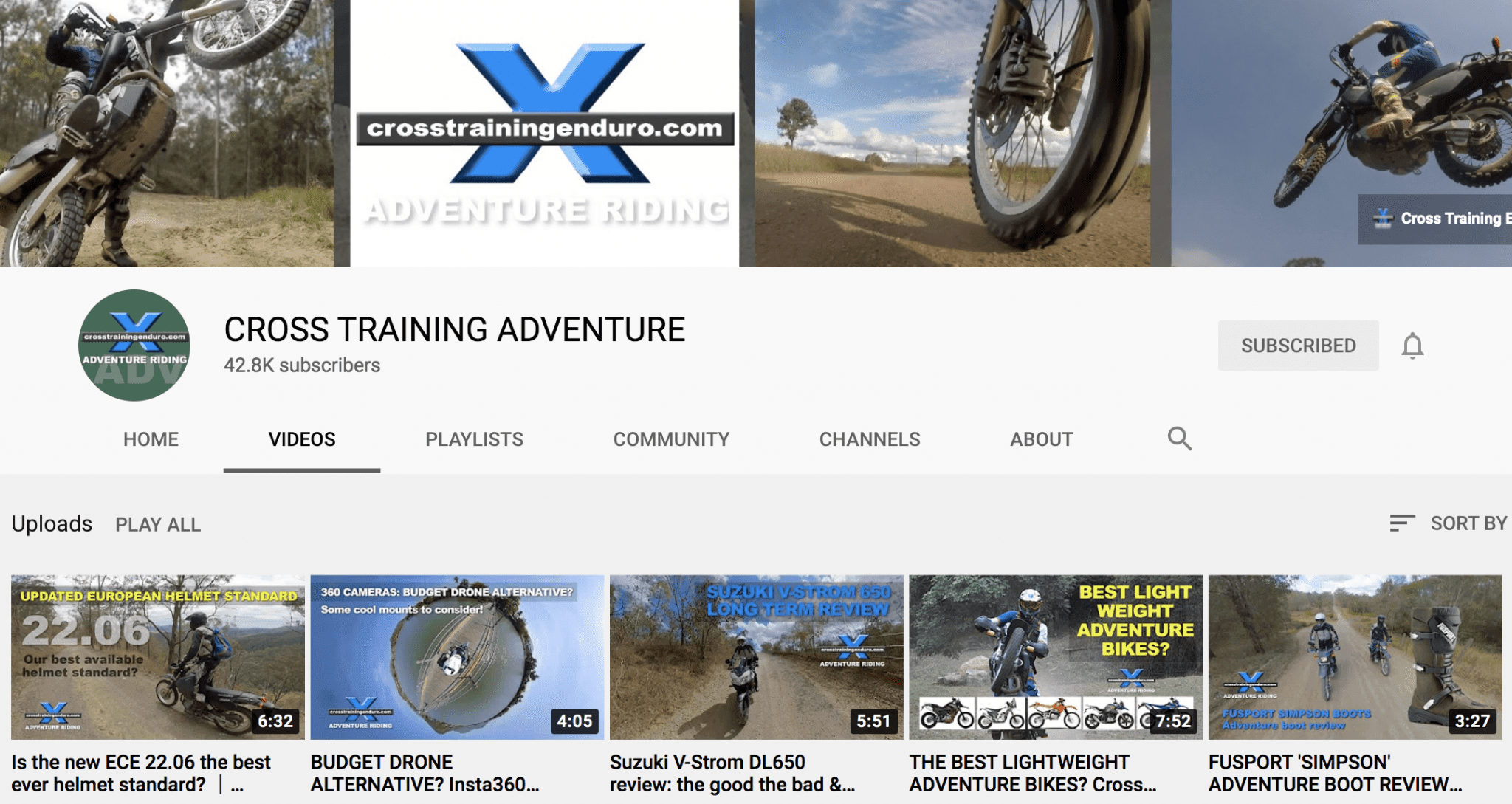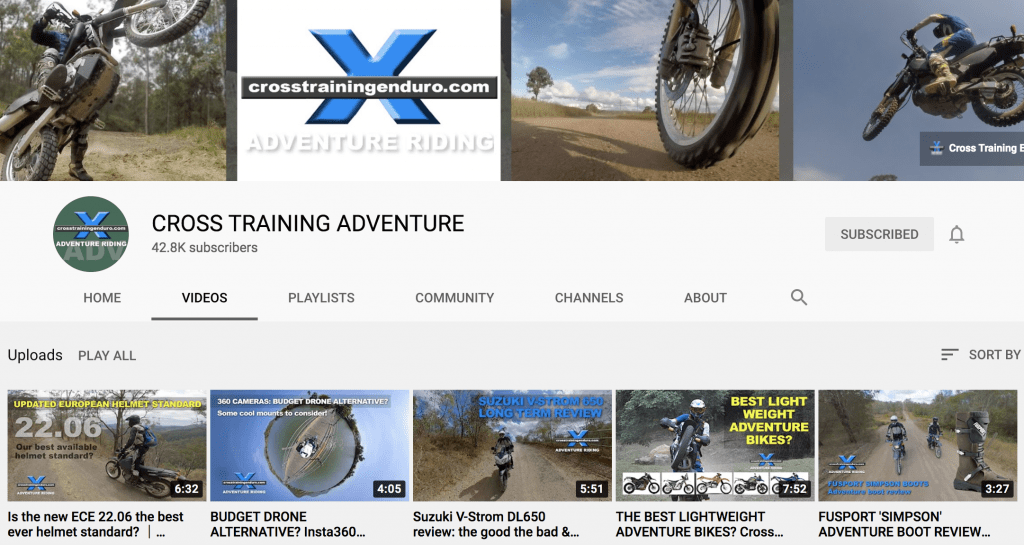 7] Cross Training Adventure Riding
Cross Training Adventure Riding is the dim witted cousin of their dirt riding channel – Cross Training Enduro. They mess around along the east coast of Australia on a variety of adventure bikes. Older vids feature the famous DR650, but we are moving toward bigger bikes, a bit more road, and into the more traditional sense of adventure riding as most know it!
https://www.youtube.com/watch?v=tVDv1r_65q0
---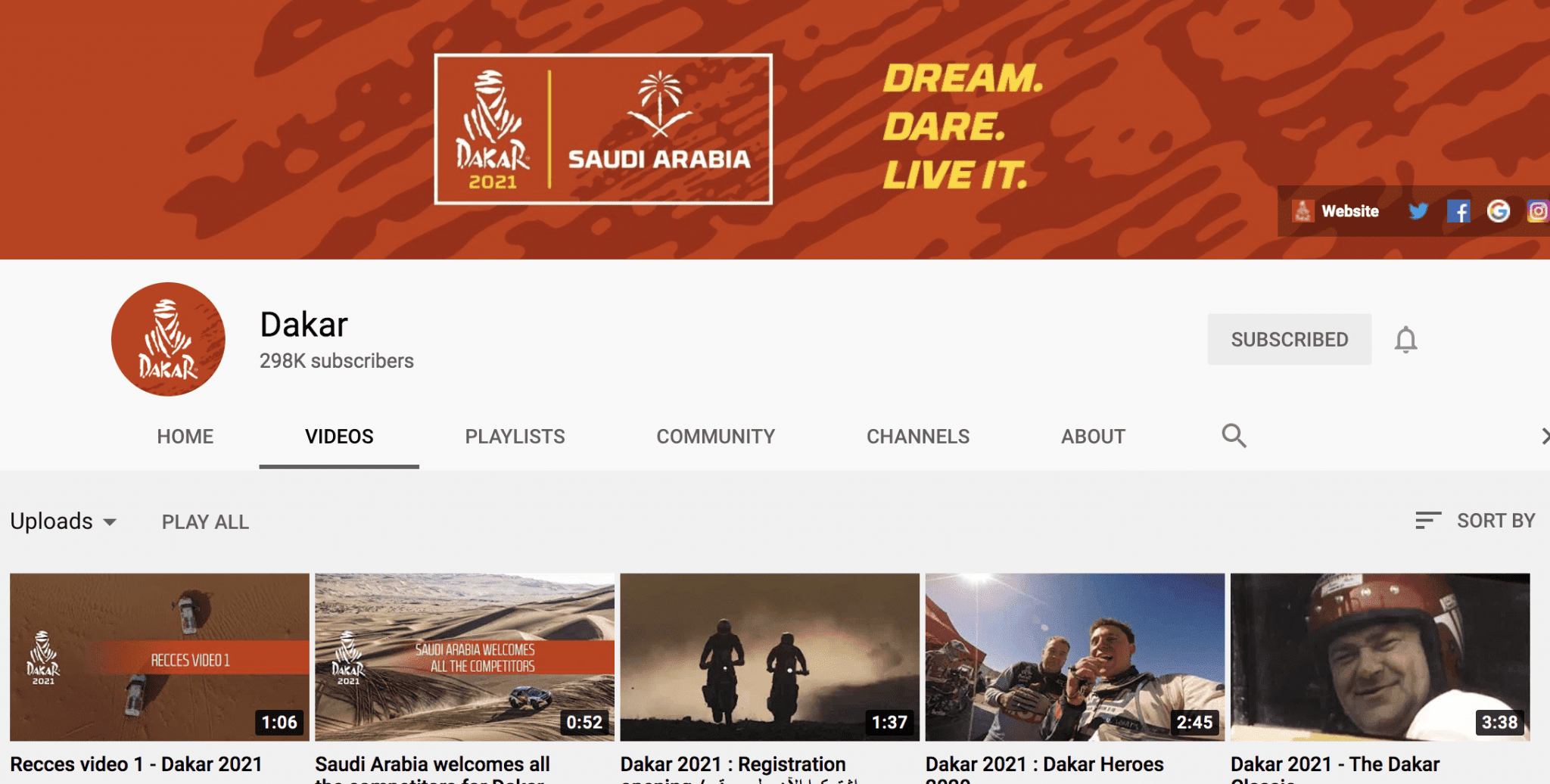 8] DAKAR RALLY – Saudi Arabia Jan 3 – 15, 2021
The biggest rally-raid in the world! The 43rd edition of the Dakar will be held in Saudi Arabia from 3 to 15 January.
https://www.youtube.com/user/dakar/videos
---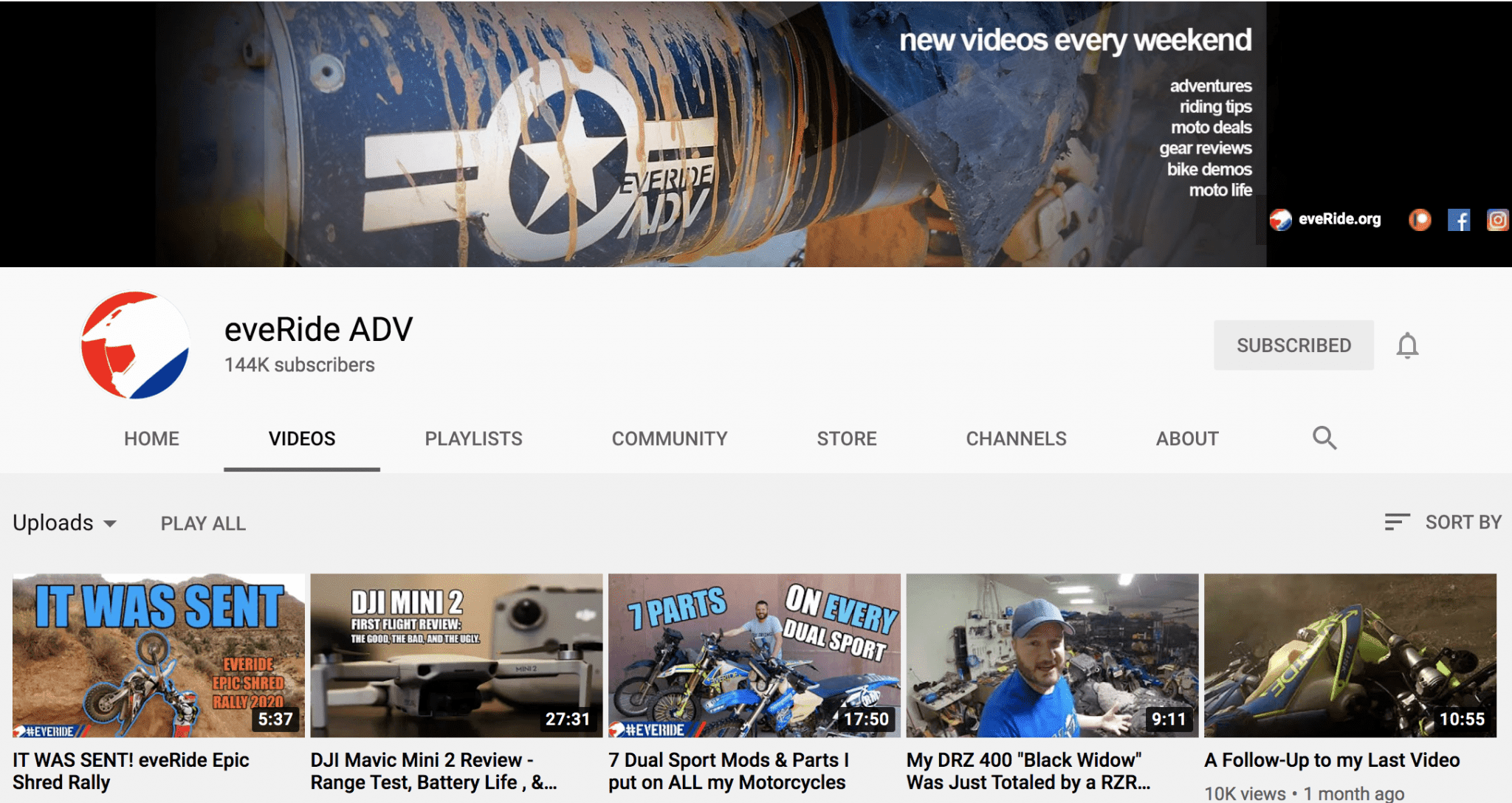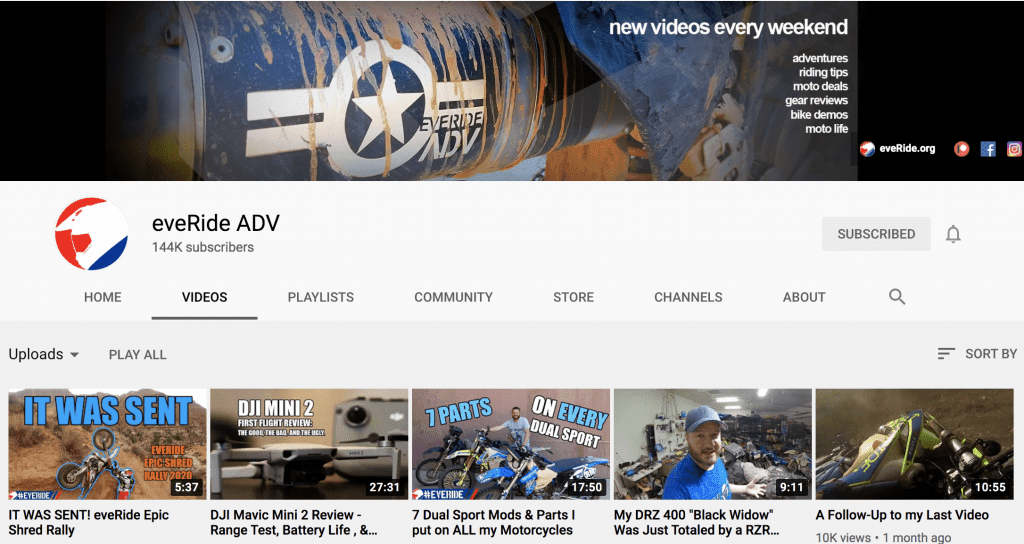 9] EveRide ADV
EveRide ADV's mission is to help other people find adventure on two wheels no matter their budget or background. From distance travel on a budget to technical riding tips to advice and stories that inspire people to make every spare second of their lives an adventure, the Everide ADV channel is a home for adventurers new and old, with new videos EVERY SUNDAY.
He cover motorcycle deals, riding tips, budget adventures, reviews, and ride reports. He has also his own personal struggles with depression, poverty, and overcoming adversity, often through adventure – related analogies that I learn on the trail. Sometimes uplifting, sometimes scary, usually hilarious, but always entertaining — Everide ADV keep videos family friendly, relevant, and well-edited. Everide ADV's subscribers are his adventure family. Join him as he hit life's adventures full throttle and on the pegs.
https://www.youtube.com/watch?v=j3kFQPu4kuk
---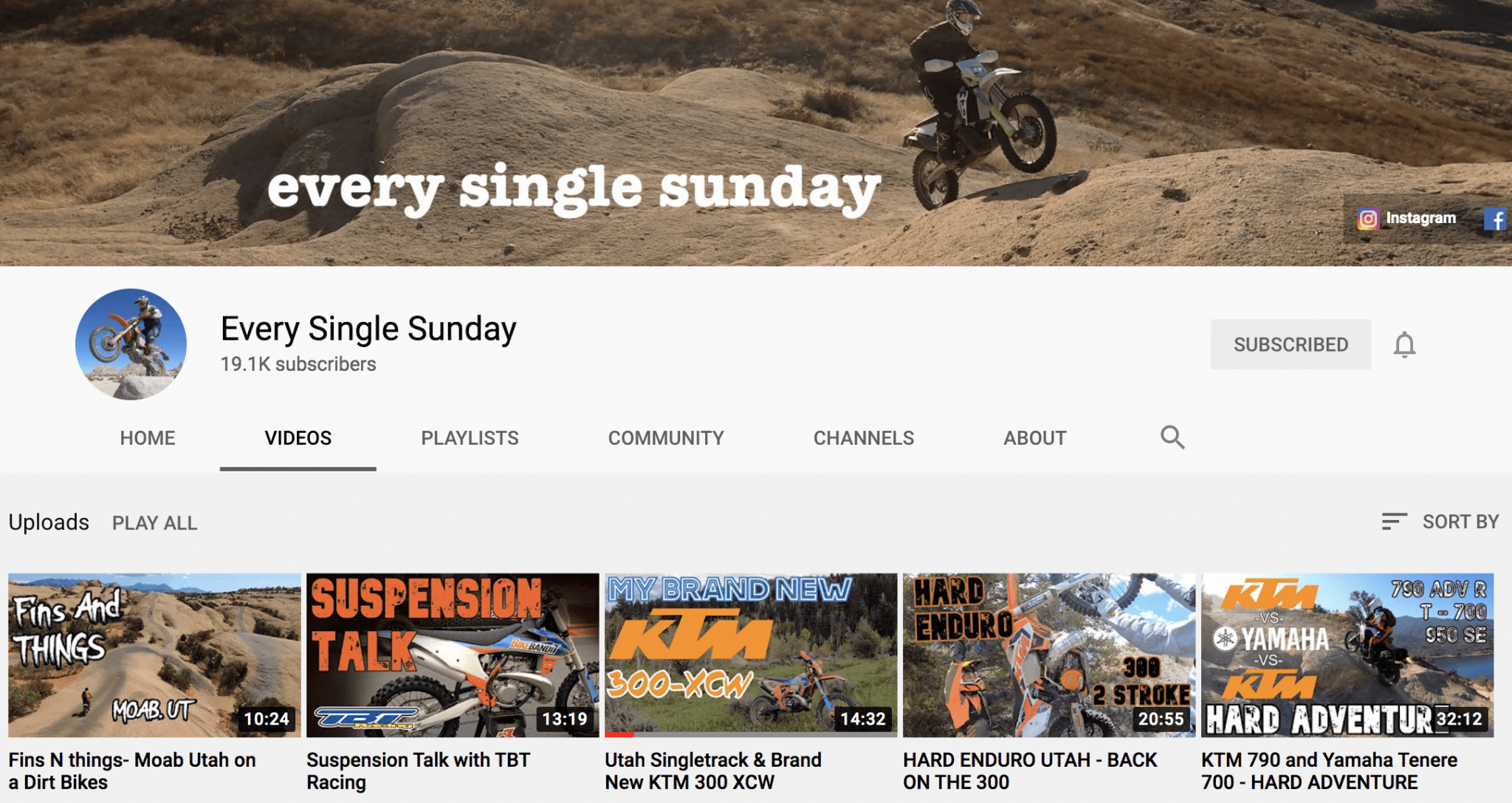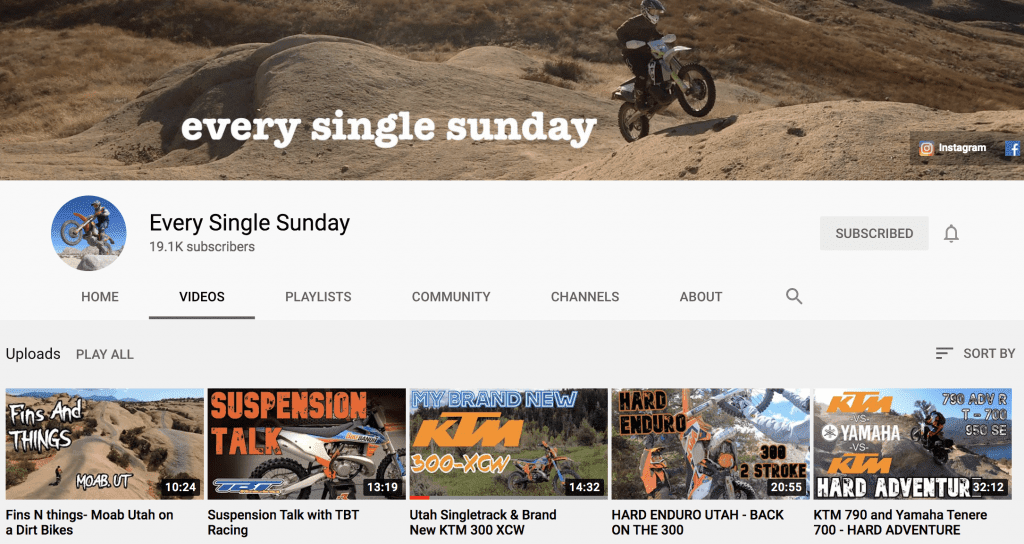 10] Every Single Sunday
Long time personal friend as I met him when he was around 17-years old and we were into rally cars! He was actually apart of our GravelCrew that put on rally events in Southern California under the GCRallyX brand, but we rallyied at other events as the GravelCrew team. But we've never really ridden motos together… He briefly had a TW200 that my other buddy rode more.. Travis has some slapShot comedy, can ride a bike, not afraid, rides with folks that can also ride… Maybe thats why we didn't ride together! hehehe He is a true inspiration as his page Every Single Sunday channel has landed him a gig with BikeBandit.com where he creates content for them as a brand ambassador. OK, his riding talent helped as well! Like I said, he can ride! His ABOUT page states, "A group of guys who get out to ride Every Single Sunday. While most our riding is Enduro we aren't afraid to tackle the occasional Desert Race or Track Day. Follow along with us as we ride some epic locations and show you some of our favorite products."
https://www.youtube.com/watch?v=X1DSXQW7LJc
---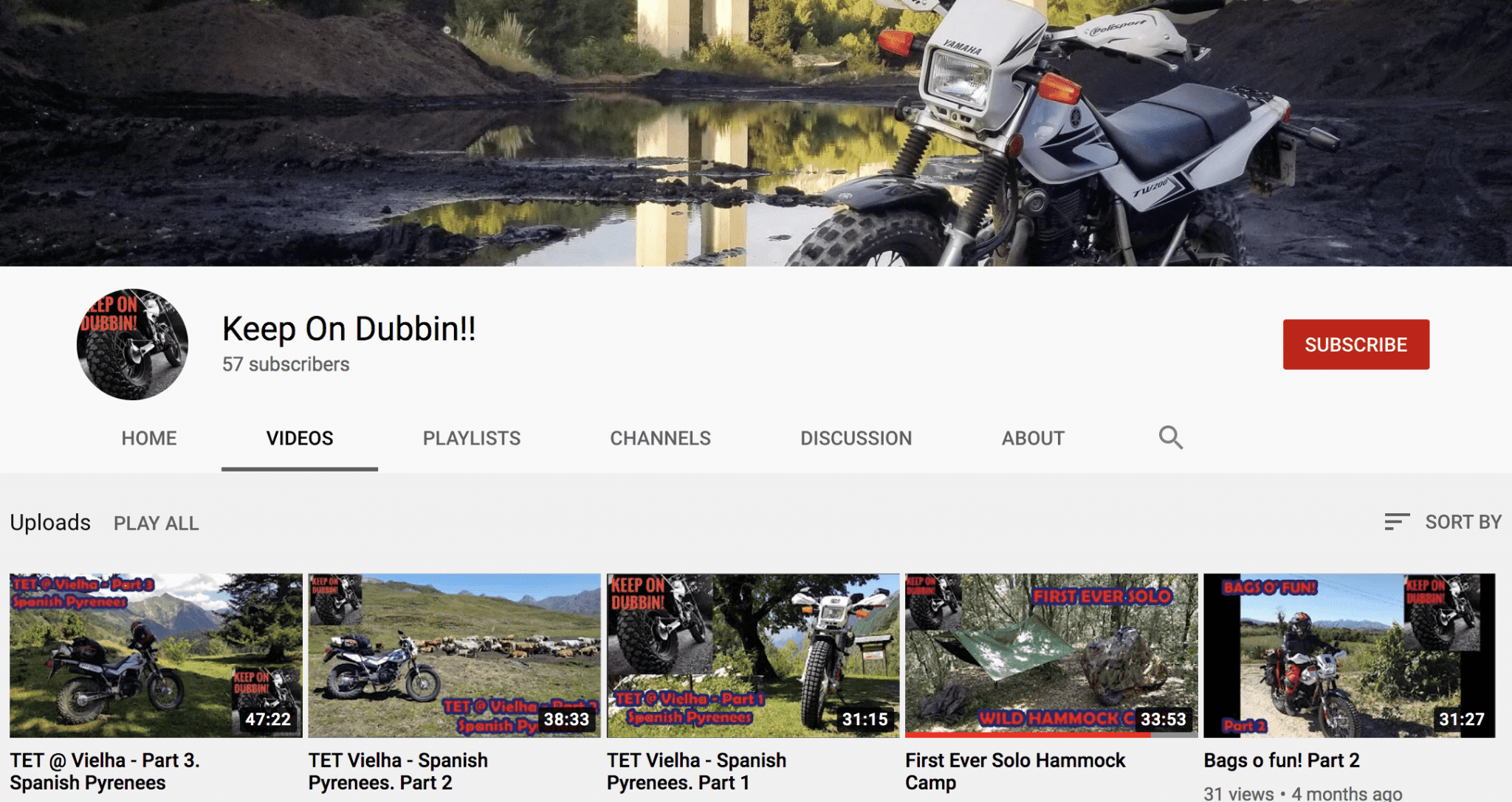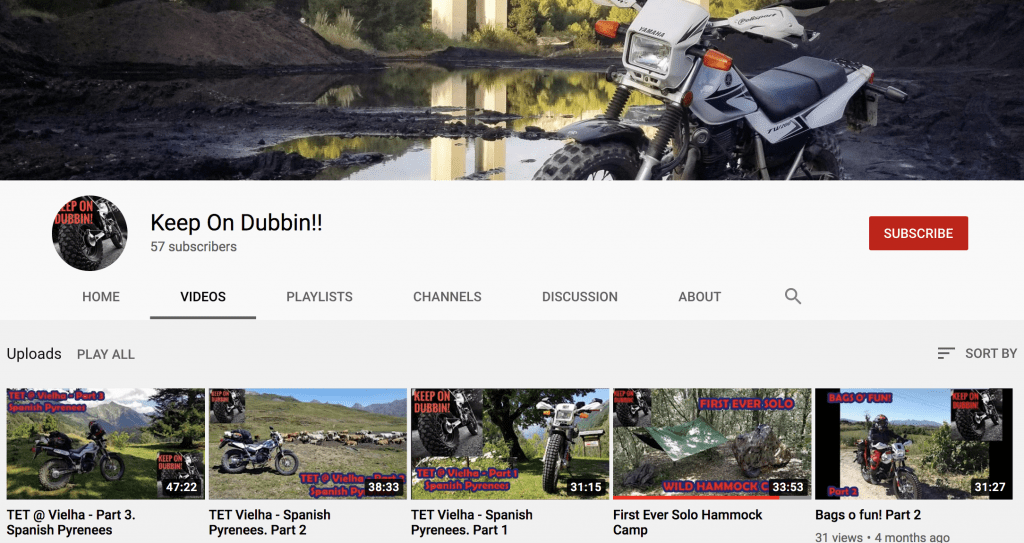 11] Keep On Dubbin!!
Riding a 2008 TW200 on HER adventures around Spain! She just finished up her 3-part series TET Vielha – Spanish Pyrenees.
She is an Irish expat living in Barcelona and I'm just starting out off roading and new to the TW200, video editing and You Tube channel hosting. I hope to improve my skills in all areas and hope you can join me on my journey by helping me build my channel by subscribing. I also ride a 2010 Triumph Bonneville which I've had for 7 years and having been riding on road most of my adult life. I also love to work on my own bikes where possible even though I have no garage and have to do it on a busy tourist laden street, but hey why let that stop something I'm passionate about. I hope you enjoy seeing some of Spain and can have a laugh at my attempts at humour and riding 😁 No mic for any commentary right now but in hope to improve asap on all respects in my channel to make it more interesting so bear with me, we all gota start somewhere and any support is appreciated. Thanks for watching, please subscribe and Keep On Dubbin!!!
https://www.youtube.com/user/ash73x/videos
---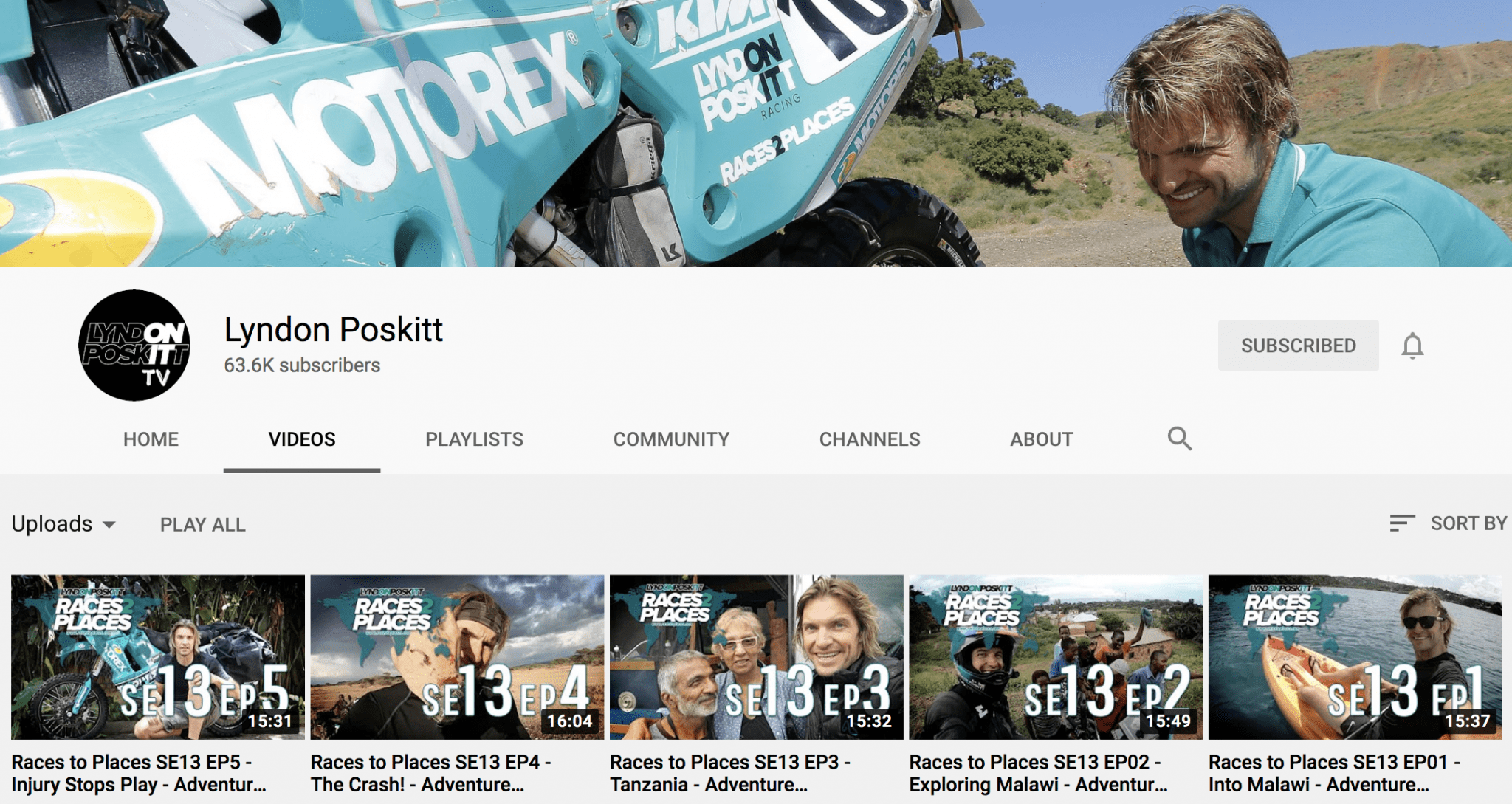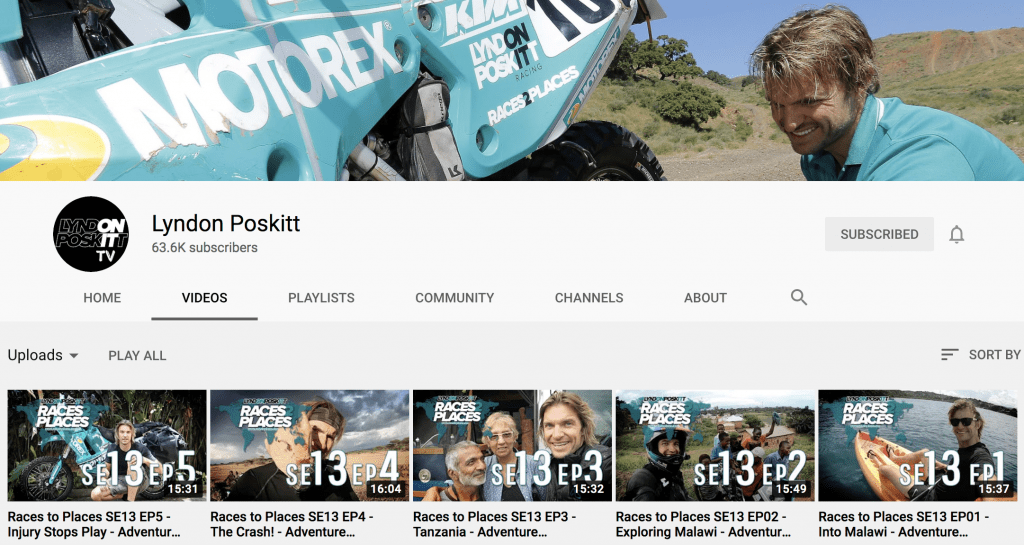 12] Lyndon Poskitt
His Races to Places – Dakar Rally 2018 Series is what got me hooked! It's not TW200 content, but it serious adventure stuff as he will ride a content and then stop off to a rally, like DAKAR when it was in South America and give it a go, and continue on his global journey. He rides, shoots and tears his bikes down to the frame and rebuilds them! True inspiration! His ABOUT page reads, "Adventurer, Athlete, Public Speaker, Motorsport Enthusiast, Motorcycle Racer and Traveller."
https://www.youtube.com/watch?v=ByUwxaf0dvk
---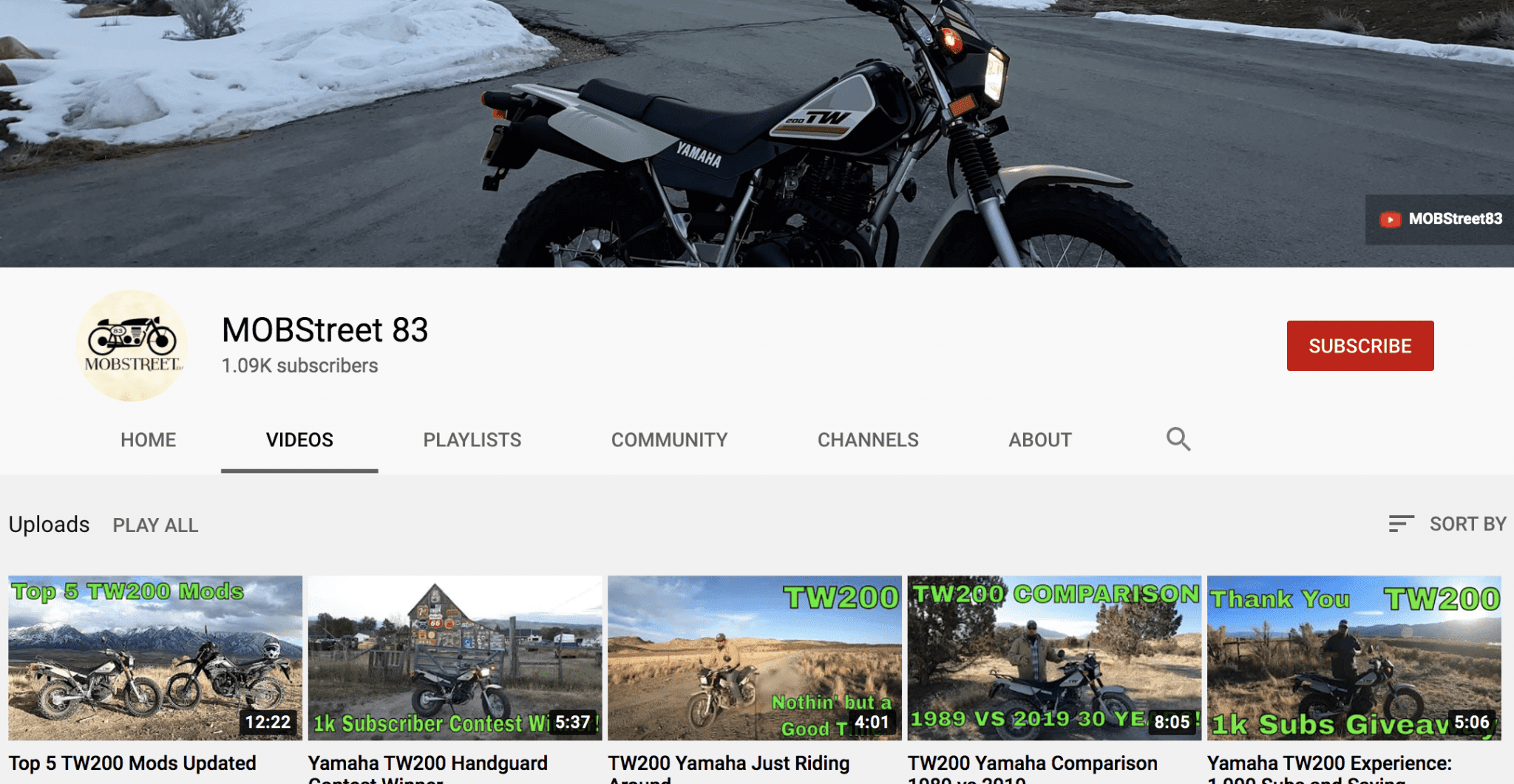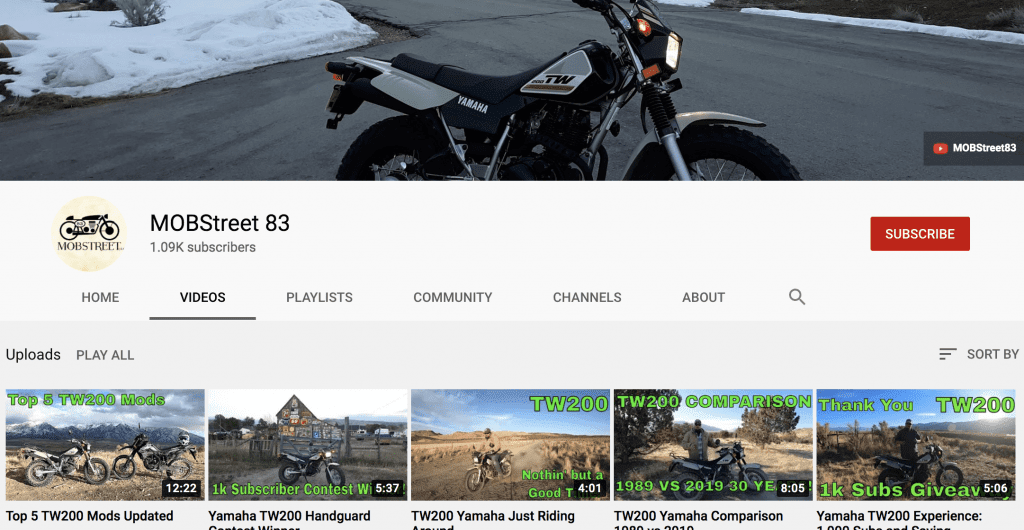 13] MOBSTREET 83
Matt is a solid dude! I'm looking forward to the day I can cross paths with him and shake his hand and twist throttles with him! According to his ABOUT page, "This channel is about motorcycles and what he has learned about them and from them along the way! He's had a fun ride and wants to share that with us in the videos. The TW200 will definitely be seen throughout and the Harley Davidson Fat Boy as well since those are the bikes he currently owns. There will be different motorcycle reviews, updates, how-to's, riding destinations and much more as time goes on! This is meant to be a motorcycle community sharing information about the machines that we all enjoy!
https://www.youtube.com/watch?v=cJhvCwk-yTo
---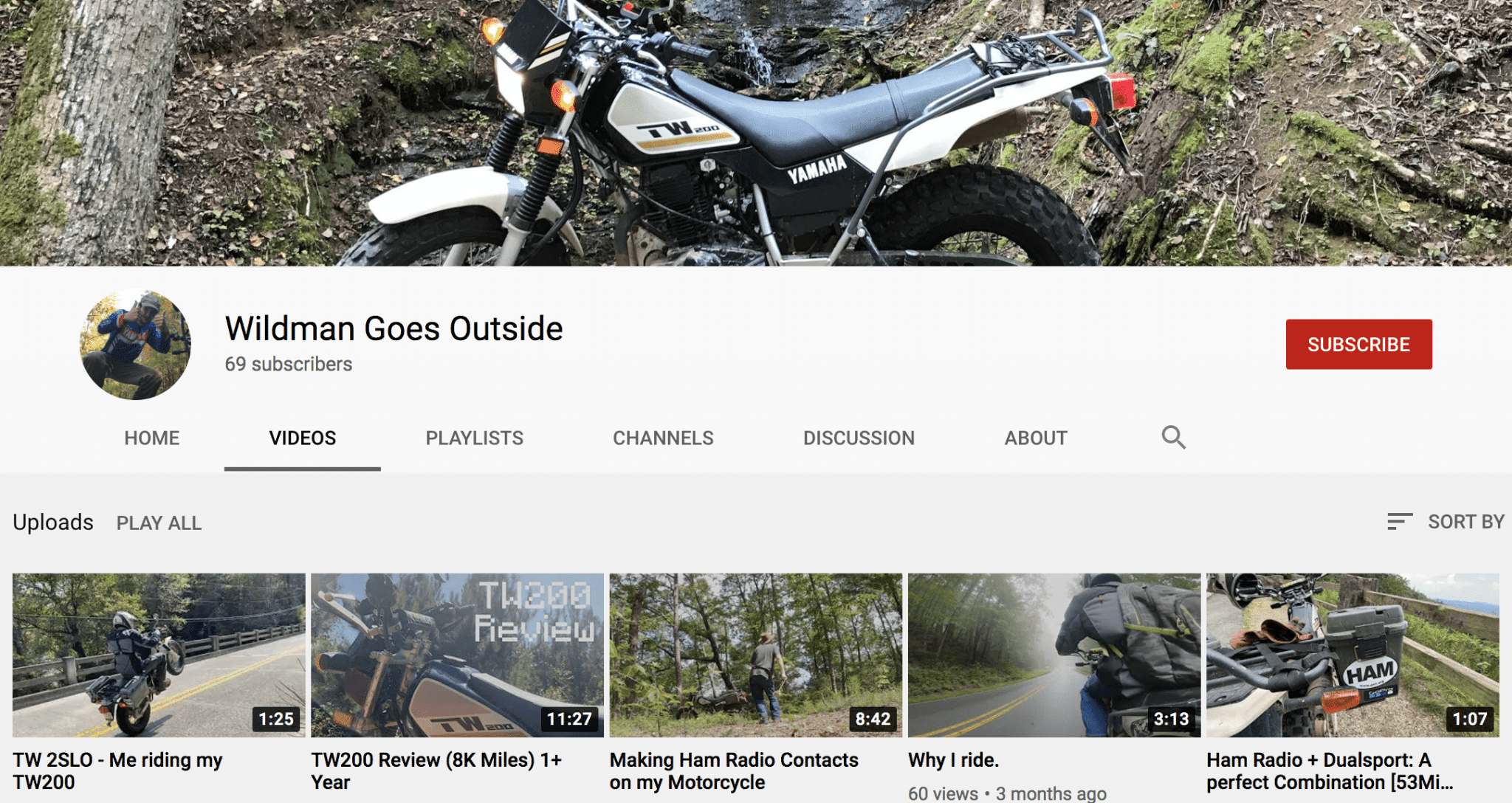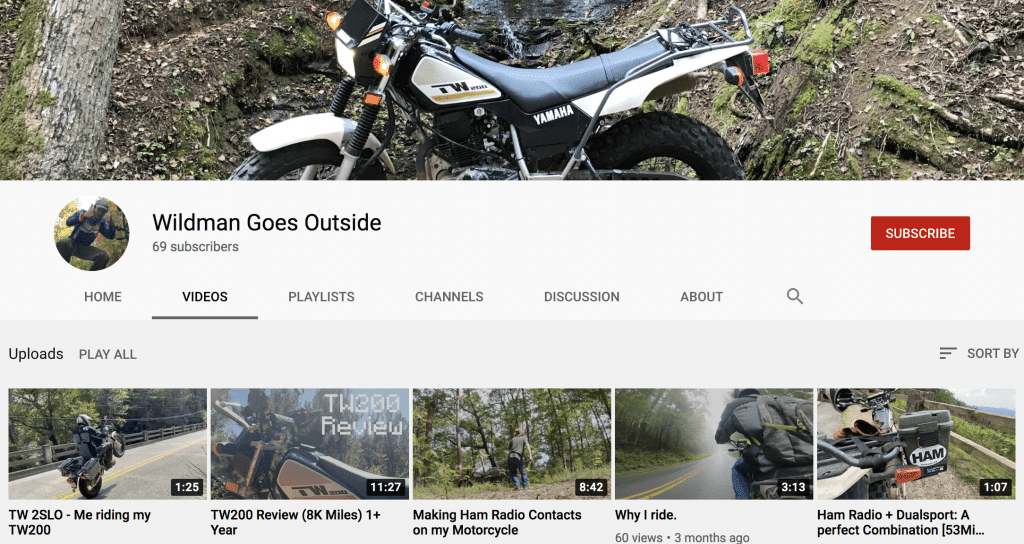 14] Wildman Goes Outside
He doesn't have anything in his about section, but I know he is riding his 2020 Yamaha TW200 in Georgia and he's into HAM radio's! He's operating his HAM in remote locations while riding his TW200 and recently I saw a video where he was tossing up an antenna up into a tree like a bear bag of food! We've briefly chatted and are looking to get a ride in together! I want to learn more about HAM radio's from him!
https://www.youtube.com/channel/UC0Dd9pKPtWM_C3Y4qIiXL-w/videos
---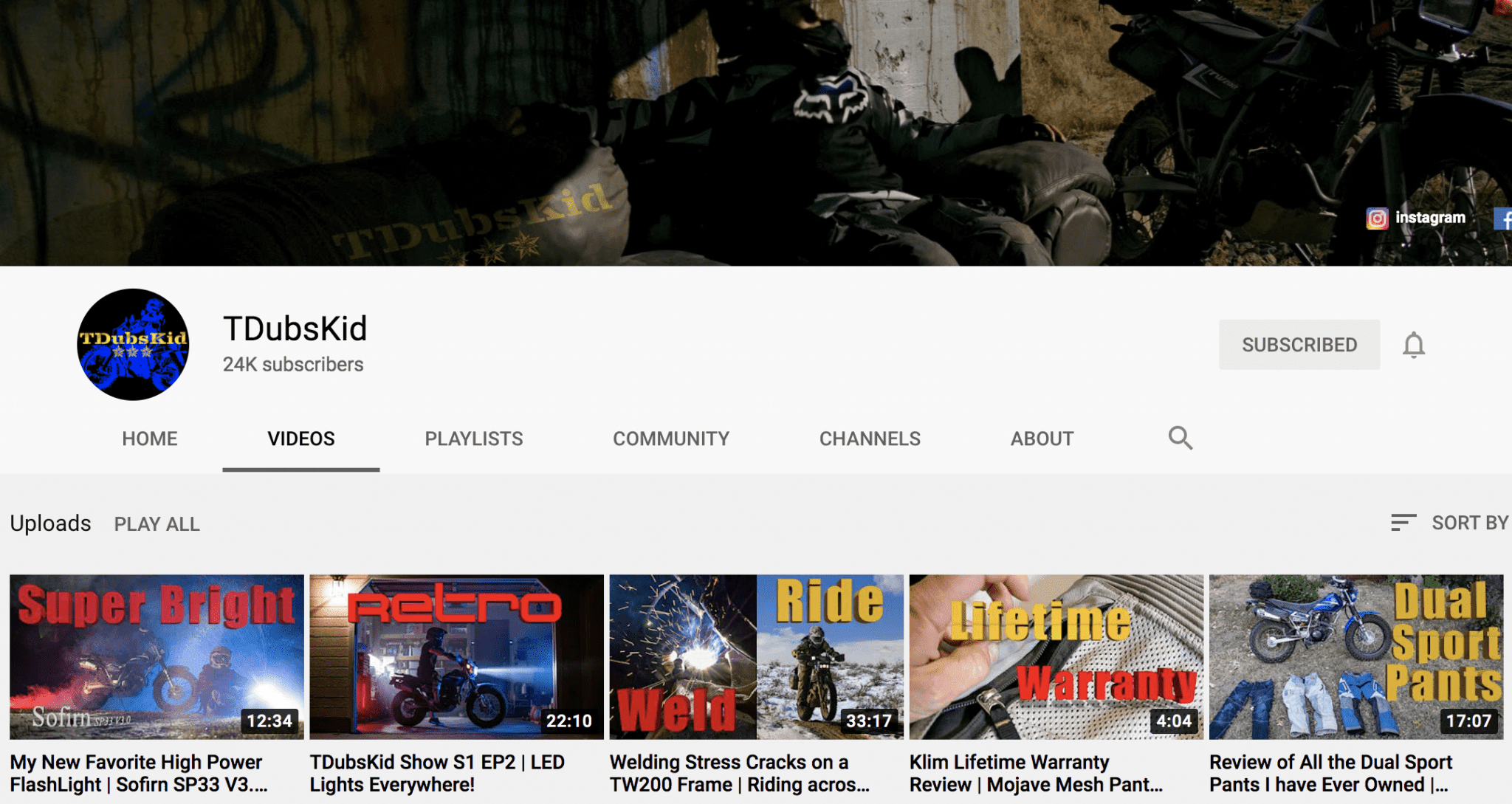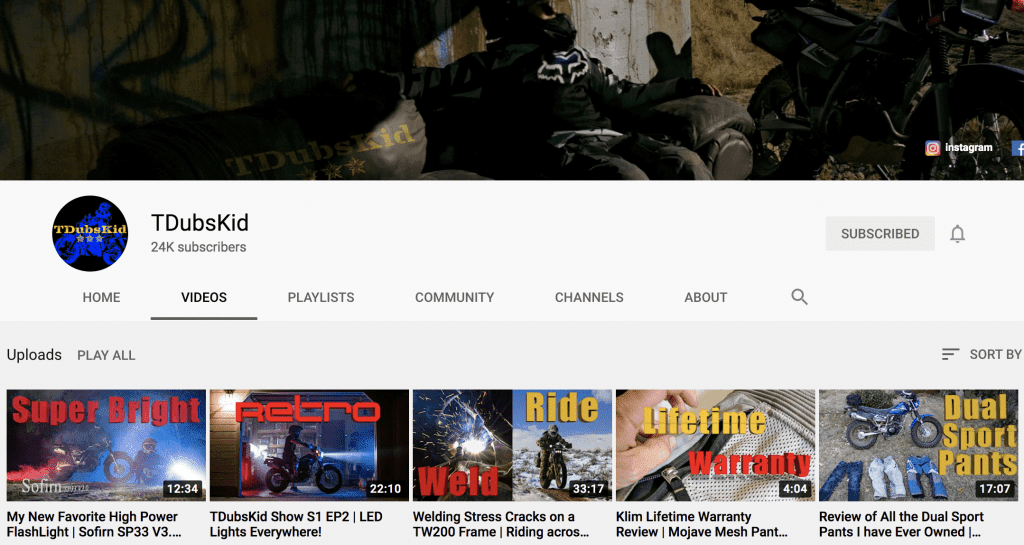 15] TDUBSkid
We all know he is the TW200 godfather riding his 2014 yamaha TW200. He is usually dropping a video each week or every other week! His first video uploaded was May 5, of 2015. He covers a lot of great tips about riding, TW200 maintenance and the gear he is using. I would love to go ride with him! TillDeathDualUsSport where a little bummed when we found out he was coming down to CA. So one day, we will have to track him down in his neck of the woods, which looks AWESOME!!!
https://www.youtube.com/channel/UC8mZIezxajWy-M9SQAFZD-g
---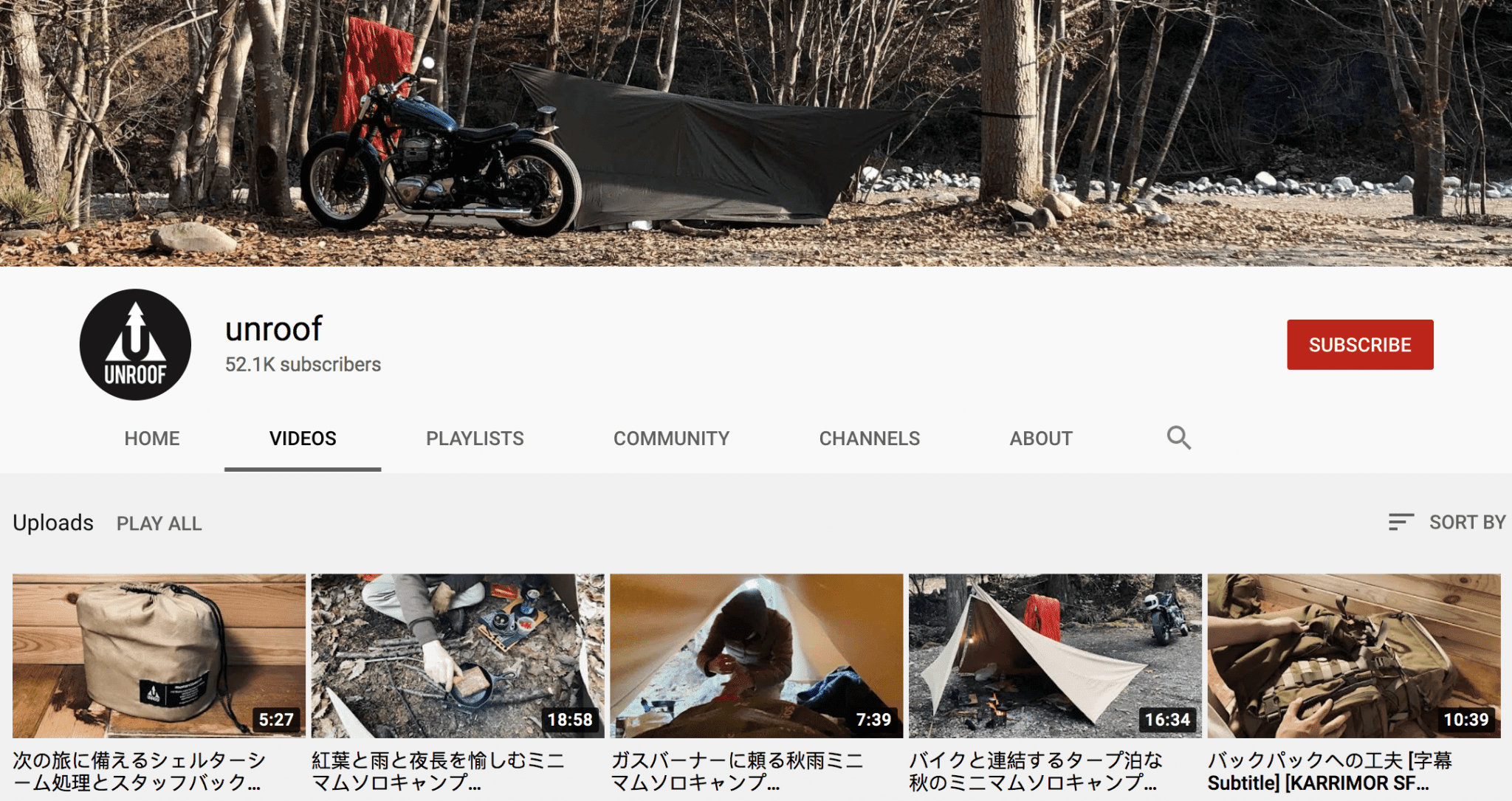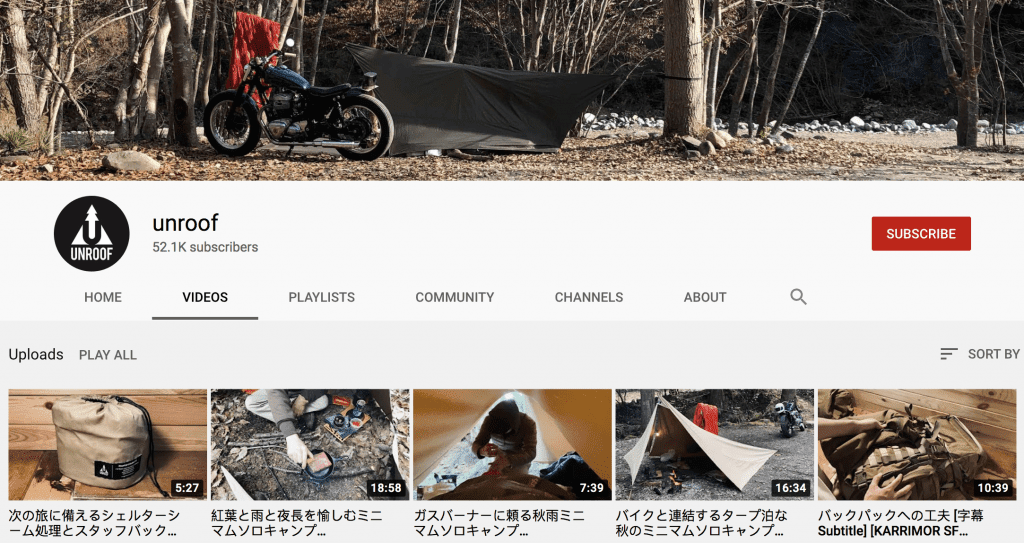 16] UNROOF
My guilty pleasure! UNROOF is located in Japan. The videos that UNROOF creates have no talking in them, they are typically long, beautiful, and based around camping… I don't know why, but I get sucked into watching them and next thing you know it's 4AM! he simply makes me want to do more outdoor adventures!
https://www.youtube.com/channel/UCjk_tnxPqo6M0wKU0bIy0Jw/videos
---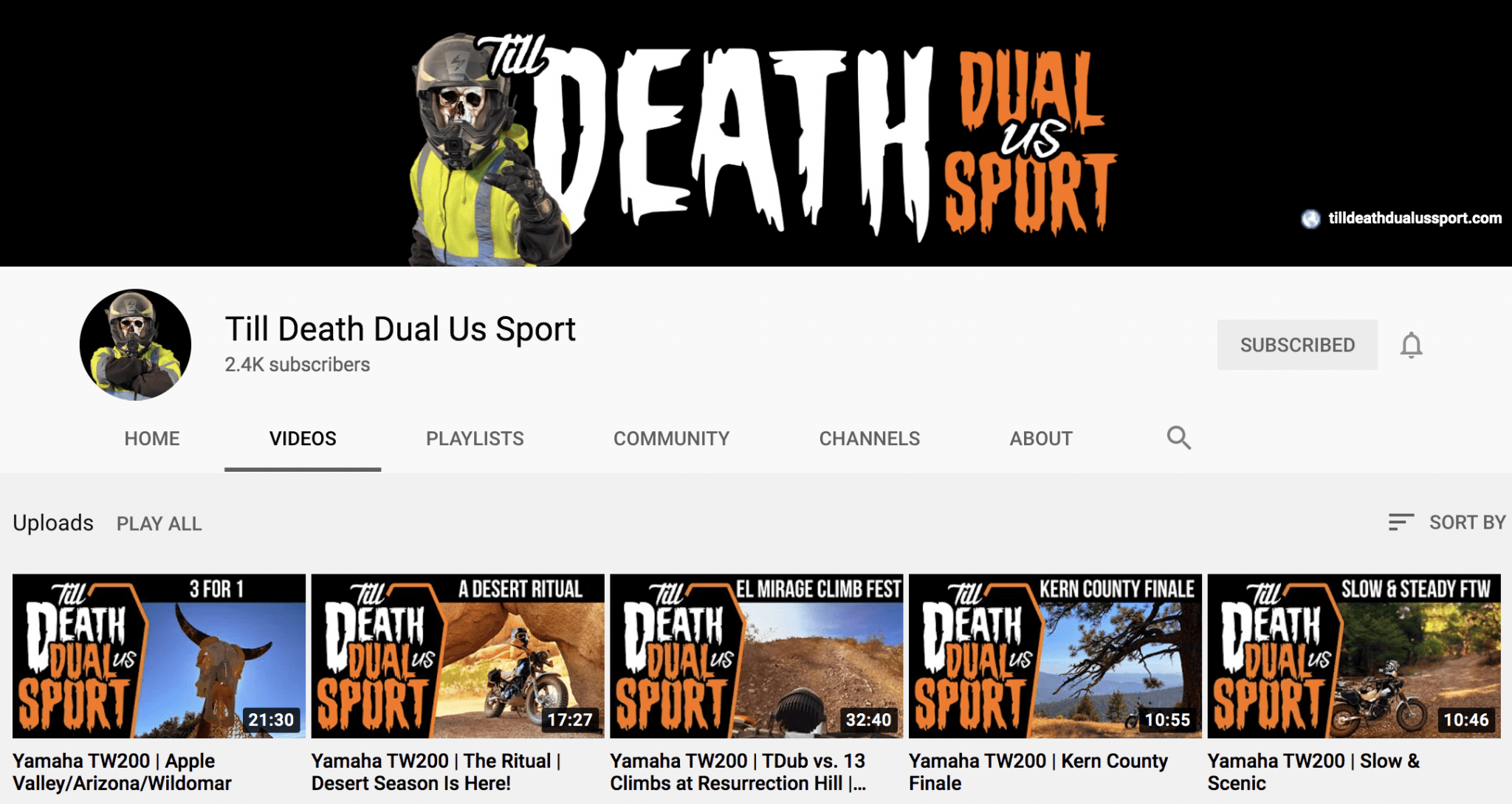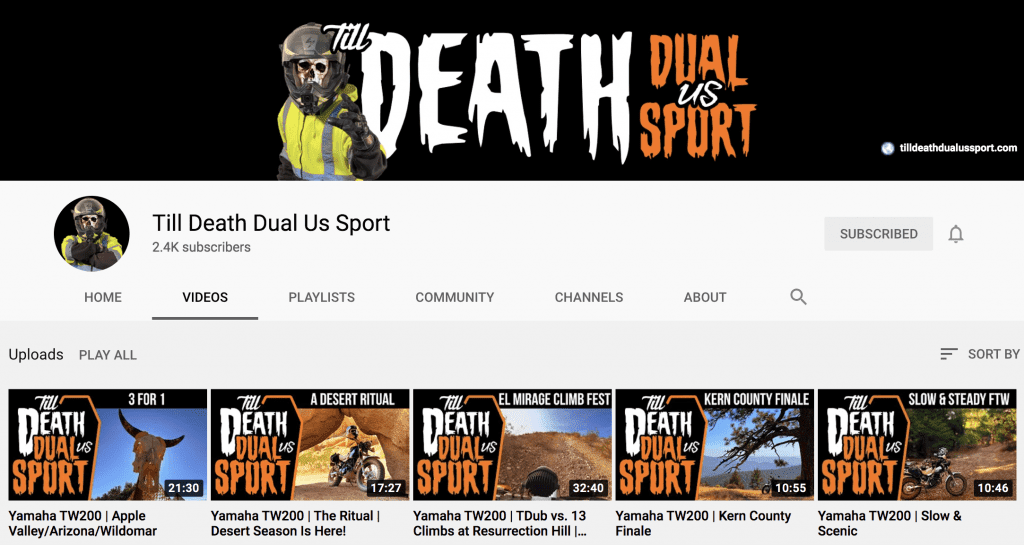 17] Till Death Dual US Sport!
Nick… What can I say… I remember the first day I met him, we met through social media, on Instagram. He lived on the other side of the mountain from me. I say "lived" as I've moved to Alabama. But we just started riding more and more together and it was such a pleasure to watch his riding skills develop with each outing. Then he would go off on his own rides and he just continually gets better pushing himself and the TW200! From Nick's ABOUT page, "As a Yamaha TW200 rider, we can't take ourselves too seriously when it comes to how we f it into the vast expanse of Dual-Sport motorcycles. In fact, the whole reason I choose to ride a TW200 is to get away from the same old, same old that plagues social media. Bust out of that Hard Enduro echo chamber, slow down, enjoy your surroundings, and ride a TW!" https://www.youtube.com/c/TillDeathDualUsSport/videos
---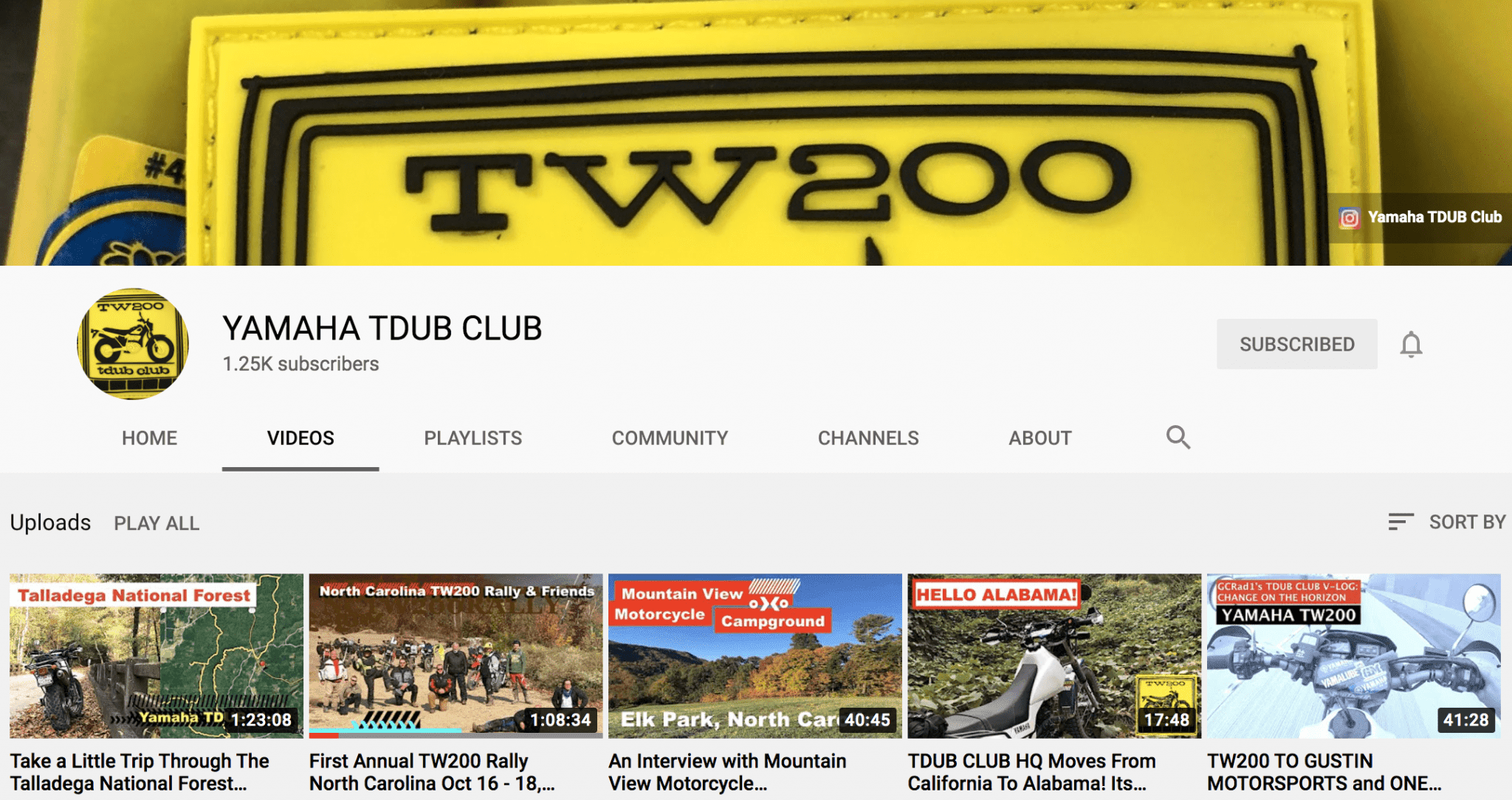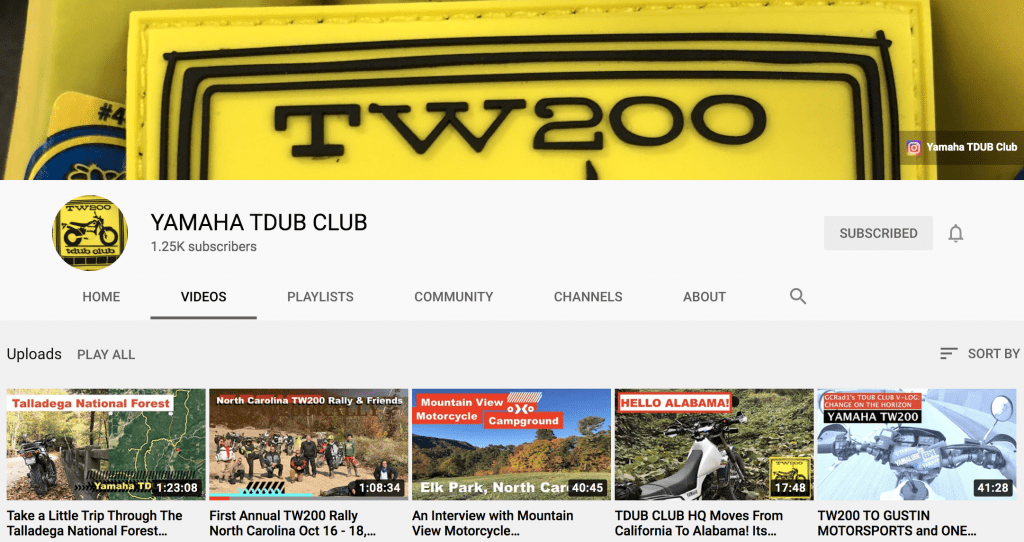 ABOUT YAMAHA TDUB CLUB:
For the love of our favorite mini dual sport, the YAMAHA TW200 aka the TDUB! In production since 1987! This 196cc street legal machine attracts all types of riders and all skill levels! For some it's their first bike and for others its a special bike in their collection, but often finds its way to being more used than most! The Yamaha TDUB Club is based right here in Southern California where riding is EPIC YEAR ROUND! Look to our Instagram channel for upcoming club rides.
https://www.youtube.com/YAMAHATDUBCLUB/
---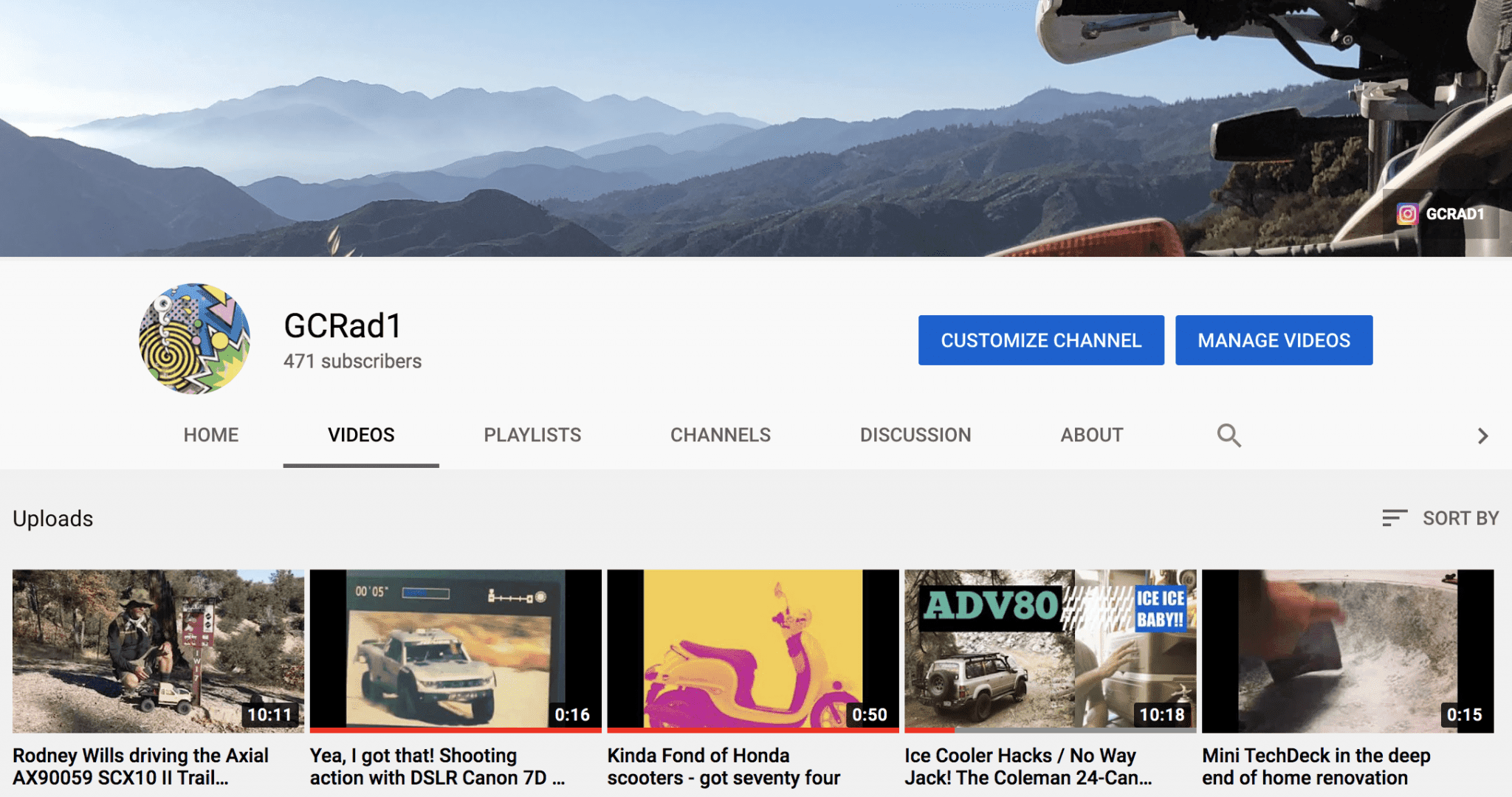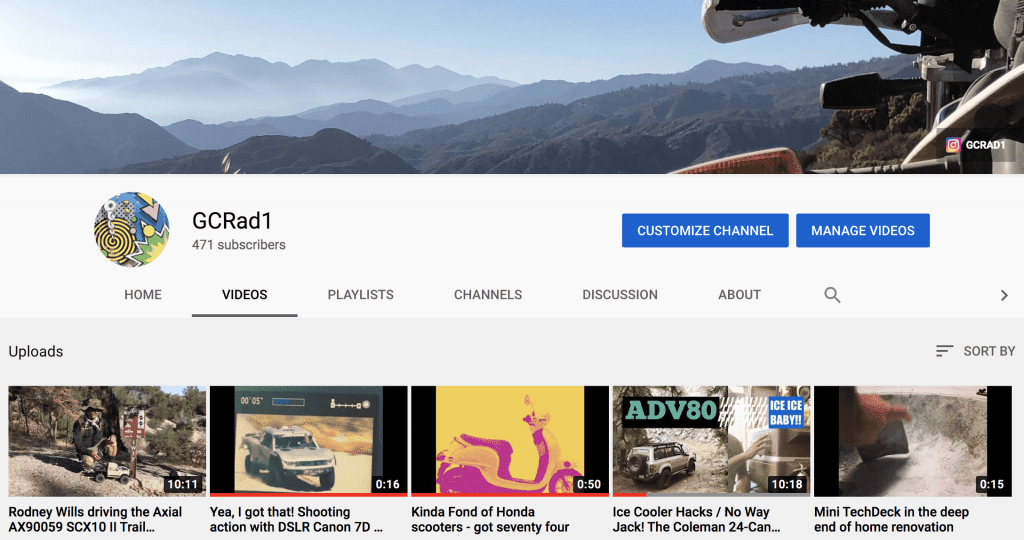 ABOUT GCRAD1:
GCRAD1 – The GC is for GravelCrew, our old rally crew. The Rad1 is my old graff-name since 1983. I'm into way too much, skateboarding, BMX, MTB, basically any bicycle with wheels, to include motorcycles! 4X4 Overland Adventures, photography, videography, design, architecture, tiny homes and sea containers have been the recent distractions. I actually do like music! I have a fair amount of vinyl and two turn tables.

As a kid, I grew up racing flat-track motorcycles and woods riding, shot guns for fun, a little farming, some coon hunting. Basic country life. Then a skateboard and a magazine came into my life… that was 1977, in rural Alabama. It only took 17-years to get to California! After 35+ years of living the "California dream" as of 2020, I am back in Alabama with my family relearning the self-sufficient growing food thing with my daughters. We've even built a hoop-house / green house. Life is an adventure and I've been on it my whole life!
https://www.youtube.com/c/gcrad1