I love the shape and design of the factory Yamaha TW200 fuel tank! I have to get that off my chest first and foremost!
STOCK IS…
The factory tank holds 1.8 gallons of fuel and is an adequate size for most riders. With an 78 MPG rating (factory estimated) at 1.8-gallons, that's a mathematical range of 140.4 miles from the Yamaha TW200's 196cc air-cooled SOHC 4-stroke; 2 valves engine with it's low 9.5:1 Compression Ratio.
BUT, the carb is lean from the factory even with the stock pipe and maybe you start riding longer distances. Longer distances = more throttle. When you start adventure riding, hopefully half of it is in the dirt, your weighting the bike down with more gear, maybe even adding camping gear and you simply start wanting more fuel carrying capacity!
I was averaging around 97-miles in the dirt before I hit reserve, jetted with FMF pipe (with dB insert), 15/49-gear ratio and me at 185lbs. I simply wanted more range!
MORE FUEL = MORE MILES
Enter the Clarke 2.7 #11611 Gallon Fuel Tank for your Yamaha TW200! Now your TDUB can be the ALL-MIGHTY TDUB with real range! Yes, there are other options such as the factory metal XT250/350 tanks, but go look at the prices of those used tanks on Ebay! Yes, there are deals from time-to-time if your willing to wait. Also too, there are a few modifications and such, but nothing major. My main factor is I wanted more fuel capacity but with less weight. The larger factory metal tanks are heavier. And the additional fuel is more weight as well! Also, what if you want to do this… NOW?!
OK, like right now:
https://clarkemfg.com/catalog/yamaha/yamaha-tw200-all-years-2-7-gallons/
What if you want to easily swap back-and-forth between your factory TW200 tank and the Clarke tank? Here is all you will really have to do to install the Clarke 2.7 TW200 tank on your TDUB! Remove your seat, remove factory tank; bolts at front, bolt under seat remove, remove petcock fuel line, remove fuel petcock from tank.
BEFORE YOU GET STARTED
Note that Clarke Manufacturing, being an American company, has supplied American standard hardware. Just take the moment at the tool-box and sort your tools according to the supplied hardware. Yes, I know… I was not happy either about adding non-metric hardware to my all-metric TW200!
THE BEST PLACE TO START
The best place to start is removing the seat. There is a bolt at the tale of the tank that we will need to get to.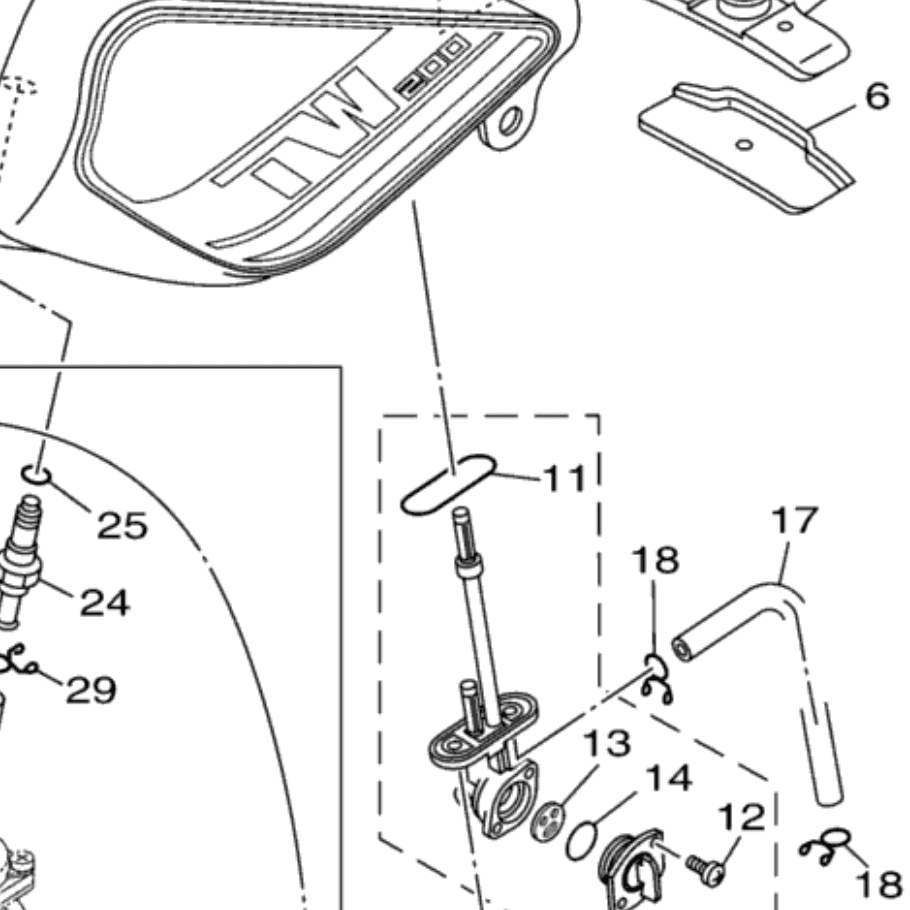 The SECOND place to start is to remove the fuel line from the petcock! There is nothing worse than getting the fuel tank's bolts disconnected and then yanking it off, or attempting to with the fuel line still connected to the petcock. Make sure your petcock is in the OFF position too, so maybe this is second before removing the fuel line! 2A & 2B!
You are going to need that petcock anyhow, so don't brake it! We will need it to swap from your factory Yamaha TW200 fuel tank into your Clarke 2.7 fuel tank. It's easier to remove once you have the tank off and you can get a better visual angle on the two bolts holding the petcock to the bottom of the TW200 tank.
Hopefully you have a gas can you can drain your stock tank into as you will need to remove the petcock from your stock TW200 tank to put into the Clarke 2.7 tank. Pouring gas from the factory tank is not so easy as Yamaha created the inner lip of the tank to prevent "easy pouring" more from a D.O.T Safety standpoint. You will make a mess if you try! Maybe you have a Safety Siphon! Say what?!xrp@H!@EDjwg The heck you say???
Never head of a Safety Siphon? Don't cheap out! I did that already, only to seek out a better one! Get the Original Safety Siphon as it is a safe alternative to transferring dangerous fuels or messy liquids by other means like your mouth and water hose. The hose with the patented self priming pump eliminates the risk of drawing hazardous or nasty fluids into your mouth when getting the siphon process started. A simple vigorous pumping action starts the siphon flow instead of sucking it out with your mouth or hands. It does not need or should never be placed in the mouth. And these are proudly 100% MADE IN THE USA!
WITH YOUR STOCK TANK OFF
Now you can begin your Clarke tank install onto your TW200.
Clarke supplies all the needed hardware with the fuel tank.
This is the area where the factory locating dampener "pucks" are that the stock tank to ride on as seen below.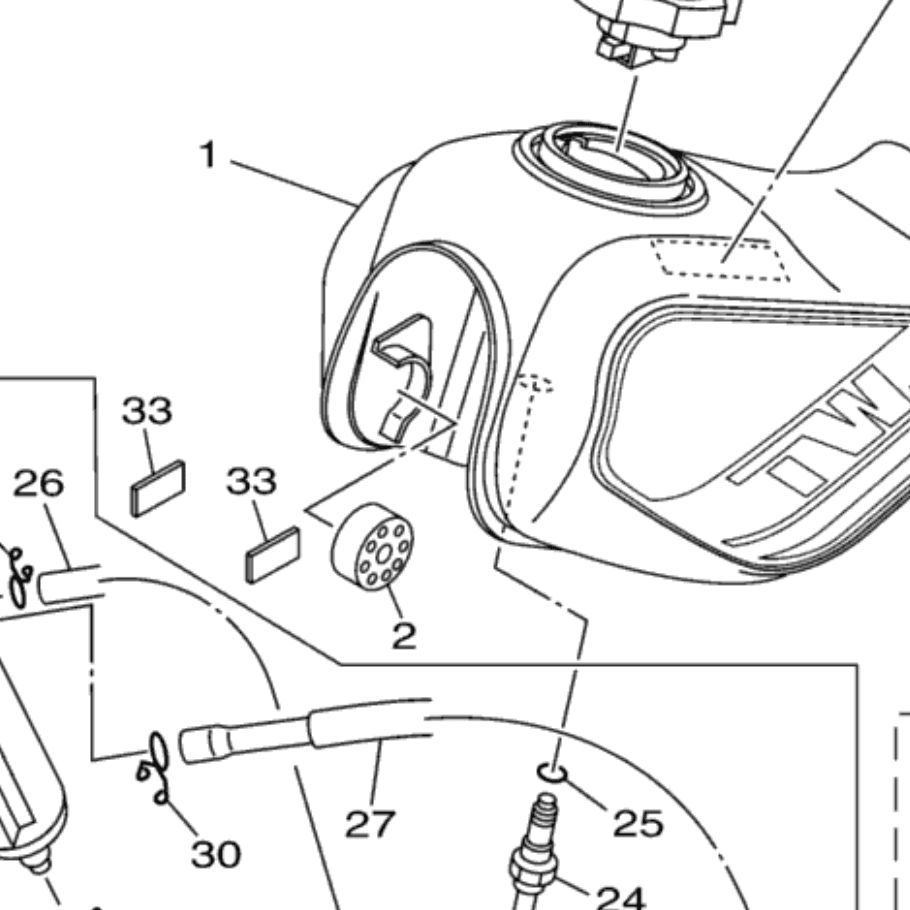 On the rear or tail of the Clark Tank, you will not use the the factory TW200 Damper, Locating 230X-24182-01-00. Just make sure to ZIP-TIE it to your factory tank! You never know when or what you will do in the future and keeping up with all the bits is 98% of the battle!
This is your factory TW200 SpecialWasher 30X-24186-01-00 and Locating Damper 30X-24183-01-00. You will use both of these.

BUT YOU WILL NOT USE THE FACTORY BOLT 97007-06012-00. SO DON'T LOOSE IT! DuctTape it, safety-wire it or tip-tie it to the bracket you just tied to your stock tank!
This is were things get foggy in my head as I feel like I was running all over the shop that day doing my tank install and I seriously can not remember if Clarke supplied this bolt or if I scrounged it up out of the bolts ben… Sorry, I really should have done this project at home at a slower pace, but I was getting ready for a big ride and wanted the tank on and my only time was to do it at the shop. Again, very sorry!

The next step is to place the petcock into the Clarke tank and be VERY VERY CAREFUL! The tank is PLASTIC and you are putting in METAL screws! Do not over-tighten, but your thought is to tighten the crap out of it because it's hold fuel! I get it! But just don't over-do-it!
Add some fuel to the tank and just check the petcock. Check it again in a few minutes. 2-5 check. ALL CLEAR – GO RIDE! Happy Long Distance TDUBBIN!
Where did I go with my "big tanked" TDUB?
I rode from Costa Mesa, California to Anza Borrego, California for a 3-Day Solo Moto Camping Trip over 448-miles.

See the videos: https://www.tdubclub.com/2020/01/29/costa-mesa-to-anza-borrego-on-a-tw200/
YAMAFANDOM GEAR
Support Yamaha TDUB Club when you purchase Officially Licensed Yamaha Gear from our Amazon Store – YAMAFANDOM GEAR PAGE.