Let's just say I've had my fair share of flat tires on my Yamaha TW200 riding experiences!
The first flat tire came around the 3,000-mile mark and was on the front stock Bridgestone TW31. I wrote about the experience on the TW200 forum in the post: Commute to work & back over Saddleback Yamaha TW200 – July 2018.

Because so many people called my stock front tire the "Death Wing" I had to ask what they were talking about as I had just gotten my TDUB. After hearing all that I wanted to experiment with it and see if I could find what the actual cause for such name calling. I wrote about there here: THE DEATH WING – IS YOUR YAMAHA TW200 FRONT TIRE SUDDENLY WASHING OUT? And I followed that post up with: DEATH WING ALTERNATIVE – SHINKO SR 241 130/18 – 80 FRONT TIRE – YAMAHA TW200

My second flat tire was around the 5,000-mile mark and came on the original rear Bridgestone TW34 while on our Big Bear Weekend Group Ride of which I posted about this tire situation here: FAT FLAT TIRE – WHO HAS GOTTEN A FLAT ON THEIR YAMAHA TW200? That was a comical experience and my buddy Nick of Till Death Dual Us Sport caught it on video! That tire was ready for a change anyhow!
BUT TWO IS ENOUGH!
A new Bridgestone TW34 180/80 – 14 tire is a little pricey at $125- $145 each! Plus you will most likely purchase a new tube and if you use the Bridgestone one that is $20+, add it mounting & balancing service $25+. You just shelled out two $Benjamin Franklin's!
LETS TRY SOMETHING DIFFERENT!
Before you go and do all that; new tire, new tube, mounting and balancing… Let's back up to my last flat tire, the fat one, and what I did differently. At this time, I was working at Gustin Motorsports (motorcycle service shop). So I dismounted my fat flat rear Bridgestone TW34 and gave it a good washing. Whenever you take anything to a service shop, be a good patron and wash it for them!
Do you see those big ugly wheel weights? What if I told you there is a way to remove them and still have a balanced motorcycle wheel? There is a way! Read on!
This was the inside of the Bridgestone TW34 after riding those miles on it flat. Delamination of the tire due to the heat and running it NOT as intended.
Old Bridgestone TW34 180/80 – 14 tire and new Bridgestone TW34 180/80 – 14 tire ready for mounting!
Yes, I purchased an authentic Bridgestone MCSC6481 180/80-14 Rear Tube for my Trail Wing TW34 Rear Tire for my Yamaha TW200! Yamaha part number 94218-14251
PURCHASE AT THE YAMAHA TDUB CLUB AMAZON STORE PLEASE!
Getting the new Bridgestone MCSC6481 180/80-14 tube stuffed into the Bridgestone Trail Wing TW34 rear tire.
First comes mounting, then comes balancing… but…
See these BIG UGLY WHEEL WEIGHTS? THEY ARE BYE BYE FOREVER on the GCRAD1 Yamaha TW200!

ARE YOU CRAZY? HOW??? RIDE-ON…
Ride-On Tire Sealant & Balancer is what I am using in the Bridgestone Trail Wing TW34 rear tire for the Yamaha TW200! I've ridden another 7,000-miles on the TW200 in five states of rocky territory of California, Alabama, Tennessee, Kentucky and now in Colorado with ZERO flats! Now where is that lucky piece of wood to knock on!
Ride-On's Motorcycle Tire Sealant and Balancing Gel prevents flat tires and improve "rideability" with a revolutionary tire sealant that turns tires into self-sealing and self-balancing tires. A combination of fibers; including aramid fibers, six times stronger than steel – automatically seal punctures in the tire tread caused by objects up to 6.4 millimeters (1/4″) in diameter. The environmentally friendly, high-tech gel creates a a self-sealing layer inside the tire at the crown area. This layer helps to cool, seal and balance tires and stays active for years – the entire legal life of the tire.
Because of the "balancing agent" I can now run my BIG FAT TDUB TIRE without those ugly fat TIRE WEIGHTS attached to the spokes!!!
I think I remember adding two tubes to the rear tire. But for the purposes of this article I actually looked up the details and recommendations per the Ride-On technical briefs.
On the Ride-On Tire Calculator per the TW200 rear tire fitment of 180/80-14, they reccomend 14oz of Ride-On Tire sealant as noted in the above image.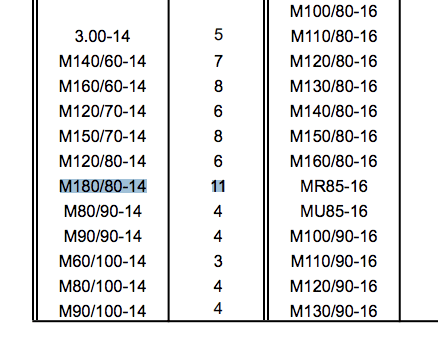 Within in the Ride-On Dosage Table technical data sheets, they reccomend a minimum of 11oz (as noted above), BUT with the included statements:
To Balance and Severe Dosage: You may add up to 25% more Ride-On tire
sealant for balancing without wheel weights, or in severe on or off-road
applications. Please start with Regular dosage and add in 1 ounce (30 ml)
increments up to Severe Dosage.

Tube Applications: We recommend using the Severe dosage in tube
applications (adding 25% more product than Regular dosages shown in table).
Thus 11oz + 25% = 13.75oz. Each bottle of Ride-On Tire Balancer & Sealant is 8oz, so my use of 16oz is 2-2.25oz over the required amount. But a little extra is a little extra! I rather have two ounces extra than two ounces too short!
It's about time to swap out both the front and rear tire again from all the riding and when I do you can BANK ON me adding Ride-On Tire Balancer & Sealant into my tubes once again!
YAMAHA TW200 TIRE SIZE
| | |
| --- | --- |
| Front Tire (Full Spec) | 130/80 – 18 |
| Rear Tire (Full Spec) | 180/80 – 14 |
RIDE-ON TIRE BALANCER & SEALANT FOR YAMAHA TW200
FRONT TIRE: Two Bottles of 8oz Ride-On Tire Balancer & Sealant
REAR TIRE: Two Bottles of 8oz Ride-On Tire Balancer & Sealant
DIRECT LINKS – TDUB CLUB AMAZON STORE
• FRONT TIRE: Shinko SR241 Trials Tire (4.00-18 64P)
• FRONT TUBE HD: IRC Tube 110/100-18 Heavy Duty
> OR
• FRONT TUBE LT: IRC T20063 Standard Tube – 3.50/4.00-18
• FRONT: Ride-On Tire Balancer & Sealant, 8 oz (!!CHANGE TO QTY OF 2!!)

• REAR TIRE: Bridgestone Trail Wing TW34 Dual/Enduro Rear Motorcycle Tire 180/80-14
• REAR TUBE: Bridgestone Motorcycle Tire Inner Tube 180/80-14 TR4
• REAR: Ride-On Tire Balancer & Sealant, 80z (!!CHANGE TO QTY OF 2!!)
TUBE TIP – THE VALVE STEM WAY
Give this a read upon setting your TDUB up with Ride-On tire sealant:
HONDA'S 42714-KA3-710 CAP VALVE RUBBER THINGY VS METAL NUT The Gustin Motosports Way!
As I write this, I am looking out onto these conditions (March 6th, 2022):
https://www.instagram.com/p/CaxocP7A65-/
Rodney "GCRad1" Wills / Yamaha TDUB Club