When the Yamaha TW200 received an upgraded braking "system" for the 2001 year model, it came with mixed reviews as some love the old school front drum brake. Others rejoiced at the new-tech hydraulic disc brake upgrade, after a solid 14-years of a drum brake! BUT too, the bike only received the stopping power of a hydraulic disc brake at the front wheel – ONLY! And yet, the tiny 196cc TW200 still carries the drum-style rear brake some 30+ years later. Maybe one day… 2 DISC's! But for now, lets just talk about this one front disc in particular.
Drum Pre-2001 or 2001+ Disc
I purchased my 2016 Yamaha TW200 in July of 2017 with 318-miles on the the odometer. I've promptly put 11,000+ miles on the odometer as of October 2021, making for roughly 2,200-miles per year on my 196cc all-mighty TW200! I am one of the "rejoicers" as I have regularly told people to make their TW200 purchase decision based on the drum-pre-2001 OR 2001+disc. I installed a set of EBC Double-H Brake Pads on the TDUB back in January of 2020. What milage was that, I am not sure, but what we are talking about today is the actual front disc rotor, Yamaha Part Number 5XT-2582T-00.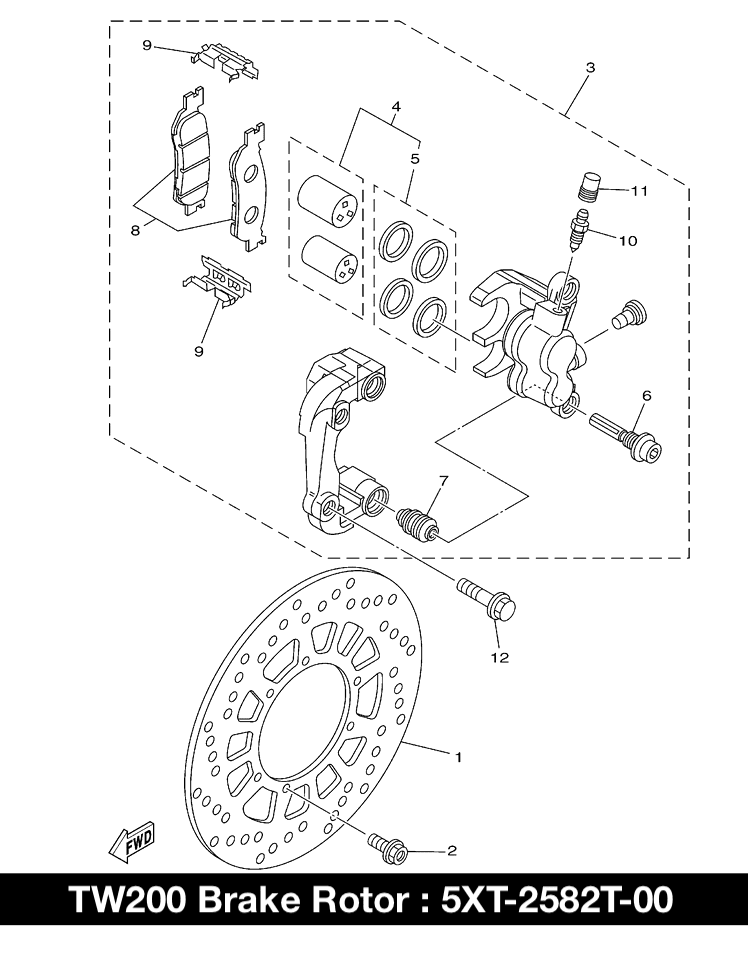 I will honesty tell you that I looked for/at several different aftermarket front brake rotor manufactures such as Braking, Galfer, EBC and so on… But I came back to the trusted reliable factory Yamaha OEM front disc rotor – for now. This is not to say that I might change to one of those aftermarket brands later on, I just need to do some more research on getting exact fitments and so on. But, why am I even talking about replacing the front disc rotor in the first place?
I Front Brake A LOT!
I use my front brake A LOT!!! I use the front brake way WAY more than I use the rear brake! Why? The front brake on a motorcycle, be it disc or drum offers more stopping power! But seeing how my 2016 Yamaha TW200 is equipped with the hydraulic powered front disc brake, it is easier to service than the rear drum brake. That's not the only reason to use it more (discuss briefly in the video), but it does make servicing it easier. Consequently with more usage of the rotor, it's going to get worn down quicker than "normal."
When To Change Disc
But how do we know when it's time to actually change the front brake rotor on our Yamaha TW200's? Can you believe it? Our TW200 Service Manuals supply us with a plethora of information! We just have to actually read it.